Today is Mother's Day
The second Sunday of May is accepted as Mother's Day. Although this day hasn't been celebrated in Sri Lanka for a long time, it's certainly catching up, with more and more people choosing to honour and celebrate their mothers on this day.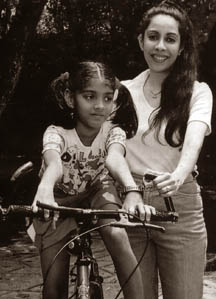 Anna Jarvis of Philadelphia, USA is known as the founder of Mother's Day. She spent the most part of her life trying to ensure that one day of the year would be set aside to honour mothers. In 1915, the US Congress asked the President of the country to proclaim Mother's Day as a day to be remembered throughout the nation. Such a proclamation has been issued by successive presidents, since then.
Most people wear a red rose or a pink carnation on Mother's Day if their mother is still alive, or a white flower if she is dead. This custom of wearing a flower was also initiated by Anna Jarvis.
Although observing Mother's Day is a relatively new development, celebrating motherhood dates back to ancient times and many countries have had different kinds of ceremonies to honour the mothers. One example is the ten-day long festival called the Durga Pooja in India.
This festival honours Durga, the Divine Mother, who is known as the mother of the goddess of arts, goddess of beauty and wealth, god of wisdom and god of war.
During this festival, people take offerings of flowers, fruits and vegetables or animals to the kovils, while children honour their own mothers by taking gifts or greetings to them.
A holiday called 'Mothering Sunday' comes about midway through Lent in England. On this occasion, grown-up people visit their mothers and take gifts to them, while children present their mothers with gifts they have made themselves.
---
The day for families
Some of you may be living with your parents and siblings in a separate house, while some of you may also have your grandparents, and even some of your aunts and uncles and cousins living together.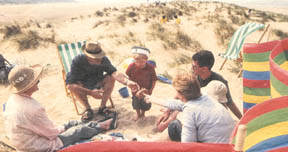 The former type of family, of just the parents and children, is called a nuclear family, while the latter is called an extended family. Nuclear or extended, a family is the most important unit in society and comprises the people that are closest to you.
The importance of the family unit to society will be the focus on May 15, when the International Day of Families is celebrated around the world.
The theme for this year, 'Changing Families: Challenges and Opportunities', takes note of the importance the international community attaches to families as basic units of society, and their concern for the situation of families around the world. The theme raises public awareness about critical issues concerning families.
Changes in family structures, demographic ageing, rise of migration and the HIV/AIDS pandemic are four trends that have a major impact on modern day families. They challenge the ability to fulfil basic functions and needs of families regarding health, nutrition, shelter, physical and emotional care and personal development.
Some of the activities that the United Nations has organised in connection with the event are a consultative meeting on the family issue and a workshop on HIV/AIDS and family well-being.
The day gives an opportunity to promote awareness of issues relating to families and to promote action in this regard. It can become a powerful mobilising factor on behalf of families in all countries, and the opportunity can be used to demonstrate support for family issues according to each society.
In 1993, the UN General Assembly decided that May 15 of every year should be observed as the International Day of Families. In 1989, the Assembly had proclaimed 1994 the International Year of the Family, to increase awareness of family issues and improve the capability of nations to tackle family-related problems with comprehensive policies.
---
International Museum Day on May 18
Most of you would have visited the Colombo National Museum or one of the many other museums in Sri Lanka. A museum contains exhibits not only to do with history and culture, but also relating to the natural world including plants and animals, science and technology and a wide variety of other subjects.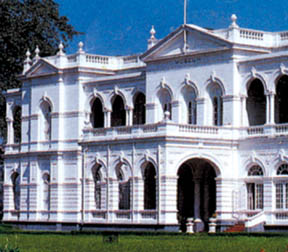 But what exactly is a museum? As defined by the International Council of Museums (ICOM), it is "an institution in the service of society and of its development". Museums are a window on our world. They play a vital role in society by celebrating the differences among various peoples.
The role of museums include creating closeness among a community by giving value to a community's cultural heritage, and highlighting the role of individuals and groups whose unique features and differences are the cornerstone of a particular society. They contribute to cultural exchanges, enrichment of culture and development of mutual understanding, cooperation and peace among people.
The vital role museums play in human society will be recognised and appreciated on May 18, when the International Museum Day is observed around the world. The event, organised by the ICOM, will be held this year under the theme 'Museums and Young People', as decided by the ICOM Advisory Committee.
The theme raises awareness on how young people participate in redefining the mission of protecting the heritage museums in the 21st century, and how museums can contribute to shaping tomorrow's society by working with young people.
The International Museum Day has been celebrated on or around May 18 since 1977. Over 50 countries took part in the celebrations last year.
---
Bringing the world closer
Telephones, mobile phones, satellite phones...none of these seem so novel in this digital, high-tech era. Information Communication Technology (ICT) and telecommunications have brought the world closer, enabling human beings across the world to get in touch with each other within minutes.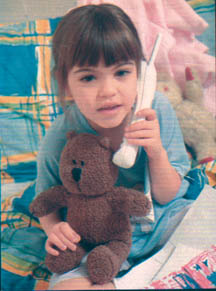 However, there are still parts of the world, even within our country, where such modern developments are yet to arrive. Despite the massive developments made in the sector, all people don't have equal access to these technological advancements or the social and economic benefits that they have brought.
A big gap exists between those who have virtually unlimited access to information technologies and services, and those who have very limited or no access at all. Narrowing this 'digital divide' and bringing the benefits of ICT to all, will be one of the main areas of concern when World Telecommunications Day is observed on May 17.
An organisation, which has made a huge contribution in the telecommunication sector is the International Telecommunication Union (ITU), the UN agency responsible for co-ordinating global communications. It was set up 141 years ago, in 1865.
From the birth of the telegraph, through radio and television broadcasting to satellite communications and the Internet, ITU's work has helped harness the power of science and technology to fulfill a basic human need for communication.