Nazia
How Colombo's peaceful people inspired one foreign artist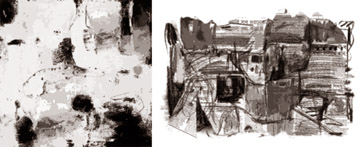 "Untitled 2006" an exhibition of 45 paintings by Nazia Andaleeb Preena is now on at Art & Soul Gallery in Gulshan, India. They represent her creative evolution over the years, punctuated by many years of travel to places such as Colombo, Delhi, Kolkata, London, New Orleans and Tokyo.
"Many of my works are based on my travels and the people I encounter," says Nazia, adding, "I reinvent myself every time I go out of the country and return." A lot of inspiration, says Nazia, comes from her visits to Colombo. The people here are, in her view, "very laid back and at peace with themselves"- somewhat akin to the rural denizens of Bangladesh.
Most of the art works on display are untitled - a deliberate choice for Nazia. She firmly believes that viewers today do not spend enough time on paintings and they want to have some clues to the artist's mindset through a title. Her view is that they should interpret the work themselves.
Talking about her modus operandi, she says, "For me it is more important to portray my personal feelings rather than just zero in on a landscape or object." Always searching for more meaning in life, she is a passionate if restless artist.
Among the eternal questions to which she seeks answers are: what she thinks about life, where she sees herself now and in the future and what she wants to achieve. All this requires a great deal of discipline. Nazia puts in her efforts to paint everyday and not just for exhibitions.
Nazia has her favourite artists: in their ranks are Shishir Bhattacharji, Mohammed Kibria, Naima Haq, Waquilur Rahman, Aminul Islam along with Rokeya Sultana. She has no complaints about the encouragement from viewers or senior artists.