Angelika - An aesthetic expression of love transcending the synthetic barriers of class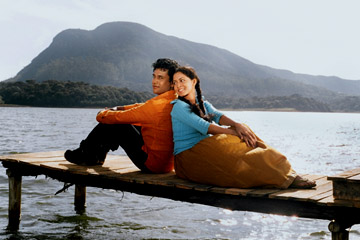 Angelika, the most glamorous and artistic film portraying a poignant love story between a well-groomed son of an aristocrat and a beautiful daughter of a caretaker of the estate, will hit the silver screen from 28th of this month.
Perhaps, no other film in contemporary Sri-Lankan cinema is as glamorous in cinematography, simple in diction, with spellbound sceneries that take Sri-Lankan viewers for the first time, from panoramic and breathtaking mountainscape, to the highly commercialised metropolito of Kualalampur.
It also depicts a generation of impoverished workers depending solely on the estates of Imbulgoda clan. However, one of them,Piyadasa, the caretaker of the bungalow, conspired to own the vast empire of material prosperity through his beautiful and attractive daughter Angelika.
Thivanka, the only child of Clifford and Induththara Imbulgoda who spent many years in England pursuing his higher studies, arrives as an accomplished and eligible bachelor. His friends in camouflage stage a mock kidnap scene culminating in a surprise party accorded to welcome Thivanka.
Kavya accompanied by her parents attend the party with the intention of winning over the heart of Thivanka, who was her childhood play-mate.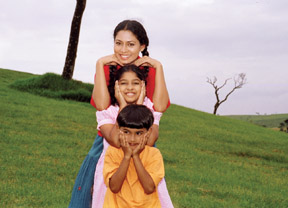 Since the welcome party, Kavya, with her businessman father, frequented Imbulgoda's compound on the pretext of discussing business matters.
Kavya's father Erdly Samaradivakara toasting with Thivanka's father, allow Kavya to pursue the indifferent Thivanka. Kavya tries her best to get hold of Thivanka, who showed sisterly love towards his childhood play-mate.
Thivanka who lost his mother in a tragic accident which occurred at his ancestral home, reads her diary, mostly dedicated to fond memories of Thivanka's childhood.
The diary is full of Thivanka's childhood photographs which arouses Thivanka's nostalgia compelling him to visit his ancestral home.
Kavya vehemently opposing the idea of Thivanka going to stay for a few days alone in the Imbulgodas' manor house, tactfully, together with her parents throw a grand dinner in order to avert Thivanka from going to the Imbulgoda mansion. To Kavya's utter despair, Thivanka leaves for his ancestral home in the hills, where he spent his formative years in the comfort of his mother, which is now being looked after by the faithful caretaker family who had served generations of Imbulgoda family.
On the way to the estate, Thivanka stops his jeep at a brook where he used to play in his childhood. It is at this juncture, that Thivanka, for the first time, meets the unspoilt and mischievous village damsel who happened to be Piyadasa's daughter, Angelika, who out of mischief, misleads Thivanka when he asked the direction to his estate.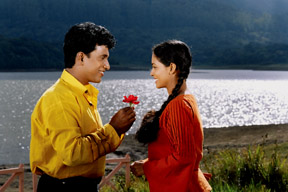 A series of colourful events that happen in the estate, draw Thivanka and Angelika together, and eventually they become soul-mates. Although Angelika at first was suspicious of the genuineness of Thivanka's romantic feelings towards her, through a sequential, well-designed series of events; the director Channa Perera who also plays the main role as Thivanka, shows mastery of the craft in convincing the viewers the genuineness on the part of Thivanka.
Here, heartthrob Channa Perera shows that he is a brilliant actor who had been successful both in small screen and silver screen
Bypassing the constraints of the media.
Meanwhile, Kavya and her father hatch another strategy, and suggest Clifford Imbulgoda to spend a holiday in the Imbulgoda Bungalow, which is resisted by Clifford Imbulgoda who politely requested Kavya and her father to enjoy the holiday in the company of Thivanka.
The much awaited holiday with great expectations, turns out to be a boring and frustrating time for Kavya and her father, as they had to spend most of the time in the confines of the bungalow, while Thivanka wonders as a free bird among panoramic mountainscape with a host of placid tanks in the midst of a blossoming love affair, and playing with Angelika's younger brother and sister which is a reminiscent of his formative years.
One day, Kavya discovers the "forbidden" love, but she blessed Thivanka and Angelika, while the furious father of Kavya cut short the holiday and rushed to Colombo.
Clifford Imbulgoda blessed Thivanka with a ring worn by Induththara (Thivanka's mother). However, Clifford extracted a promise from Thivanka to marry Angelika after the completion of Thivanka's final examinations in England. On the eve of his departure to England, Thivanka learnt that Angelika was kidnapped by an unknown group using the pajero which belonged to Kavya's father. The mysterious kidnap is followed by curious events, culminating in the discovery of a decomposed body, alleged to be that of Angelika's.
The suspicion of the kidnap and the subsequent discovery of the body is cast on Kavya's father, as his stolen pajero was used in the kidnap.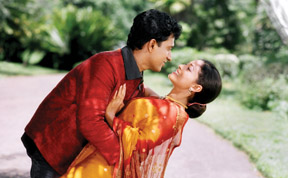 However, Kavya's father is proved innocent following a law suit.
Grief-stricken Thivanka spent his days in loneliness and as suggested by his close friend (Narada Bakmeeweewa) flew to Malaysia on a business assignment.
In a coincident, Thivanka found a girl strikingly similar to Angelika praying at a temple in Kualalampur.
Although his friend decided to leave for Sri Lanka, Thivanka stayed in desperation just to have a glance and a chat with the girl. Subsequently, Thivanka found out that the girl who poses as Uththara, in reality, is his own Angelika.A series of startling discoveries led Thivanka to return to Sri Lanka with Angelika.
Thivanka turns tables on his father who believed that Angelika is his own illegitimate child by Piyadasa's wife.
Later, with the confession of Siripala, a tragic riddle is unveiled describing the voracious desire and evil scheme by Piyadasa, to own the "ocean of prosperity" through his daughter, Angelika.
Underneath the superficial romantic affair, Angelika is a film with a deep insight into the human feelings, and reflects on a gory aspect of Sri Lankan aristocracy which demands total yielding of even the most intimate human feelings in the interest of protecting and sustaining wealth.
Kavya's father and Thivanka's father, landed gentry, are interested in carrying on the social status and business empire, through intra-family marriage conceived through subtly pre-destined arrangements where their off-springs have no active roles to play.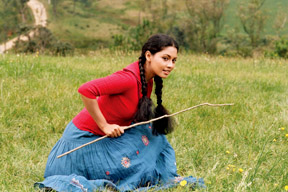 For them, children serve as yet another instrument of carrying on their lineage and class interest which is mostly common among Asian aristocracy.
Thivanka who is fabulously rich lacks a vital aspect of his life and finds some of the characteristics of his mother in Angelika's personality. Kavya, though childhood play-mate of Thivanka could not fill or understand the emotional void in Thivanka.
Angelika offers Sri Lankan viewers a glamorous film with spellbound sceneries and modern cityscapes shot in Malaysia. It also explores the universal theme of boundless love overwhelming other concerns of material prosperity.
Channa Perera who brilliantly portrayed the main role as Thivanka, is also successful in his maiden directorial venture in the silver screen. The thoroughly enjoyable film is interwoven with sequencelised events, which prove beyond any doubt Channa's expertness in the craft, besides convincing the viewers the vital aspect of the plot. He should also be credited for co-acting with an Indian actress who is alien to the language and culture.
Pooja Uma Shankar, though a popular regional actress in India who plays the main role as Angelika, was committed to contribute to the work of art with the same dedication that she had made in Indian movies.
Anarkali Akarsha and veteran actor Sanath Gunathilaka depicted their allotted characters, leaving no margin of doubt, realistically with full of facial expressions. Particularly, Sanath Gunathilake's maturity in action reminds the audience of the complex character of Aravinda in Viragaya.
Screenplay by Channa Perera and Mahesh Sathsara Maddumaarachchi, cinematographer Jayanath Gunawardene have contributed immensely to make Angelika one of the most enthralling cinematic experience that individuals of every age-group could enjoy.
Edited by Ravindra Guruge, music directed by Rohana Weerasinghe, make-up artist J. Suranimala, Art Director Athula Sulthanagoda, production Manager Ashoka Ariyarathne have done justice to their assigned jobs.