Immortality means Geetha Kumarasinghe launching her website...
There should be nothing more exciting in a website launch than perusing the website itself? Right? Wrong.
Partygoers last week slotted the Website surf for another day.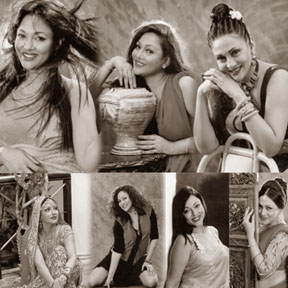 So, almost before the party was over at the Water's Edge, this writer logged on to the website, not with any difficulty. There was no traffic - all of Geetha's friends were either traipsing on the floor or being tipsy at the Edge, and the perusal of the website itself was kept by them for another day - that's assuming they were hoping to peruse it at all, ever.
It's an easy enough website, quite user friendly - and I clicked on the part that says biography. That's when I got the first real whiff of an idea about what the Geetha Kumaraisinghe website purports to do to Geetha Kumarasinghe. Its a website that aims at keeping her ageless, frozen in time, at least in terms of pure chronological numbers.....
The website says Geetha Kumarasinghe was born on 5th July - and for all we know, it could have been last year, and Kumarasinghe may be, at this very moment, cooing in her diapers.
Numbers didn't create as much of an impression as the prose did, however. Geetha Kumarasinghe, says the writer, is the 'crowning jewel of the Sri Lankan cinema'. (None will argue with that, he writes.) I can almost see Malini Fonseka flaking off from a side one side of that tiara..
But do we get mushy. The website's writer ends up stating that Geetha relates to the quintessential essence of Sinhala womanhood. As far as tautologies go, it's not difficult to comprehend that it's probably the writer's almost orgasmic zeal that led him to squeeze out the essence from the quintessence...
......(the exact sentence: 'As an actress Geetha Kumarasinghe manages to relate to the quintessential essence of Sri Lanka women in virtually every role that she performs.') It wasn't excessive, almost, after the English announcer's insistent zeal (at the Water's Edge launch...) in describing Geetha Kumarasinghe as a star who 'sustained' through her career, when he meant persevered, albeit against all the odds. Ungrammatical use of adjective is not exactly a crime, but Geetha Kumarasinghe is launching here, the most trumpeted website of our age.
Then came on Geetha Kumarasinghe herself, determined almost with every sinew of her being - and every dimple on her face - to prove that she is ageless as her website holds her out to be in the age column of her bio.
She rocked, no doubt about it, she rocked. Maybe she tried too hard just for one particular jot in that performance, which was done with the aid of a high tech accoutrement of large screen devices, those of which, even with all the magnifying couldn't show a single blemish on the subject's skin....
No doubt, even at her rather tender age now - as opposed to her formative years twenty or so years ago in Sinhala cinema - Geetha Kumarasinghe was always the vamp.
But to have the same white heat of defiance that she displayed perhaps almost a score of years ago when she played that heavy-duty role of a woman of easy virtue in Karumakkkarayo? Maybe that's why Geetha Kumarasinghe has fans who choose to exult over her in terms of 'essence of quintessence' in her website, and maybe it's why she chooses fans who don't want the year of her birthday put down on her website. For an eternal vamp, she must have fans who are utterly unbelieving in her ability to grow old..
Her genetics seems to do the rest. Age, she doesn't.