Sunday Observations: The Political Column
SB turns gun on Ranil and Karu
UNP leader Ranil Wickremesinghe, now in the West on a visit for three weeks will be forced to 'reform' some of his party men before he decides to implement further 'reforms' to the party in the bid to restructure the UNP. Last week the senior party men uncovered a plan designed to throw out the UNP leader and his deputy Karu Jayasuriya. The plan had been hatched in Colombo with ten UNP MPs in attendance, presided over by S. B. Dissanayake who returned to the country as Wickremesinghe took wing to the West. However, a majority of these MPs who attended the meeting had been unhappy over any move to oust the leader and his deputy. They had been there following a request of SB Dissanayake to discuss reforms. These moves have been initiated much prior to Dissanayake's recent visit abroad. The first of them was witnessed at the last Working Committee meeting of the UNP when Sajith Premadasa proposed that except for the post of leader, all other positions should be open for contest.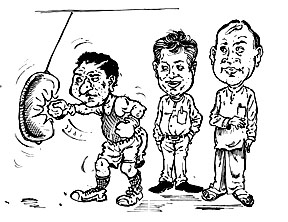 When Premadasa made the move, Wickremesinghe pointed out that the UNP constitution did not provide for such contest from the post of deputy leader. Premadasa said the party constitution would have to undergo amendments to include the proposed reforms and urged that his proposal should be considered. Wickremesinghe did not commit himself. Instead, he said there was more time for the next meeting and mentioned he was taking wing for three weeks. After the working committee meeting concluded, several members flocked to Premadasa to ask him why he made such a proposal. Premadasa said that when positions could be sought through a contest, it would enhance democracy within the party.
Then members broke into groups to examine why such a proposal was mooted by Premadasa and inquired who would contest Karu in that event for the post of deputy leader. A member from the South quipped that SB was keen to become a deputy leader and the map had been designed for a contest between SB and Karu. A few hours after the meeting, another member called on Wickremesinghe at his Charles Drive residence to disclose a secret to his leader. He referred to a function SB attended in the recent past where SB had reportedly told a group of UNPers that his (SB's) first move was to oust Ranil and then Karu. This member had told Wickremesinghe that SB had hinted that he would make use of anyone for that purpose. Following this disclosure, Ranil summoned Malik Samarawickreme, the outgoing chairman of the UNP for a meeting. He told Malik that he had the highest confidence in Karu Jayasuriya as deputy leader and the party should take all measures to safeguard Karu in that position.
"Though some tried to poison him, Karu had never let me down", Ranil told Malik. They also discussed how certain groups within the UNP pressurised Karu from time to time. Both Ranil and Malik agreed that Karu should be made the Acting Leader whenever Ranil took wing overseas. Accordingly, Ranil appointed Karu to that position before his departure on Sunday night.
Given this situation, the Premadasa proposal is viewed with suspicion by many in the party. If Wickremesinghe agrees to hold a contest for posts of deputy leader, general secretary and national organiser, the only contestant for the post of deputy leader against Karu would be SB Dissanayake. If SB succeeds, he would then be Deputy Leader and National Organiser. In the bid to prevent one man enjoying two posts, Bandula Gunewardene has already moved against such provision. Senior members and party stalwarts of the UNP indicated to Ranil prior to the latter's departure that they were fully in favour of Jayasuriya continuing as deputy leader of the party. Wickremesinghe assured them that there would be no change in the post of deputy leader and even recalled that Karu Jayasuriya was his choice for Prime Minister before the last presidential election. Be that as it may with Jayasuriya firm to continue as deputy leader, there is stiff contest for the posts of general secretary, national organiser, general secretary and two deputy general secretaries.Tissa Attanayake, already canvassing for the post of general secretary is now challenged by party veteran, Gamini Jayawickreme Perera. Perera, a popular figure in the UNP has expressed his willingness to accept that post.
Though Attanayake looked the choice earlier, now the party heirarchchy seem to back Perera who is a veteran politician and former chief minister of the North Western Province. Party seniors of the 1977 parliament are in full agreement to have Perera as the new general secretary.
Meanwhile, another issue lies ahead of Ranil. That is to fill the post of Treasurer. As there appear to be no contest for this position, Ravi Karunanayake, a chartered accountant by profession has hinted he was keen to accept such a position. Karunanayake was the first to cross over to the UNP in the Kumaratunga administration in 1996. He set the pace for other cross-overs at that time which enabled Wickremesinghe to form a two-year government. If Karunanayake succeeds, he would be the youngest sitting MP to become the Treasurer of the UNP. Meanwhile, Gamini Lokuge has now been named to the position of a senior vice chairman of the party.
The UNP rank and file has expressed pleasure over the meeting they had with President Mahinda Rajapaksa this week to discuss the security situation in the country. Wickremesinghe who is away from the country instructed his deputy, Karu Jayasuriya to accept the President's invitation.Jayasuriya selected the delegation that included new faces such as Gamini Lokuge and T. Maheswaran.
However, the delegation expressed dissatisfaction over the conduct of Maheswaran at that meeting. Maheswaran had disturbed the President on many occassions while the latter was briefing the delegation posing unwarranted questions to the Head of State. UNP sources said that the President had diplomatically tackled Maheswaran with his experience. But Maheswaran's conduct had embarrassed the UNP delegation, they claimed.
------------
Riposte
With reference to our Sunday Observations (column 2) which appeared on this page last week, Deputy UNP leader Karu Jayasuriya says that references to him were "unfortunately either fabricated or twisted". The writer of the column states: all references to Mr. Jayasuriya were accurate and true. They were neither fabricated nor twisted as claimed by Mr. Jayasuriya.