From Laugfs to Jade
Laugfs Holdings Limited has stepped into the leisure industry through their sister company, Laugfs Leisure Limited. This concept was introduced by Chairman, Laugfs Holdings Limited, W.K.H. Wagapitiya, a young, energetic and innovative entrepreneur who had already made his mark on Sri Lankan business field and Thilak Perera, Managing Director. Aruna Jayalath, General Manager of Laugfs Leisure Limited explained this novel concept of having a Fuel Mart, Super Market and restaurant together.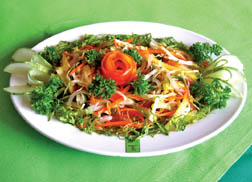 According to Aruna Jayalath, their idea of developing this chain of Chinese restaurants named Jade is to make available authentic Chinese cuisine to more people in and outside Colombo. As they are already holding prime property in choice locations in and around Colombo where their Fuel Marts are situated, it is a small step to upgrade them with a Laugfs Sunup Super market and a Jade restaurant to cater to every need of the motorists, Jayalath said.
The chefs at Jade Restaurants are highly trained in Chinese cuisine and only authentic ingredients are used in preparation of the dishes. The theme of Jade chain of restaurants is 'hygiene'. The courteous and friendly staff is also highly trained with experience in star-class restaurants.
Almost all authentic Chinese restaurants are situated in the heart of Colombo. Their first restaurant with seating capacity for 80 guests was opened in Jubilee Post Junction, Nugegoda and the second will be opened in the very near future in Maharagama.
Laugfs Leisure Limited is planning to open five restaurants in and around Colombo. They are planning to go into the small luxury hotel concept by next year. They have got some property at scenic locations in Chilaw, Sigiriya and the Deep South. Jade restaurants promote the idea of family restaurants that is why several of their projected restaurants will not be serving any liquor.
But there is a variety of tasty 'mocktails' available consisting of tasty fruit juices and other non-alcoholic beverages in varying combinations to suit the discerning palate, says Aruna Jayalath who is a Hotel School Graduate with more than 23 years of hoteliering experience. Before joining Laugfs, he was the Resident Manager of Koggala Beach Hotel.