Predicting destiny - a gift
No man or woman born, Coward or brave, can shun his destiny - Homer When things happen beyond our control or comprehension, we call it destiny. What, how and who has written our destiny is still an arguable question. When Prince Siddhartha was born the great Pundits predicted that he would definitely attain Enlightenment as the Buddha one day. When Jesus Christ was born, three kings of the Orient, bearing gifts travelled so far following the brilliant star appearing in the sky which indicated the message of a great man's birth. And there are so many examples in historical scripts of Hinduism like 'Mahabharatha' where destiny is predicted.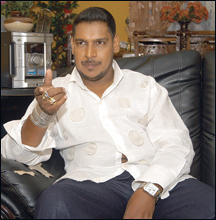 Predicting or forecasting one's destiny or fate is also a gift. Unless one has a great desire, curiosity or the blessing none can be a soothsayer like Manjula Pieris.
Manjula is different from most soothsayers we have encountered so far. "None in my family circle has anything to do with 'astrology'. But, it has been something that was in me since the day I can remember," he says.
A cross section of clients who come to him for his services varies from the lowly to the high class. From filmdom and singers to politicians to top businessman to middle class to the poor.
"My father was an accountant at the CTB Head Office, and mother was a housewife. I'm the middle in between two sisters. Due to political involvements, my father used to loose his job from time to time. So we has to encounter many hardships. However, though I was good in Maths, I wanted to look out for a job just after O/Ls. True my parents wanted me to continue my studies, but my yearning was to join the Sri Lanka Navy. My elder sister's husband was also in the Navy, and this enticed me more to join the Forces," he says.
However, he couldn't go to the Navy interview as his mother did not like it. So he abandoned the idea. Instead he settled down at a very young age fulfilling his teenage love Shanthi who incidentally had also come to get her horoscope read by him. "I saw that her horoscope and mine are tallied very well. When we fell in love, she was very young, so both parents asked us to postpone marriage for at least another four-five years. But fate had it otherwise. Now we are proud parents of two sons." Manjula's father was a strict believer in god Gambhara Sooniyam. Manjula had seen his father worshipping his statue which was placed in a small shrine at the front compound. This attracted Manjula, and he also lit the lamp and burned incense sticks which he had bought out of his pocket money. Later this became a habit and he did it early evening.
His parents noticed that their playful son's predictions which appeared as nonsense at first, were becoming true from time to time. So at the age of 18, Manjula's capability of predicting things started spreading in his area in, Sendrick Place, Katukurunda, Moratuwa.
"If I feel something I tell it to the face of the person frankly. So some people scold me, and later praise me when tings fell in order. Ranjan Ramanayake's mother's death was such an incident. So at first he was bewildered; and it's quite natural. But today he is a very good friend of mine," he laughs. Manjula has even predicted that Ranjan's film 'One-Shot' would be a hit. Channa Perera's 'Anjalika' was also among his predictions of Box Office hits which came true. There were a few cases which his negative predictions had also ...... out to be true.
Manjula has the gift of intuition and the blessing of predicting. But later he self-studied the theoretical side of astrology as well. 'Vara Mihira', 'Daivagnna Kaamadhenu', 'Hora Saaraya', 'Nekath Siduruwana' and 'Sarawaliya' are among the books he had gone through to enhance his knowledge in Astrology. "Even our ancient king Ravana used astrology a great deal. He has even got the help of many 'Devas' to win the war between him and Rama. But later he lost the game as the Devas were angry with his wrong capture of Seetha," he claims.
Manjula has read over 10,000 horoscopes so far. He had predicted the date of the death of the First Women Premier, Sirimavo Bandaranaike, President R. Premadasa, Minister Athulathmudali and Minister Gamini Dissanayaka. "All these three political leaders had 'Sasa Yoga' in either of the place of 1,4,7 or 10 of their horoscope. Although lay men are afraid of 'Erashtakas', President Chandrika Kumaratunga had a landslide victory during her 'Ashtama Erashtaka' period. And any person who lives for 60 years would definitely go through two 'Erashtaka' periods in his life," he claims.
"How these bad periods affect him/her differs according to the planetary positions in his/her horoscope. What ever said and done, it is one's good and bad 'Kamma' (deeds) he/she had done in the past birth. Also there are so many rituals taught in the occult that could use to diminish the effect of evil power of these 'Kamma'. It's like this. If you have to go in the rain you can use an umbrella to cover yourself from getting wet to a certain point. But there are certain strong 'Kammas' which we can do nothing about other than just facing it," he says.
For Manjula astrology has no barriers of any kind. "There's no barrier code for this as it is a 'science' introduced to the mankind more than 10,000 years ago. Even Queen Elizabeth 11 has use the services a British astrologer called John Di. A horoscope found in Greek which is supposed to be the oldest horoscope is exhibited at a museum in UK. So it is not new to this world," he smiles.
Manjula can even predict many things even without reading the horoscope. In this case he uses his intuition, his knowledge in body language and numerology. "But I rarely predict without seeing the horoscope," he warns with a smile.
Question: We have seen in almost every local newspaper in Sri Lanka that there were two major planetary changes which occurred in the Sri Lankan Horoscope on October 27 and November 2 this year. Many were alarmed over it as it said that it was a bad period for many 'Lagnas'. Is there any remedy you can pass onto our readers that would help them to diminish the effect?
Manjula: Yes. Well, in October, it was 'Guru' (Jupiter) that changed it's position, and in November it was 'Senasuru' (Saturn).... Saturn change gives bad results. Saturn symbolises a crippled old man in dirty clothes. His vehicle symbolises a crow. In astrology we believe that these symbols give certain meanings. Hence, generally we can say that if one's 'Lagna' has met with the so called bad occurrence, the following theories could be applied as general remedies. Helping and offering alms giving (food and clothes) for the disabled and beggars come first. Crows are said to be in hunger all the time. The wick dipped in 'Gee' fills it's tummy for the whole day. Freeing cows, bulls, goats and any other animal from being killed, releasing birds or any other caged living being and wearing a blue sapphire ('Kaaka Nila') fixed into a ring or a pendant (the stone should touched your body) are among such rituals.
Apart from that religious activities such as offering 'Ata Pirikara' and other alms to Buddhist priests, Bodhi Poojas, Buddha Poojas or whatever rituals taught in one's religion will also give immense relief to anyone. If one can practise meditation, especially 'Metta Bhavana' in which we shed extreme kindness and compassion to the whole world without any discrimination would be the best remedy of all.
Thiyunuwan Herath of Royal College who got the island best results in A/Ls (Maths stream) was one of the predictions made by Manjula ......come true.
Manjula has predicted many things about prominent personalities in the art world in Sri Lanka. "Yashodha Wimaladharma will improve her position to film director level and she will have a bright future in the field. Ranjan Ramanayake will win an international award. Though our famous film Director Tissa Abeysekara plays a low profile at present, my prediction is that he will shine like a luminous star in the sky in the near future. Dancer Channa Wijewardane will be awarded and honoured more and more internationally. Comedian Bandu Samarasinghe will also gain great fame in the field in the future. More than anything I would like to predict about the up-and-coming actress pretty Manjula Thilini. She will be the next Queen of the Sri Lankan film world one day!," claims Manjula.
The young astrologer came out with many a political predictions. If anyone us to be a 'king' in this land, the pearl of Indian ocean he or she has to be born to any of these six 'Lagnas' - 'Mesha' (Aries), 'Vrushabha' (Taurus), 'Sinha' (Leo), 'Mithuna' (Gemini), 'Kataka' (Cancer) and 'Kanya' (Virgo)....," he predicts.