Drive the nation towards 'IT for all by 2010'
The Government can encourage small, medium and large-scale companies to get involved in this sector by providing necessary incentives and support. There is a huge potential in the domestic sector in the country to use software packages starting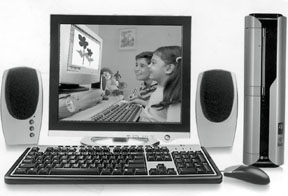 from small packages such as payroll, HR etc. up to ERPs (Enterprise Resource Planning) in order to improve their businesses through the improvement of the efficiency. Most of the non-IT companies available in the country do not know the value of software packages hence the marketers in the software companies can visit every corner of the country and promote (B2B) their own packages. They can use agents of the entrepreneurs scattered in the country to educate the businessmen through them. This is one of the lucrative areas to improve the financial side of the software companies to come up.
We should have a mechanism to help our skillful programers in the area of business even to start small-scale companies and improve up to medium scale companies and subsequently to tie-up with big companies either local or foreign in order to deal with the export market.
Incubator Concept
In Sri Lanka there is a company in the BoC Merchant Tower, Colombo-03 where they are providing cubicles with all necessary basic facilities to run small-scale software based companies for a reasonable monthly rent. Other than providing electricity, telephone, network and leased-line facilities to use Internet they provide common photocopy, conference room, lunch room etc. and organising workshops to improve their knowledge in various aspects. Once your company becomes matured, you can flyaway from them for better prospects i.e. bigger place or your own building. This is like your premature baby keeping inside the incubator in a hospital until the baby is matured. Further, if you need money, they will organise venture capital funds through the foreign investors after evaluating your strengths and the product developed by you.
Venture capital concept
The venture capital concept has been the main source of finance for software industry around the world. This is a well-known concept existing in vogue in the world and it could help small-scale companies and the talented individuals or a team of experts to become giants other than acquiring foreign currency.
However, non-existence of a proper IT environment with a clear vision of the country these companies can do very little, hence again the government should intervene broadly. The software sector cannot be ignored, but we should educate local investors and they must try to understand the business. In the past decade or so, the only industry, which has been consistently growing, and that too at a good rate, has been the software sector. Any investor, who has not touched this sector before, will be reluctant to invest their hard-earned money in new areas of business.
In India, lot of non-IT companies had diversified their businesses to the IT industry and subsequently able to reap the real harvest than their area of traditional businesses therein. Currently in Colombo we are having three giants in the IT industry namely Vertusa, Millennium IT and IFS who are involving in exports of their own software with the help of around 500 qualified employees (Engineers and other degree holders) per each company.
However, the Government can encourage other non-IT but well established companies involved in the other trades (i.e. garment) such as MAS Holdings, Brandix Group to make them diversify into this golden industry. Presently they are handling majority of workers who are having hands on skills but with proper HR management mechanism, which is very vital and different art altogether to get things done from human beings. These companies are having good skills to negotiate with foreign buyers and work towards a given plan by the buyers within the target. This practice is very important for the IT sector as well. We can use foreign investors who are having thrust to invest money for profitable and growing businesses like IT and can use same to earn foreign currency.
We should thank the present Government for its commitment shown through the Budget 2007 to concentrate on developing the infrastructure facilities as a basic but necessary foundation for the development of the country. If we consider the late President R. Premadasa's 200-garment factory program, his idea was to bring the development from town to the villages and providing job opportunities for the people in the rural areas. When we compare IT with the garment industry, computers mean sewing machines, raw materials such as clothes and other items mean human (knowledge) and the data or information means finished goods. If you set up a garment factory you should transport raw materials and the finish goods from the port to the factory and vice versa via roads. Then you should require a proper road network with less traffic. In the case of IT, transportation of data or information means transmit them via the high-speed telecommunication lines instead of using the roads.
If we consider the garment factory it is an important area of business to provide jobs for the people who are having hands on skills with low profile of education (machine operators). In the IT industry we can utilise the educated people and improve the economy with high volume of income, which is vital for economic development of the country and to provide the jobs for educated people. Without any doubt we should bring equal development opportunities to all areas of the country since 52% of the GNP earned by the Western Province whereas balance 48% is from all other provinces. Luckily the present government has understood this imbalance economic situation. Especially the majority of the people who are in the southern province are well educated but because of non-existence areas of proper opportunities they have to migrate to Colombo and similar towns. But if the government can start 'Special Economic Zones' (SEZ) for the ICT based industry, we can make a clear change in terms of generating income and jobs.
Software Technology Parks (STP)
In India, there are special IT - industrial zones called 'Software Technology Parks'. Government is providing lot of facilities such as lands, basic infrastructure, tax exemptions,... etc., and more than the benefits, that we provide for BOI companies in Sri Lanka. India has established more than 17 STPs successfully and more than 1,300 foreign companies have registered in these parks. In fact during the first visit made by the President to India it is reported that he is interested in starting same in Sri Lanka as well.
We can start such parks in the selected provinces and districts such as Matara, Galle, Kurunagala etc. based on the population of educated people in particular areas. According to the security situation of the country these locations are even more peaceful and better to attract foreign investors.
Telecommunication sector
The telecommunication market in Sri Lanka was monopolised by the state before 1995. After the former President Chandrika Bandaranaike Kuratunga's decision to privatize this sector we were able to improve same at a good rate though we could not bring the desired results through privatisation from most of the other sectors. Presently several foreign investors are planning to invest in this sector. According to the Central Bank statistics, every 18 persons had phones against 1000 (ratio 1000:18) in year 1996 whereas it has increased up to 165 in 2004. World-renowned companies such as Bell, Suntel tied-up with several retailers in the country are selling wireless phones throughout the country. Mobile phone connection density will beat the fixed and wireless phone density in the near future.
Today phones are an essential and reachable item relative to the past for most of the people in the country. However, apparently the affordability of the telecom facility in SL is low compared to other Asian countries. In other words though the tele-density is increased to a great extent but most of the people cannot use this facility other than for urgent circumstances because of the high charges. This situation will not favour the development of the IT sector.
The SLT's (Sri Lanka Telecom) role in this sector cannot be considered as small and they are the leaders in the market since they maintain 77% of the market share for fixed-lines. Their domestic core network consists of optical fibre rings capable of handling gigantic volumes of data and SLT's international connectivity is well positioned to transfer data at the speeds of terabyte per second, which would facilitate any business.
After commissioning of Bharat Lanka optical fibre submarine cable between India and Sri Lanka, customers of both countries would benefit by competitive International Private Leased Circuits (IPLCs), Broadband Internet, direct and backbone networks, transit International Direct Dialing (IDD) traffic, Internet Protocol (IP) and multimedia content services etc. This cable could create substantial bandwidth and both companies can inter-connect their IP based multi protocol label switching (IP-MPLS) network to facilitate Global Virtual Private Network (VPN) services of the valuable customers. Existence of infrastructure of this nature in Sri Lanka is vital for IT business.