U.S. not at higher risk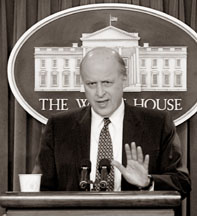 National Intelligence Director John Negroponte acknowledged Monday that the jihad in Iraq is shaping a new generation of terrorist operatives, but rejected characterizations stemming from a leaked intelligence estimate that the United States is at a greater risk of attack than it was in September 2001.
Rather, he said, the high-level assessment from the nation's top analysts doesn't "really talk about" an increased threat inside the U.S. border.
"We are certainly more vigilant. We are better prepared," said Negroponte.
"We are safer. The threat to the homeland itself has ? if anything ? been reduced since 9/11."
Negroponte's words came at a dinner at Washington's Woodrow Wilson Center after the disclosure of a National Intelligence Estimate this weekend, which gave new fervour to an election-year debate about how the Iraq war has affected national security threats.
The report, Negroponte said, broadly addressed the global terrorist threat, not just the impact of Iraq. Yet Negroponte acknowledged that U.S. analysts believe "the Iraq jihad is shaping a new generation of terrorist leaders and operatives."
The report distils the thinking of senior U.S. intelligence analysts working throughout the nation's 16 spy agencies. Its conclusions are considered to be the voice of the U.S. intelligence community.
The New York Times first reported Saturday that the highly classified assessment finds that the U.S. invasion of Iraq has helped fuel a new generation of extremists and that the overall terror threat has grown since the attacks of Sept. 11, 2001 ? a conclusion at odds with President Bush's assertions that the nation is safer.
But Bush administration officials, including Negroponte, are contesting the media accounts, saying they describe only a portion of the conclusions and therefore distort the analysts' findings on trends in global terrorism.
The top Republican and Democrat on the Senate Intelligence Committee urged the Bush administration Monday to declassify the intelligence assessment.
AP