Transcending Cultures: Exploring Universality in Art
Prof. Ariya Rajakaruna-Academician par excellence

Up-close and personal by Ranga Chandrarathne
A proper education cannot be imparted only in the medium of Sinhalese and the Sri Lankan system of education should be reversed to the Colonial system of education says Professor Ariya Rajakaruna, commenting on the lack of interest in Sinhala language and Fine Arts.
He is of the view that the future of Sinhala language and literature is at stake as it is increasingly becoming useless in the face of ever-shrinking employment opportunities for those who have been educated only in the Sinhala medium.
In order to make a positive change towards infusing knowledge of English into the universities and other educational institutions, a broad-base discussion should have been started. However, so far Sri Lankan society including the academics have failed even to commence such a discussion. Such a discussion might take two, three years to come to a settlement and the future is very bleak.
Commenting on censorship, he opined that it should be done by persons who are familiar with various art forms. On the other hand, different countries have rules governing the art forms. For instance, in Japan, pubic hair cannot be displayed even in an artistic film.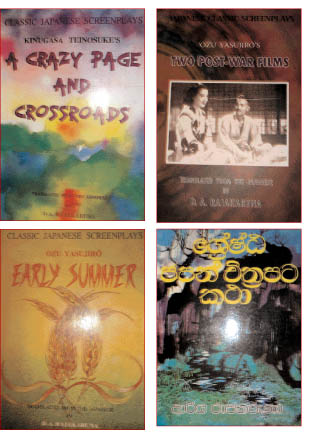 Political interference will definitely affect artistic creations, and the creativity of artists to a certain extent. However, it depends on the nature of the work of art. For instance, Japanese film, Oshima's "The Realm of Senses" which was not allowed to be shown in Japan was shown in France as that rule is not applicable in France.
Observing on politically influenced censorship, Prof. Rajakaruna is of the belief that politicians should consult experts in the respective fields prior to making ad hoc decisions on the boundaries of arts and culture albeit Sri Lanka does not possess such experts.
In order to promote and propagate serious literature, a positive change should be brought about in the system of education.
Measures such as prescribing text books of reputed authors like Martin Wickremesinghe, introducing films, screen-plays (even from other countries) and translations of literary works such as Julius Caesar can be taken at preliminary level. Short stories and short plays of serious nature should also be introduced to the school curricula.
At university level, books should be prescribed for students to read in the first, second and third years and the evaluation should also be done in order to ascertain that the students have achieved the degree of proficiency they are required of and library facilities and other amenities should also be provided to facilitate the education.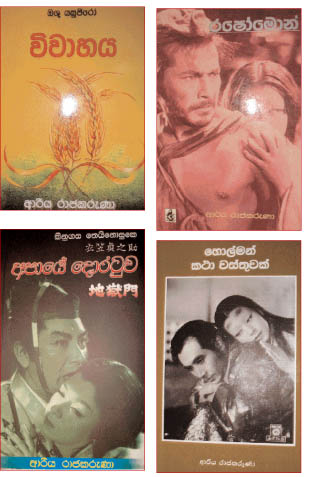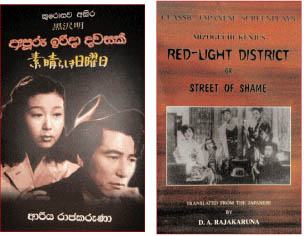 Only after introducing these reforms into the system of education, that Western drama can be introduced into primary classes.
Citing an example for teaching drama and music from Japanese education, Prof. Rajakaruna states that, in Japan, for the last hundred years, only Western music is included in the school curricula and not Japanese Traditional Music.
He is of the view that it is of no use studying classical dramas such as 'Caucasian Chalk Circle' (Hunuwataye Katawa) which had been a prescribed text for Advanced Level syllabus, should never have been recommended in East Germany at school level. It is obvious that students should be familiar with Western traditional drama before studying experimental drama such as 'Caucasian Chalk Circle'.
"Maname and Singhabahu" are more suitable for university level students and for the beginners, traditional realistic Western drama should be taught before they graduate into studying Eastern and classical Western drama.
Commenting on cinema and cinema allied literature, Prof. Rajakaruna is of the view that Sri Lankan cinema and cinema literature have not been developed into a distinct form of art compared to Japan where screen-plays are considered as a form of literature and are read and appreciated by Japanese scholars.
Since the early 80s Prof. Rajakaruna has been translating Japanese screen-plays into Sinhala and English; seven Japanese screen-plays were translated from Japanese into Sinhala and five from Japanese into English. In addition, Prof. Rajakaruna has published ten books containing Japanese film scripts.
It is of his view that translating film scripts is necessary for studying cinema as an art form at the University level. Most of the screen-plays of Japanese films are published in Japan in Japanese.
In 1977, Professor Howard of the University of Harvard published an Anthology of Japanese Literature where he included translations of two film scripts, for the first time, as he considered screen-play as a form of literature in Japan. The book was titled 'Contemporary Japanese Literature'.
In Asia, Japan's contribution to cinema is outstanding and produced several great film-directors such as Akira Kurosawa, Mizoguchi, Ozu and Kinugasa. 1950s is supposed to be the golden era of Japanese films and the films that Prof. Rajakaruna had translated belonged to that era and had won international prestigious awards.
Commenting on Sri Lankan cinema, he is of the belief that none of Sri Lankan films have won the highest awards at international prestigious film festivals though several films won and shared certain awards at international film festivals.
Even Dr. Lester James Peries's "Wakanda Walauwwa" (Mansion by the Lake) had not been considered for an award in Cannes. It is obvious that Sri Lankan film-makers have not attempted in serious film-making. Prof. Rajakaruna has translated several Japanese screen-plays, some of them for the first time, into Sinhala with a view to introducing the serious classical films to Sri Lanka.
For instance, his translation of Gate of Hell into Sinhalese is the only translation of the original Japanese screen-play in any other language. It is also not found in book form in Japan and Prof. Rajakaruna found it in the Film Village in Kyoto. "Red Light District", "Early Summer", "Late Spring", "A crazy page" and "Cross Roads" are translated, for the first time, into English by Prof.Rajakaruna.
However, a French translation is available for "Early Summer" and "Late Spring" but not in book form.
Though these screen-plays are translated into Sinhala, they are not often read as serious readers are lacking among the Sinhala readership. In 2004, "Tokyo Story was judged as the fifth film in a survey conducted by 'Sight and Sound' among the best ten films produced in the world.
However, Prof.Rajakaruna had translated it into Sinhalese as far back as 1983 though it was not widely read and had not been made use of in this country.
Analysing the Sri Lankan cinema and study of cinema even at the university level, Prof. Rajakaruna is of the view that even the lecturers of cinema in Sri Lanka have not been playing adequate attention to screen-plays as a serious form of literature, for early Sinhala films did not have screen-plays.
In Japan, the first film script is written and sometimes by several writers spending months on them. For instance, Kurosawa's film scripts are written by several script-writers. As one appreciates stage-play, screen-plays should also be read and appreciated.
In order to produce serious films, Sri Lankans should also study screen-plays and consider them as serious forms of literature. It is also imperative that Sri Lanka should have an Academy dedicated to teach cinema, every aspect of it with minute details.
For example countries like China and Vietnam have Institutes dedicated to teaching cinema. Although Sri Lanka has institutes such as University of Visual and Performing Arts, offering subjects of cinema, drama and television, they have not been expanded up to international standards. Separate Departments for subjects of Cinema and Western Drama should be established at the University of Visual and Performing Arts.
In order to be familiar with drama, a student must learn Greek, Roman, English and other Western drama as well as Indian, Chinese, Japanese, Sanskrit and Classical as well as modern drama together with Western music, and teaching only Udarata, Sabaragamuwa and Pahata Rata dance and Eastern music will not impart a wholesome knowledge of drama.
Commenting on Vimukthi Jayasundera's controversial film, "Sulaga Enu Pinisa" (The Forsaken land), Prof. Rajakaruna believes that, though he had attempted to make a serious film, he was not completely successful in achieving the task as it is not very meaningful in the Sri Lankan context, considering the way in which Vimukthi has presented the problem and life in a threatened village, is not artistic.
For him the main problem of the people is sex. Particularly, he does not see any meaning in the scene where the village-guard is being thrown into the river by a group of soldiers. If you have other problems, you give inferior place to sex. He is at a loss to understand why the film maker wants to show sex as the main problem in the forsaken land.
In his opinion, Prof. Rajakaruna considers that "Wekanda Walauwa" and even "Rekava" are not up to the international standards. There is not a single serious study of Sri Lankan Cinema published by an internationally acclaimed film expert.
It is his view that some of the classics cannot be translated into another language. They won't be perfect translations. For example, Shakespeare's work including poetry are extremely difficult to translate. When it comes to Sinhalese translation, the task will be much more difficult than translating into English as Sinhalese is not a developed language.
Reminiscent of his childhood, Prof. Rajakaruna received his primary and secondary education from Seevali College Ratnapura and sat for the University entrance examination from Ananda College, Colombo. He entered the University of Peradeniya which was then known as University of Ceylon in 1953 and graduated in 1958.
For a brief spell, Prof. Rajakaruna taught at St. Joseph's College and at Aquinas College, Colombo. At the university, he read a Special Degree in Sinhalese with Greek and Roman Drama and Greek and Roman literary criticism as subsidiary.
In 1959, he joined the University staff as an Assistant Lecturer in Sinhalese. In 1962, he went to Japan to read for a post graduate degree in Drama and Theatre at Waseda University in Tokyo where he studied classical Japanese and Chinese drama. He earned his PhD from the University of Colombo.
He also held various positions within the university system including the Head of the Department of Sinhalese. Prof. Rajakaruna was born in Eswatta Puwakpitiya in Awissawella while his father was a planter from Weyangoda and mother is from Puwakpitiya.
The screenplays of classic Japanense films translated into Sinhalese and English from the original Japanese by Prof. D. A. Rajakaruna
In Sinhalese
1. Akira Kurosawa's Ikiru (To Live) and Yasujiro Ozu's Tokyo Story - 1986
2. Akira Kurosawa's Rashomon - 1989
3. Teinosuke Kinugasa's 'Gate of Hell' - 1994
4. Kenji Mizoguchi's Ugetsu - 2000
5. Yasujiro Ozu's 'Early Summer' - 2001
6. Akira Kurosawa's 'One Wonderful Sunday' - 2005
In English
1. Yasujiro Ozu's 'Early Summer' - 1997
2. Teinosuke Kinugasa's 'A Crazy Page' and 'Crossroads' - 1998
3. Kenji Mizoguchi's 'Red-Light District' or 'Street of Shame' - 2001
4. Yasujiro Ozu's Two Post-War Films: 'Late Spring' and 'Early Summer' - 2006
Kinugasa's screenplay of 'Gate of Hell' is translated only into Sinhalese. it has not yet been translated into any other language. The original screenplay is not available in printed form even in Japan. The Sinhalese translation is based on the manuscript of the screenplay obtained from the Film Village Library in Kyoto, Japan.
Ozu's 'Early Summer', Kinugasa's 'A Crazy Page' and 'Crossroads', Mizoguchi's 'Red-Light District' or 'Street of Shame' and Ozu's 'Two Post-War Films' are translated into English for the first time.
Kinugasa's 'A Crazy Page' and 'Crossroads' and Mizoguchi's 'Red-Light District' or 'Street of Shame' are so far not translated into any other language.