Arts
Shri Yaikhom Hemantha Kumar visits Sri Lanka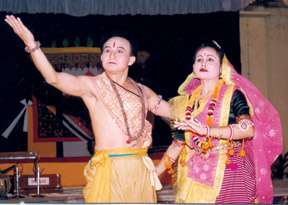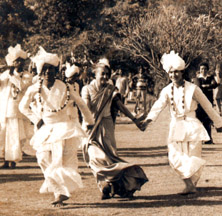 Sri Yaikhom Hemantha Kumar is a genius in Manipuri dance who graduated from the university of Manipur. He began his career at an early stage of life (when he was eight years old) by starting to learn Puny (Manipuri Drum). He received training in creative choreography also. Manipur dance is one of the richest classical dance forms in India though it is not very popular in Sri Lanka.
It is performed in temples, mandapa and at religious occasions inextricably woven into the lives of the people in Manipur. The dance form has an uninterrupted flow of dance tradition.
The itinerary from December 31st to 9th January: On January 5 evening lecture demonstration and performance at the Indian Cultural Centre and January 6 morning TV programme - Sirasa - Swarnawahini.
On January 9 morning a lecture - cum demonstration at Colombo University of Visual and Performing Arts.
---
Sakala Jana and 'A Collection of Illustrastrations' from Winnie Hettigoda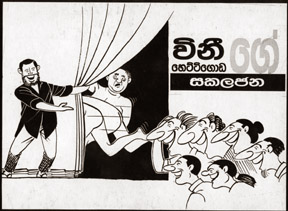 'A collection of Illustrations 'and Winnie's political cartoons titled Sakala Jana are two books depicting illustrations by the renowned journalist and Senior Lecturer in Fine Arts at the university of Visual and Performing Arts was launched.
'A Collection of Illustrations' , an ANCL publication, encompasses various illustrations by Winnie Hettigoda during his twenty five years career while 'Winnie Hettigoda's Sakala Jana' which is a Sumathi Publications publication , is a series of political comic strip which have appeared in newspapers.
Sakala Jana highlights the shortcomings of politicians of the day and looks at them in a satirical perspective. This series of Political Comic Strips have been very popular among the Sinhala readership.
Winnie is credited with holding the first exhibition of Computer Graphic Arts at the University of Colombo. He has also received training and studied at several foreign countries including in India at the MS University of Baroda and France.
He has contributed to one of the most popular French newspapers "Le Monde" as a cartoonist. With his experience as a scholar in France where he studied for his PhD, Winnie produced a number of works of art based on France. Winnie is a Senior Lecturer attached to the University of Visual and Performing Art.
---
Promoting and preserving Sri Lankan culture
'UAE tour, a success' - Sahan Ranwala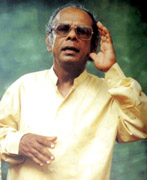 Lionel Ranwala Jana Gee Kandayama which has been carrying on the legacy of the late maestro Lionel Ranwala recently conducted a successful tour in the United Arab Emirates.
They play authentic Sri Lankan tunes based on folk music and also conducted the "Gama Ahulaggang" concert to a packed audience of expatriate Sri Lankan community there.
"There was a tremendous response from the thousands of Sri Lankans working in UAE for our concert.
It was indeed a memorable occasion for us as we played Sri Lankan tunes with the latest State-of-Art lighting. It has also dispelled the long-held myth that there is no audience for Sri Lankan folk music and songs that we have created based on Sri Lankan folk music in foreign soils.
Not only Sri Lankans but also a large number of foreigners attended the concert, "said Sahan Ranwala on the unprecedented response he received in UAE.
---
Sensibility and imagination is her forte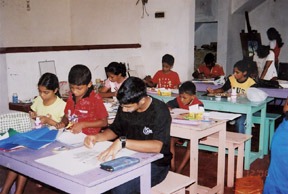 An artist is a person who displays in his or her work, qualities required in art, such as sensibility and imagination. This definition fits Lakmini Amararatne, ,like a glove.
Lakmini's career studded with an array of awards, from here and abroad, started with her first experiment at a solo in 1980 an exhibition at the Samudra Art Gallery, Colombo. From then onwards, there was no stopping her. She represented Sri Lanka at the SAARC Art Exhibition in New Delhi (1986); Cuban-Sri Lankan Artists Exhibition at the National Art Gallery, Colombo (1989); Solo Art Exhibition at the Lionel Wendt Gallery, Colombo (1990); Korea-Sri Lanka Artists Exhibition, BMICH, Colombo (1996); Represented Sri Lanka at the Commonwealth Art Exhibition in Kuala Lumpur, Malaysia (1998); Young Contemporaries Art Exhibition organised by George Keyt Foundation at The National Art Gallery, Colombo (1999); State Art and Sculpture Award Festival at the National Art Gallery, Colombo (2002); Group Art Exhibition organised by the Rotary Club of Colombo at the Galle Face Hotel, Colombo (2003); and Teachers-Pupils Art Exhibition, Lionel Wendt Gallery, Colombo.
Despite her steady string of achievements, added with a busy schedule it was indeed another feather in Lakmini's cap, when she found the time to read and obtain her B.Sc. Degree from the University of Colombo in 1995.
In 1997, the government recognising the 16 most talented artists islandwide donated plots of land to each of them. Lakmini built a private gallery which she named, Lakmini School of Art and continues with her painting in the new environ at Kala Pura, Templers Road, Mount Lavinia. This windfall also helped her in a big way to guide the young ones who are keen on learning the intricacies of the use of the brush!
Again, Lakmini was fortunate in receiving a grant from the Ford Foundation, USA to follow a post graduate degree course with Paint Conservation as a Major at the University of Moratuwa, which, she is due to complete this year.
International recognition of her master pieces could be ascertained by the fact, that they were selected to grace the walls of the Presidents House, Colombo, Prime Minister's Office, Colombo, National Art Gallery, Malaysia, Sri Lanka High Commission in Malaysia, Ministry of Education, Isurupaya, National Library Seniors Board, Colombo, National Timber Corporate, Colombo, Children's Section of the National Library, Continental Hotel, Colombo, Artonia Gallery, Colombo Hilton and the Cub Scout Room of S. Thomas' College, Mt. Lavinia.
An exhibition of paintings by her pupils which commenced on Friday at the Lionel Wendt concludes today.