Entertainment / People
Well received performances
It was all a different scene for the trio Silvas, but coming home from Zurich and performing on our stages was sheer happiness to them.
Mano Silva and his two daughters Komali and Mihiri joined in by Tharaka their son were in action at H2O on December 28, at Clancy's the next day Friday 29 and they had their last performance at R&B on December 30.
Mano who plays guitar, left Sri Lanka when the band Rendezvous comprising Russell Fernando, Chitral Somapala and Udaya Welikala flew into Europe to fulfil the commitments they signed themselves into.
That was some years back and now here in Sri Lanka the Silvas tackled the requirements of Sri Lankan dance groovers with ease. Their repertoire includes rhythm and blues and hip hop, which though quite in demand in Europe, is equally in demand in Sri Lanka.
The glitz in the trio young Komali and Mihiri both singers and keyboardists made an impact on our youth groovers and plan to make a return hopefully this year. To them it was all exciting and they made many friends.
Young Komali in Zurich during the week works as consultant for the Winterthur Insurance Company and also follows studies at the Government Business School in Bern. Mihiri who enjoys dressing up, is studying to be a fashion designer at the Government School for Dressmaking and Fashion Designing in Bern.
By the time you read this the Silvas would have taken wing to Zurich and Mano goes back to the daily routine of working as an Application Engineer for UBS in Zurich.
But as they told us they will carry with them happy memories of their performances in Sri Lanka which was a first time for them and didn't they create a large fan base for themselves!
---
Spitfires Reunion Concert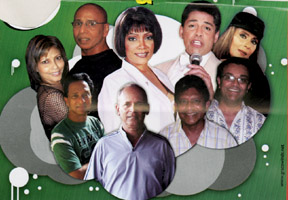 It's going to be a reality the Spitfires Re-union Concert live at the BMICH.
The popular band that held the top rung of popularity here in Sri Lanka during the 70s, as well as in the Middle East, will relive their glory days with the songs that made their repertoire memorable.
Just imagine Priyanthi, Raja, Noeline, Desmond, Dalreen, Conrad, Ronnie, Chinti, Laurensz, Budrin, Maxie and Claude all on one stage after 30 years with two back-to-back concerts with that new generation of sounds they created. Its home grown talent at its best!
MP
---
Musicians in jazz action
Music makes many musicians to rapport with one another whatever the time of day. On January 7 (today) after a hectic New Year's Eve night, leading musicians will gather to exchange jazz chords at the soiree at the CR & FC from 1.30 pm onwards. A lot of surprises we understand are on the cards. Saxophonist Ricky Senn back home from the cold climes will be in swinging action.
The opening set at 1.30 pm will be Latin flavoured with percussionist Hans Mater heading a group with Hilary Christie - piano, Basil Paiva - bass, Shanthi Seneviratne - drums with Judy and Kanthi de Silva - vocals.
The featured band will see the powerhouse bassist Alston Joachim spreading creative vibes with Tammy Ruberu - piano, Lal Witiwala - drums and joined by Surekha Amerasinghe - flute and Lelun Ratnayake - congas. Karl Katz Combo will be performing today.
---
Sir Cliff - soon in town
Cliff Richard's Asian leg of his world tour commences next month and the celebrated singer will be in Sri Lanka for his first ever concert in Sri Lanka on February 23. With something like 128 hits in a career that has spanned 48 years, he is Britain's biggest ever hit maker.
If you grew up enjoying Living Doll, The Young Ones, Lucky Lips, Congratulations and a host of other favourites it's going to be a reality to see him performing live.
When he was once asked whether he has a vocal coach, he replied that he has no vocal coach, that he did take vocal lessons once, but now he's got a warm up tape which he plays and rehearses just before he goes on stage.
He commented that he knows what he is doing now when compared to the early years and that sometimes he feels he'd like to slow down but it's difficult to do that. So what he is trying to do is to space things further apart so that he'll be doing the same things but not as often.
"Show business is about doing things over and over again and improving them. That's why I still tour. I've done acting in musicals and on film, I've done TV and radio - I've done the things I want to do" Sir Cliff remarked at a recent interview.
Asked who he would like to play him in a film of his life, Cliff said "I'd pick Brad Pitt. If he can't sing, I'll get Daniel Bedingfield to sing for him."
MP