Laugfs enters Australian Auto Gas Market
Laugfs last week commissioned its very first Auto Gas Conversion facility in Perth, Western Australia.
The facility was inaugurated in Carlisle, Perth under the patronage of the Chief Guest, Steve Arott, General Manager-Investment Attraction, Department of Industry and Resources, Government of Western Australia.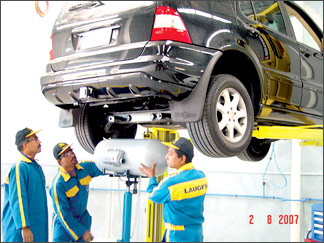 Representing Laugfs Holdings at the ceremonial opening were W.K.H. Wegapitiya, Chairman Thilak de Silva, Managing Director and Lalith de Silva, Resident Director. Representatives from the Australian Energy Authority, Australian Auto Gas Association and the Honorary Consul of Western Australia for Sri Lanka were also present.
The venture into the Australian Auto Gas Conversion market was precipitated by the introduction of substantial subsidies and incentives by the Federal and the State Government to induce motorists to convert petrol fuelled vehicles to auto gas. As a result, Laugfs, in their numerous market development initiatives identified the potential scope for a sizeable business venture in Australia.
Australian government regulators have traditionally focused on measures to reduce the impact of harmful auto fuel emissions.
Over recent years, however, two other issues impacting on the regional ambient air quality have assumed greater importance; the build of greenhouse gases in the atmosphere and the health effects of various air toxic substances in vehicle emissions. Auto LPG fuelled vehicles have been proven to emit significantly lower levels of pollutants and fewer greenhouse gases.
The combined strengths of LPG as a "greener" fuel was a catalyst for the Australian Government to promote and adopt a policy aimed at increasing the consumption of auto LPG.
Chairman, Laugfs Holdings W.K.H. Wegapitiya, said "we see the conversion plant in Perth as our stepping stone to the Australian market. We hope, over the next few months to enter into regional markets such as Melbourne, Victoria. We are confident that Laugfs will do well in Australia.
The economy in Western Australia is booming and is an ideal location for investment. We are pursuing numerous other ventures in the Australian market including the manufacture and recapping of solid and industrial pneumatic tyres as well as the establishment of a chain of consumer retailing supermarkets".
Managing Director Thilak de Silva, "Our vision is to be a Sri Lankan multinational. We hope to diversify our operations in Australia and the Australasian region including New Zealand and Fiji.
We are also looking into the possibility of expanding our operations to the West Indies, namely Jamaica as well as the Maldive Islands.