Maligawila - a reflection of ancient glory
Ever since the arrival of Arahat Mahinda Thera in Sri Lanka during the reign of King Devanampiyatissa, Buddhist culture has flourished in our paradise isle.
As a result, hundreds of historical sites reflecting the splendour of the ancient Buddhist culture are found scattered all over the country, even now. Foreign as well as local tourists never fail to be astonished by the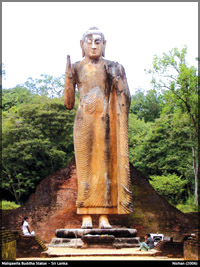 breathtaking evidence of ancient Sri Lanka's marvels.
One such extraordinary historical site is Maligawila.
Maligawila Buddha Statue
Although there are plenty of attractions in Maligawila, it is best known for its gigantic free-standing Buddha statue, which is said to belong to the seventh century. It is also considered as the tallest free-standing Buddha statue of the country, standing up to a height of 14.5 metres.
This monument had been discovered in 1951, in a dilapidated (shabby) condition, fallen and broken into pieces. Serious efforts were made to raise this statue in 1974, with little success.
Finally, in the 1980s, the statue was raised and restored and some of the ruins around it were excavated (dug). The remains around the statue suggest that there had been an image house surrounding this gigantic creation. This image house is believed to have had a length and breadth of eighty feet each.
It is surprising to know that this large statue is carved out of a single block of limestone weighing about 100 tons. This statue is believed to have been done by a prince called Aggabodhi, who ruled the 'Rohana' region of Sri Lanka in the seventh century.
Further proof for this can be found in the Chulavamsa, which has a verse probably referring to a King Aggabodhika who ruled during the seventh century. This says that the king built a hospital in 'Kanagama', which means the 'village of the blind' and that he set up a stone statue of the Buddha which was called 'The Great', because it was produced as if by a miracle.
It seems very likely that this refers to Maligawila and its temple, hospital and statue. Anyway, it is easy to understand how such a huge and finely sculptured image could earn the name 'The Great'.
It is also believed that Prince Aggabodhi made a single monastery complex, which had been identified as the Pathma Vihara situated in Kanagama. It has been mentioned as Ariyakara Vihara in the Mahavamsa.
Later on, King Dappula who also reigned during the seventh century, constructed an image house to the Buddha statue and a Maitreya Bodhisattva statue at Dambegoda. It is recorded that he also decorated the Buddha statue and made offerings.
Avalokitheswara Bodhisattva Statue
The next attraction at Maligawila is another statue carved out of a rock; this lies about half a kilometre away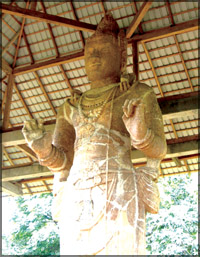 from the Buddha statue.
This is thought to be the image of the Avalokitheswara Bodhisattva and is sometimes also identified as Maithree Natha Bodhisattva statue or Dambegoda Bodhisattva statue. Avalokitheswara Bodhisattva is believed to be a heavenly being who chose to reside among humans to help ordinary people achieve salvation.
The statue weighs about 60 tons and stands 9.85 metres tall. The statue had been in several pieces at the point of discovery, but luckily, since the face was lying down, the details of the face had been preserved.
Unfortunately, after its discovery, vandals had blown up the image with dynamite, breaking it into over a hundred fragments, believing that the statue contains treasure. After a long and tiring effort, the image was finally restored in 1990.
Stone inscription
Just left to the stairway to the Bodhisattva statue lies a pillar inscription protected by a newly built structure.
This stone pillar is said to have been placed by King Mahinda IV (956-972 AD) on his 10th year of reign.
This inscription records the work done by the king to uplift Buddhism and has some rules laid down by him regarding the administration of Buddhist sites.