Coping with death of pets
Can you imagine what you would do if your darling pet dies? Or, have you gone through this bitter experience at least once in your life? Death of pets and dealing with it is the topic we look into through this article today.
We are focusing on those pet lovers for whom caring for a pet is something more than just giving food, water and shelter. Sometimes, a pet could be the main attraction in the house. Pets have a lot to give us in return for the caring we give them. They help calm our mind, recover from tragedy, and relax after a long day's work. There are some people who treat their pets just as they would treat their children or family members.
For them, losing a pet brings more grief than we would normally expect. They won't be able to just say "Oh! My pet died" and get over it. Empty food bowls, leashes and pets' sleeping places will bring back memories of the lost pet and they would find it really hard to cope.
Today, we give you some tips to help you deal with this grief and face reality:
* Allow yourself to cry. Bottling up your emotions is not good for you, and you will feel sad forever. Forget all those sayings that you should not mourn an animal as you would a person.
There was a bond that you cherished, and no matter what the nature of the bond was, it would be missed.
* Tell your friends about the loss. You might call and tell everyone. You will receive many responses that let you know others loved and appreciated your pet; this will validate(justify) your feelings.
* Remember your pet. Don't pretend you never had one. Even though it makes you sad, it is best to remember and cherish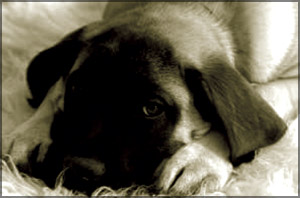 the memories, rather than ignoring them. It may hurt at first, but it's the only way to get over your grief, and the only way you'll be able to remember the time you had with your pet.
* Get on with your life. Although losing a pet is very sad, it is no reason to shut yourself up in your house or go into depression. Your pet has always felt secure in your happy mood, and the sooner you get back on track, the sooner you'll be yourself again.
* Consider volunteering at a local animal shelter. While emotionally, you may not be prepared to welcome another pet into your home right away, the act of helping to care for a homeless pet, a pet in desperate need of a caring human may help with your grieving and sadness.
* Do something in memory of your pet. Plant a tree, donate to a shelter or college of veterinary medicine.
* When preparing for the loss of a pet, involve your family and friends, but be prepared for some very different reactions - each of us suffers in a different way.
* Consider a different look or personality in your next pet. It's tempting to try to find a pet just like your last one, and far too easy to be disappointed when it isn't. It is easier to say "My last pet was a real cuddle-bug, but this guy keeps me and my family laughing". The contrast allows you to enjoy both pets for what they are.
* Be prepared for good days and very, very bad days. The good days will gradually increase and you will be left with good memories of your pet.
* Don't be afraid to get a new pet right away. There is nothing like a new dog or cat to make you laugh and smile...even when it's the last thing you feel like doing. Consider adopting from an animal shelter or rescue group.
* Don't get a new pet in the hope of finding one like your old pet. Nothing will take its place and it's not fair to compare a new pet with an old one. Every pet is different.