'Accessories add value'
Garments are equally important...
Drapes, brands, styles and emerging looks, fashion lines for young designers... sky's the limit.
A universal language, making good better and better best; wanting to look one's best, follow the in thing. Looking up to absolute elegance has always been part and parcel of the lives of most men and women, age apart. It is a universally acceptable norm; a timeless inspiration that emanates from the depths of many creative works of art.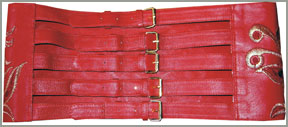 Being turned on by the ingenuity of John Galliano, Ellie Saab, Valentino, Givenchy or others is no surprise as it was for young Himali Delapala, one of the contestants of the First International Young Fashion Enterpreneur of the Year (IYFEY) 2008 whose forte is fashion designing and creating a niche exclusively for accessories: handbags, belts and jewellery with a contemporary twist for the export as well as local market says she selected these accessories as they are traditional pieces of power dressing.
'Designing is not taken very seriously in Sri Lanka and many are not very fashion conscious but this is an industry that should be taken seriously and designers should be given all the encouragement. There is much scope for Sri Lanka to reach great heights in this field too.'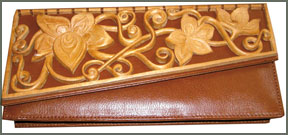 Himali, a past pupil of Vihara Maha Devi Balika Vidyalaya Kiribathgoda and Devi Balika, Borella has ventured into this all time interesting field of fashion designing which has driven her passion boundless in so much that she has even quit her job at Brandix in pursuit of her obsession.
A diploma holder in Fashion designing from RMIT Australia and Singapore La Salle SIA, Himali has confidently moved on and hopes to be a name of fame in the industry soon. Her handbag collection comes in two segments: the prestige collection and the causal wear.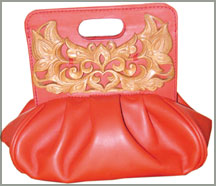 Genuine leather dominates Himali's handbag and multi buckled belt creations which come in a fusion of colours with an aesthetic look with sculptured wood carvings in mahogany, with a contempory twist in vibrant hues for day and night; adding distinction to the extremely innovative accessory.
'Black is an all time, all seasonal colour and one can play safe with the use of black she says. Himali works with black as well as a contrast of elegant and vibrant hues with a distinct vintage feel and a strong fashion palette.'
'One should be confident of carrying oneself; personality counts a lot.'
'Today, people in Sri Lanka spend more money on clothes than on their accessories.' Accessories are equally important and adds value to one's elegance'. Himali's branded collection will be available online soon while her first paintings exhibition 'Souls' will be opened to the public on March 29 at the Harold Pieris Gallery where Himali, an avid realistic painter too will display her paintings, yet another passion which she indulges in almost full time at present; a passion for both designing and painting which she intends pursuing simultaneously.