'We were made for each other'
Mela speaks of life with parliamentarian Ravi Karunanayake
Love doesn't boast
Love doesn't hurt
Love doesn't possess
* * *
Love is humble
Love is polite
Love is patient
And such love is beautiful....
And that was why Ravi and Mela could tie the knot even after 19 years, which seemed to be the longest love affair of a Parliamentarian in Sri Lankan history. Some give a maximum period of three years only for a relationship as they assume it gets stale and stagnated once it goes beyond that, time.
"I met him at a cricket match. He was the Wicket Keeper," laughs Mela. Well, he knows the game and that's how he has managed to save all his wickets; his MP ticket, his business and his love for her. Leaning against a cosy sofa at their residence which is radiates elegance, love and happiness; and situated at the Rajamalwatte Mawatha adjoining the road that runs to the Parliament at Sri Jayawardenapura, Mela begins to reveal her life with her hubby, former Minister and present MP of Kotte, Ravi Karunanayake.
"My intended brother-in-law (who was then the boy friend of my sister) was playing cricket for Royal College. She wanted to see him playing at a match at Kotmale. My mother who didn't want to send my sister alone sent me as well with her. Even before, this had been a practice. Ravi and I used to bump into each other, and were quite friendly. However, he says he was determined to carry on our friendship at the cricket match," she says.
Question: You two might have been quite young?
Mela: Yes, in our teens....Oh! don't write all that (says with embarrassment).
Question: Why not? It's a rare occasion in the life of a distinguished personality.
Mela: Oh...Ok..! I don't know....(smiles). I had a long hair. And he says he fell for that (laughs). We just exchanged our telephone numbers and that was all.
Merene Wiranthi Akbar (Mela) was born on October 20 to her Malay parents Ilfan and Bistia, the second of their four daughters. Mela had her education at St. Lawrence Convent, Wellawatte and then at Milagiriya St. Pauls, Colombo.
Question: Tell us a bit about your school activities and childhood.
Mela: Onella (calling her daughter), what does grandma say about your mom darling?
Onella: Grandma says my mom was the naughtiest of all the four.
Mela: You've already got the answer, haven't you? (laughs). Well, we were residing at Dehiwala and Kohuwela. I was engaged in a lot of sports. I was playing athletics and basketball, and anything that was sports connected I was involved in. I was known to be one of the most mischievous one at school..
Mela comes from a closely knit family especially with her sisters. She claims they are still together. "It's a blessing. Once a brother gets married he tends to move a away, but sisters are not. That's why I always wanted daughters. Even when I've asked Ravi about it he says the same. I'm happy to be gifted with three daughters," claims Mela.
The young mischievous beauty who stole the heart of the young cricketer developed another major interest. And that was for hairdressing. All her sisters and cousins enjoyed free hairstyles from her. Knowing her flamboyant gifted talent, Mela's home people arranged her to follow a Diploma in hairdressing in Hongkong. After O/Ls, hairdressing became her pastime as well as her career. Her 'Mela's' Salon at Flower Road, Colombo was a famous spot with many.
To win a man, the first attraction in a woman is beauty or pleasantness. Secondly the good qualities should par with his. The third and the most important thing is that to maintain the relationship the her ability to fill his tummy with delicacies. And so, she has this all. "Not only me, all my sisters too can cook well," says Mela smiling and blushing all the time.
Ravindra Sandresh Karunanayake was born on February 19 to his planter parents Tissa and Carmi Karunanayake.
Ravi had his education, first at St.Thomas' Prep, Kollupitiya and then entered Royal College, Colombo. "That's why he doesn't cheer neither of the sides at the Big Match as he is an Old Boy of both schools," butts in Mela.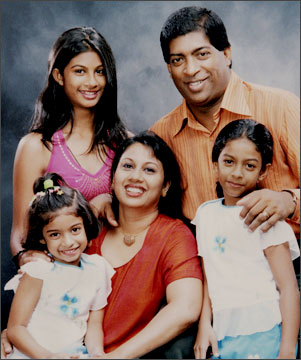 After his father's death which occurred when he was 12 years, it was his mother who took the burden of bringing up him and his brother, Saliya. She worked for the President's Secretariat and was Incharge of the House Keeping of the President's House during the time of both Presidents J.R. Jayawardene and R. Premadasa.
Ravi was doing his A/L in the Commerce stream. The subjects he was studying were Economics, Geography, Commerce and Finance and Accounts through which he began to explore the world. His distant relative, late politician Lalith Athulathmudali was the main inspiration that drew him to Sri Lankan politics. Eventually, Lalith Athulathmudali became his idol, and. Ronald Reagan and Margaret Thatcher are among his icons. Since then young Ravi got involved in many political campaigns of Lalith. In 1988 and 1989, Ravi was in active politics and helped Lalith to win his seat in Colombo District. In 1991, ten MPs including Lalith and Gamini Dissanayake left the UNP (United National Party) Government headed by President R. Premadasa and formed the DUNF (Democratic United National Front).
When Lalith was assassinated in April 1993, his wife Srimani Athulathmudali took over. And then Gamini Dissanayake re-joined the UNP. Srimani along with the
'DUNF-Lalith Front' joined the People's Alliance under Chandrika Kumaratunga at the General Election in 1994.
In the election two MPs in the national lists were given to the DUNF, and that was the time buoyant young Ravi Karunanayake received his ticket to enter the Parliament of Sri Lanka. Kesaralal Gunesekara was the other DUNF MP who got appointed along with Ravi.
In 1996, Srimani was removed from the Cabinet by President Chandrika Kumaratunga, and simultaneously Srimani and her party had a dispute over the affiliation to the Government. Ravi was more towards the UNP, and as a result Srimani sacked him from the DUNF-Lalith Front. However, through a court order, Ravi was able to became an Independent MP in 1998-1999. With the dissolution of Parliament in 1999, he joined the UNP, and became the organiser of Kotte. He won the Kotte seat with 425,000 votes. In the General Election held in the year 2001, Ravi became the Minister of Trade, Commerce and Consumer Affairs. Along with the fall of the government in the year 2004, the UNP lost the portfolio, but Ravi has remained as a Member of Parliamentarian till today. His radiant personality as a politician won him the 'Young Politician of the Year' awarded by the Jaycees International in the year 2000.
Question: Having an affair continuously with a guy for nearly twenty years is a record.
Mela: We were together through out. Though we had minor differences, we postponed getting married to see whether we are made for each other and also to find out whether we need each other really. I was there with him even when he went to Delmege. He is a Chartered Accountant by profession. And later, we started our own Freight Forwarding business. Finally, we got engaged in January 16 in 1988, and had our wedding on January 20 the next year.
Co-incidentally, both Ravi's mother and grand mother also had their weddings on the same day at the same venue - Galle Face Hotel, Colombo.
Question: You were very careful when commenting on things.
Mela: Well, once we had to go through a gruesome period due to his politics. The harassments were immense. They might have indirectly affected our children as well. I would like to say something, all what we've earned (including this house) we earned before he was actively involved in politics.
Question: Do you fear for him in active politics?
Mela: That's the nature of politics. Now I have him more at home. When he was the Minister it was an unending rat -race, one after the other, and we hardly had time to breathe. And all the business matters were on me. At present I feel bit relaxed as he has time for them as well. However, Ravi is not a person who drinks or smokes. That is the greatest thing I admire in him. He has not got in to any illicit involvements either. Politics is his only passion. So, how can I ask him not to do politics, it's quite unfair by him. But, at the beginning, yes, I did oppose. But, later I knew his passion to work for people. He loves this country, and always wants to do some kind of service. And he thinks politics would provide him a good stage for that.
Question: Ravi, as a hubby?
Mela: Generous and virtuous. He does get angry, but that is for few seconds. Neither of us can stay without talking to each other. He never keeps anger with him. (laughs). He is a good husband and a good father as well. An extremely a family man I would say. He loves to cuddle his daughters and would play with them the whole day if time permits. He would be there at every Parents' Day Meeting, sports meet, athlete meet and any school function of our daughters. Even during his busy schedules when he was a Minister he never missed them. The Principal of the school also has commented on that. He loves his children, and would go to town with them. Also he is a father with orthodox ideas. It was all my idea to send our children to an International school, and not his. He is jovial and friendly, and would help anybody that would tread his path asking for help. And there were times that this quality has given him trouble as well (laughs).
Question: Any possessive attitudes?
Mela: We were quite possessive over each other before. But, once you get mature you tend to think differently, don't you? We don't hide anything from each other and would openly discuss it if there's a problem. If you are honest with each other you don't have to be scared. You get married to a person because you love him/her, don't you? We move around as a family and we maintain the family bond. I also work hard at home, looking after the business during his absence and back up work connected with his politics. I do all that with great enthusiasm. We love to go abroad and that would be the time I see him really relaxing, as otherwise if he is at home most of the time he would be on the phone. He is a perfectionist, and likes to be extremely prim and proper. Even when we are going abroad it is he who packs the bags. And I agree with my family people who say I'm spoilt by him (laughs). He too helps out at the house chores, by giving his ideas in decorating the house and even doing marketing with me.
Question: Tell us a bit about your children?
Mela: We have three daughters; Onella(16), Shenella (9) and Minella (7). Their father wanted their names also to rhyme as their mother's ,'Mela' (laughs). All my girls go to the Colombo International School and are quite studious and good at sports.
Question: Many have crossed over from the UNP to the Government. What would be your husband's agenda?
Mela: (Pause and thought for a while) We have friends of both parties. Some are personal friends. But, politics is politics. Ravi thinks our people should believe in credible policies and not in incredible policies. And he always says he is a principle politician. I would approve and assist whatever the decision he takes (smiles).
Pix: Kavindra Perera