'We have all gone Carla crazy'
Charming Carla Bruni sparks bidding frenzy:
Carla Bruni's triumphant visit to Britain has triggered an extraordinary international bidding war among publishers, television companies, and fashion houses.

Dozens of interview requests have already flooded into the Élysée Palace after Miss Bruni's rave reviews across Europe on her first big diplomatic test as the wife of the French president, Nicolas Sarkozy.
One leading London agent said: "We have all gone Carla crazy. She does have, if she wants it, the world at her feet."
In the first sign of the power of the Carla product, photographs of the clothes she wore during the state visit to London and Windsor, have been circulated around the world by Dior the fashion house who clothed her.
Even before she took London by storm, the 40-year-old heiress to the Italian tyre manufacturing company CEAT was often described as one of the world's most beautiful women.
She began modelling at 19, working for Christian Dior, Christian Lacroix, Karl Lagerfeld, John Galliano, Yves Saint-Laurent, Chanel and Versace.
By the 1990s she was among the 20 highest-paid fashion models in the world. She will now become the most photographed first lady since Jackie Kennedy.
Sarah Mower, a Telegraph columnist and contributing editor to US Vogue, said: "Fashion houses will be begging her to go back on the catwalk. Every supermodel is going to be green with envy. She has performed the greatest escape any supermodel has ever made by marrying a president. Why would she want to go back?"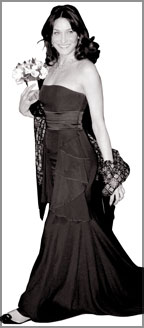 Leading British magazines have already submitted bids to the Élysée Palace for interviews with Miss Bruni, whose face on the cover is now guaranteed to increase sales. Every major television chat show in Europe has already lodged interview requests.
The London publisher PFD, whose clients range from the model Twiggy to the Conservative MP William Hague, will be first in the queue for a book deal with the French first lady.
Caroline Michel, who heads the agency and is married to Lord Evans the Labour peer, is already talking about an approach.
A spokeswoman for PFD said: "A book with Carla Bruni is at the forefront of our minds."
Her new album, No Promises, will be released this month and Dramatico, the production company, is planning to produce more copies. Miss Bruni's colourful past - her dates have included Sir Mick Jagger, Donald Trump and Eric Clapton - has added extra lustre to her marketability.
Ali Gunn, the London celebrity agent, said: "The whole of Europe has been agog at the Carla show. Not since Jackie Kennedy has a first lady been under so much intense scrutiny. Frankly, I think there would already be a market for a book on Carla's short time at the Élysée Palace."
It emerged she is poised to move into the Top 100 in FHM magazine's annual poll to find the sexiest women in the world. More than 20,000 votes have come in for Miss Bruni since the state visit. She is the first politician's wife to maker the top 200 let alone 100.
FHM's deputy editor Chris Bell said: "This is a woman who oozes animal magnetism - and British men have obviously noticed.
She may now be a respectable first lady on the arm of the French President but thanks to her modelling career and Google, they know what she looks like."