Great escape
Fails: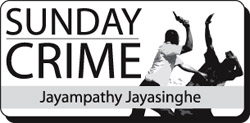 Kuruwita Prisons is located in a somewhat desolate location off the Kuruwita town about 3 kilometres from the Colombo-Ratnapura main road. Several die-hard type hardcore prisoners are periodically brought there from other Prisons to enable Prisons authorities to produce them in courts at Ratnapura and Kegalle districts for various crimes they had committed.
According to Assistant Superintendent of Kuruwita Prisons R. Jayasuriya about 900 prisoners housed at Kuruwita were hard core criminals who had committed serious crimes in Ratnapura and Kegalle jurisdictions. Last week everything seemed to be normal at the Kuruwita Prisons.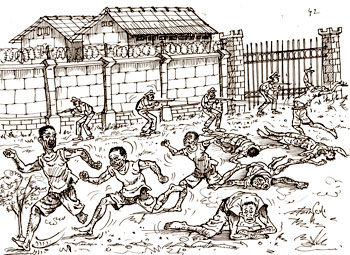 The Prisoners too went about attending to their daily chores as if nothing was going to happen. There wasnít any inkling whatsoever that a plan was being hatched by hard-core prisoners serving long term jail sentences to free themselves.
A few hardcore chaps in the meantime planned meticulously the impending prison break. They were well aware that they were to be taken out from the prison last week to the Avissawella and the Ruwanwella Magistrate courts.
Just one month prior to the daring Prison break, the hard core prisoners who gathered at the prison corridors and in their recreation halls discussed secretly about their plan.
Their modus operandi was to free themselves from the shackles while they were being brought back to the Kuruwita Prisons, overpower Prison officials and escape with their firearms.
The desire to escape was tempered by their long incarceration in the Prisons. They were a bunch of desperate men hell bent on committing serious crime that made them, rich. The hardcore men kept the plan as a top secret until April Foolís Day last week.
The unsuspecting Prison officials on the day of the incident armed with firearms escorted around 40 hardcore prisoners to the Magistrate and High courts at Avissawella and to Ruwanwella.
The operation went smoothly without a snag until they were brought back to the Kuruwita prison when the real drama unfolded. While chained prisoners were being re-admitted to the Kuruwita prison hell broke loose all of a sudden.
Three hardcore prisoners who rid themselves of the iron shackles freed themselves, according to Prison authorities. While all this was happening a prisoner who had a hand grenade threatened to blow up a Prison officer carrying a gun, insisting that he surrenders the weapon.
Fearing for his life and the safety of others he threw away his firearm to the ground in defiance.
Meanwhile other prisoners freed themselves and stormed the Prison armoury. They broke the armoury door by beating it with prison batons and removed a T-56 firearm, a .38 Repeater Gun with ammunition and was about to escape from the main front door when they were confronted by Prison officers.
Eight hardcore prisoners who came out through the main entrance was about to fire at Prison officers when the latter opened fire killing five Prisoners. In the meantime three Prisoners managed to escape with some firearms. Later on a tip off, several Prison officers combed a jungle in the vicinity of the Prison and traced a hardcore prisoner with a firearm. According to Prison sources the prisoner was about to fire at the officers when they retaliated by shooting him dead, thus ending a worst showdown between prisoners and Prison officials in recent times. The six bodies of the Prisoners were sent to the Ratnapura hospital morgue. Meanwhile SSP Ratnapura Division Kithsiri Ganegama had despatched a police party to arrest other prisoners who escaped from custody.
This wasnít the first occasion where prisoners had escaped from custody. A notorious prisoner named Sambaba who was shot dead by the police recently escaped from prison custody one year ago when brought before the Panadura Magistrate court.
A few years ago at the Embilipitiya Magistrate Courts a Prison officer along with three persons died while 36 persons were injured when somebody threw a hand grenade at the Prison cell.
Notorious criminals like Army -Suranga and others were brought there to testify before Embilipitiya Magistrate. Army-Suranga and 24 other hardcore criminals escaped from Prison custody.
Following the jail break, police launched a country wide man hunt for the arrest of the criminals. Later some were tracked down by the police and were shot dead in confrontations.