New mouse deer found?
Many species of animals are reportedly going extinct in all areas of the world, while several new species have also been discovered from many countries including Indonesia.
Reports of a possibly new species of mammal was recently heard from our own country.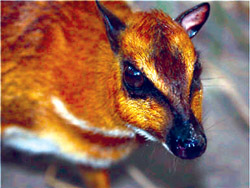 Although it is not confirmed whether it is a new species or a sub-species, the mountain mouse deer, known as meeminna in Sinhala, is a very rare find and is thought to be endemic to Sri Lanka.
The discovery was made by renowned wildlife photographer and specialist Gehan de Silva Wijeyratne and naturalist Nadeera Weerasinghe at the Horton Plains National Park.
They also managed to temporarily capture the animal, photograph it and take a blood sample for DNA testing, before releasing it back into the wilds.
The mouse deer, which is slightly bigger than a cat, is the smallest variety of deer found both in wet and dry zone forests in Sri Lanka. It lacks the antlers of its bigger cousins.
Three varieties of mouse deer had previously been identified by taxonomists (those who classify living beings into groups) as endemic to the region including Sri Lanka and South India.
The Indian mouse deer Moschiola indica is endemic to the Eastern Ghats of India. In Sri Lanka, two varieties of endemic mouse deer had been identified; the white spotted mouse deer (Moschiola meeminna) which lives in the dry zone, and the yellow striped mouse deer (Moschiola kathygre) which lives in the wet zone. Sri Lanka is said to have 18 species of endemic mammals.