Expressions
The importance of a library
A library can be considered as a storehouse of knowledge. In dictionaries, the word 'library' has been defined as "a building or a room containing a collection of books".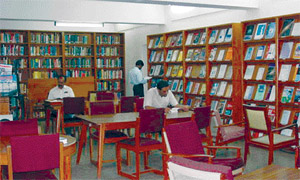 A library renders a great service to the society. It plays a very important role in promoting knowledge.
There are many people who love reading and who have chosen it as their main hobby.
But, they can't afford to buy books because the prices of books are exorbitant. So when one becomes a member of a library, he or she can borrow valuable books to read and return.
A member can borrow two books and keep it for a fortnight.
Libraries are particularly useful for poor children. Even people who are financially better off than most can't afford to buy all the books they require for their studies.
However, if such students are members of a library they could borrows books and refer them to gather needed information.
A library is very useful for rural youth too. When they get accustomed to the habit of reading, they will refrain from bad habits such as loitering and gambling.
We as children and members of a library must cultivate this valuable habit from our small days. It is a good past time and a hobby. An important fact that we should remember is that by reading, we can acquire knowledge and also mental satisfaction.
Going by the above facts, it is apparent that a library is a very important place in society.
Minuri R. Abeyaratna, Grade 10,Visakha Vidyalaya, Colombo 5.
---
Unhealthy habits
We first learn good manners and habits at home, from our parents. Then we learn them outside home; at school and in society.
Our country is home to many different communities practising different customs and habits. Many people from all communities pay very little attention to eating healthy food. They have developed the habit of eating 'junk' food.
Many people are used to smoking, chewing betel and eating fast food. They are not good habits.
Some children have the habit of biting their fingernails. It's a very common habit, but a very bad one. Those who chew betel spit at public places. This habit not only helps the spread of germs, but also pollutes the environment.
This can be seen mostly at public places. Stopping this unhealthy habit will help to keep the environment clean, save money and also protect the health of the public.
Smoking and consuming liquor too are very dangerous bad habits as people become addicts for life. They can lead to many diseases, such as high cholesterol, blood pressure, cirrhosis and heart attacks.
We should be intelligent enough to identify these bad habits and the problems caused by them. We must always brush our teeth, wash our faces and keep our clothes clean. They are also good habits. We must also eat healthy food and practise good habits in society. We must adhere to them throughout our lifetime.
S.A. Lilani Nissansala, Grade 10, Botale K.V., Ambepussa.
---
A 'Big match'
A cricket match played between two very old schools or 'sister schools' is known as a 'big match'.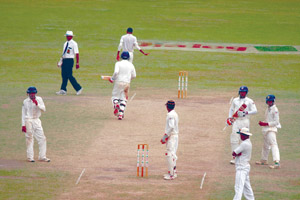 These matches were first played between those schools many, many years ago, and as a tradition they are still continued. These big matches are important to both schools because it maintains a good relationship between the schools.
This important day is a big day in the school calendars where the schools are on holiday and all schoolchildren from both schools go to the grounds to watch the match and cheer for their schools.
Past students, young and old, also attend this match to support their schools and enjoy their day meeting old school friends and teachers.At the end of the match, the winning team is handed over a trophy which originated from the very first match that was played between these two schools.
A group photograph of the school teams with their principals is also taken as a souvenir.Some of the big matches played presently are the Royal Thomian (Battle of the Blues) Josephian Peterite also known as Joe-Pete( Battle of the Saints'), Ananda Nalanda (Battle of the Maroons) and St. Anthony's Trinity matches.
Rashmal Fernando, Year 7 S, St.Peter's College, Colombo 4.
---
Beauty of an evening
It was a lovely Monday evening. I was on my doorstep, staring in wonder at the beauty of the evening.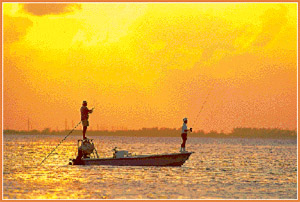 Far away, the Sun was setting and it seemed to be waving goodbye to the world.
The birds were flying swiftly and energetically to their various nests. In the horizon, the Sun seemed to be watching a fishing fleet scouring the swelling ocean for fish. While this fishing fleet was searching unsuccessfully for fish, other boats were returning to the shore, writhing and crawling over the sea, like ants swaying on a blue handkerchief.
Far beyond, the sea seemed to be saying "Meet you again next morning" to the returning fishing fleet. Up in the sky, the clouds were cuddling closer as if they were afraid of meeting the night.
The very manner in which they were becoming darker seemed as if they were scowling at the night - a hated enemy.
Bats were already clinging on to tree branches and owls were solemnly scrutinising the environment. Office workers and other adults were walking or travelling to their homes. The trees were swaying from the occasional wind and the leaves were falling in response. It was as if the trees and leaves were whispering secrets to each other.
This natural scenery was beyond compare to anything. I revelled in its beauty.
Ruwimal Yasantha Pathiraja, Class 4A, St. Marys' College, Hambanthota.
---
Computers - the wonder machines
Computers are machines that can handle loads of information according to sets of instructions. It is an electronic device that can do calculations millions of times faster than the human brain.
The inventor of the first mechanical computer (from which the modern day computer has emerged) was Charles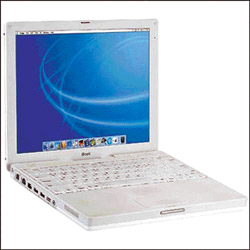 Babbage. He invented it in the year 1834.
The 'First Computer' was large as a room. But in the 1960s, electronic components became much smaller, and computers too began to get smaller in size.
Portable laptop computers became available in the 1980s. There are four types of computers.
They are Mainframes, Mini computers, Micro computers and Super computers. Out of all these, Super computers are the most expensive and the best computers.
All computers use a language called the binary system. Binary numbers are 0 and 1. We can use computers to connect people all over the world. The internet is the largest network. It has millions of websites. It allows messages to be sent in seconds. Nowadays it is very rare to see an office without a computer!
Ashan Perera, Grade 8,St. Joseph's College, Colombo 10.
---
Life on a coral reef
Coral reefs are called the 'rainforests of the sea'. Like rainforests on land, they are bursting with Life. The reef itself is made up of the skeletons of tiny coral animals called polyps, which are related to sea anemone.
The coral polyps take mineral salt from the sea to grow hard skeletons, like tiny cups, around the base of their soft bodies. When a polyp dies, its skeleton remains. More and more of these skeletons build up on one another, forming the reef. Corals need warmth, so they can only live in water with a temperature over 21 degrees Celsius or 70 degrees Fahrenheit.
A coral polyp has a simple body with a single opening at the top. This is surrounded by tentacles, which are armed with stinging cells. The polyp uses its tentacles to catch prey and put in its mouth which is in the centre of its body.
Coral reefs are important to protect the shoreline and we must not destroy corals.
P. Dulip Sajeewan, Grade 8-C, CH/Senanayake Central College, Madampe.
---
School - the best place
School life is full of joy,
For every girl and every boy.
It is a place for study and play,
We should reach on time everyday.
We have teachers, loving and kind,
To impart knowledge to our minds.
They correct us when we are wrong,
And help build our characters strong.
They are teachers hard to get,
The good they do we'll never forget.
They are never failing friends,
Whose counsels we'll cherish to the end.
They render us tender loving care,
Our joys and sorrows they do share.
School is a home away from home,
Its memories we'll cherish wherever we roam.
Ruth Nawarathna, Hillwood College, Kandy.