Carnatic in Saxophone
The saxophone is an instrument mainly used by the Jazz musicians and the bands of the armed forces.
Since it was invented by a Belgian called Adolf Sax in 1840, the saxophone was meant mostly for western music until recently. However one of the world's oldest music - Carnatic from South India - is now played with greater perfection in saxophone by none other than Kadri Gopalnath of Chennai, Tamil Nadu.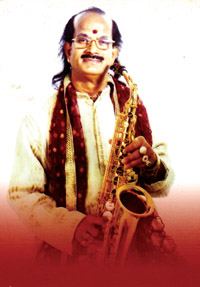 Kadri Gopalnath was in Colombo to perform at the annual Carnatic festival organised by the Kambar Kalagam, a Tamil literary society at the Ramakrishna Hall Wellawatte, last week.
The three-hour saxophone recital of Gopalnath was a magnificent treat for hundreds of Carnatic music fans that gathered inside and outside the Ramakrishna Hall.
Gopalnath, who was born into a family of musicians in Dakshina Kannada in Karnataka in 1950, began to develop his love for saxophone at the age of 15 when he first saw the instrument being played by the Mysore Maharaja's Palace band.
Though young Kadri who listened to the Palace band musicians playing the marching songs and other Western tunes, later began to play the Carnatic music in saxophone with the coaching from his father and an uncle.
It was not an easy affair for Kadri Gopalnath to cultivate his Carnatic music talent in saxophone. Teachers who had already mastered other musical instruments taught playing.
But the adaptation of saxophone to Carnatic music had to be done all alone by Gopalnath as there was no one using the instrument for Carnatic prior to Gopalnath. Therefore with greater dedication and untiring effort Gopalnath bloomed into a self-made saxophone Carnatic exponent in 20 years.
Gopalnath first began to perform his saxophone Carnatic recitals at the temples in South India. Later his recitals were taking place in various prestigious auditoriums in Tamil Nadu, which are meant for giants in Carnatic music.
Rendering his recitals in almost all the highly reputed mega halls in India, Gopalnath toured extensively abroad
participating in various music festivals.
His performances had taken place in the Berlin, Prague, Mexico and Paris Jazz music festivals where the veteran saxophonists from various parts of world listened to Gopalnath's Carnatic recitals in saxophone with greater admiration.
Wherever Gopalnath performed his instrumentals in the west,there was resounding applause followed by stunning expressions.Western maestros of saxophone have come upto him and said how impressively he delivered carnatic music through the saxophone despite its western roots.
Kadri Gopalnath played along with world-renowned saxophonist Evan Parker in the UK and had taken part in a special concert at the Royal Albert Hall in London arranged by the BBC to mark the Golden jubilee of the coronation of Queen Elizabeth II.
A fusion album titled 'Southern Brothers' was brought out jointly by James Newton, a famous Jazz musician and Kadri Gopalnath, in the US a couple of years ago. The album was aimed at promoting peace and harmony in the world.
In recognition of his excellent performance 'Pathmashri', the prestigious national award of the Indian Government, was conferred to Kadri Gopalnath by former Indian President Dr. A.P.J.Abdul Kalam in 2004.
The University of Bangalore also honoured Gopalnath with a Doctorate. The State Government of Tamil Nadu bestowed Gopalnath with its prestigious 'Kalaimamani' award.
Kadri Gopalnath who is a pioneer in bringing out Carnatic music in saxophone conducts an academy in Chennai, Tamil Nadu where hundreds of students learn Carnatic in saxophone with greater enthusiasm. Some of them had even performed along with Gopalnath in his recitals.
"With greater devotion to almighty and dedication to Carnatic music I developed my skills in playing saxophone. So I expect that in future more and more saxophone Carnatic musicians should come up.
As far as other Western musical instruments such as violin, clarinet, mandolin and flute plenty of Carnatic artists have come up in a big way mastering them. However with my performances I could see Carnatic music into saxophone becoming very popular among the young artists in South India," Gopalnath said.
Expressing his salutation for the Sitar maestro Pandit Ravi Shankar, Gopalnath says that it was Pandit Ravishankar who gave the dignity to the Indian music abroad by his majestic performances with the Sitar.
The Indian music was less known to the Western world until Pandit Ravishankar's recitals were held in various European and American forums. Like Ravishankar Gopalnath widened his horizons and done a lot of work in fusion music.
The saxophone maestro visited Sri Lanka for the third time this year.
"I have great admiration for the island and its people. Not only in Sri Lanka wherever I visited abroad I had seen a large number of Lankans attending my recitals and encouraging me. It is unfortunate to know about the civil strife in the island. I pray the people of this country should live in peace and harmony," Kadri Gopalnath, who is known as the 'Saxophone Emperor' said.
Kardi Gopalnath has also rendered his saxophone music to several Indian films. The popular Tamil film director K. Balachander used Gopalnath's music in the film called Duet.
A large amount of cassettes and CDs of Gopalnath's performances have been brought out in various parts of the world highlighting his uniqueness in rendering Carnatic music in saxophone.