The captain that keeps the team spirit intact
Pradeep Liyanage is a household name in Sri Lanka rugby. Having led the national team at last weekendís Hong Kong International Sevens, Liyanage is looking forward to a great 2008 domestic season. The Sunday Observer had an intimate chat at the Sport Avenue with the Sri Lanka rugby captain to know the latest developments in his life as well as in the team.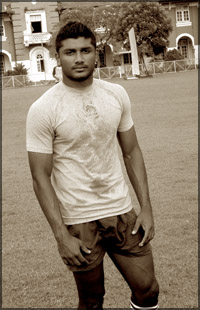 When did you start playing Rugby?
When I was at my Alma Mater, St. Anthonyís College Katugastota in 1996. Initially I was interested in cricket at school and played for the college but later my interest changed to Rugby and I entered the school Rugby team.
Peak of your school Rugby career?
I became the under 19 vice captain of the school Rugby team.
Coach at school?
Priyantha Gunaratne
How and when did you joined the national team?
I joined Kandy Sports Club as I dropped out from school and is still playing for it.
Who is the coach of the national team?
He is Rawiri Maku from Fiji.
Under how many coaches have you been trained up to now?
A total of five coaches including three national coaches.
When did you become the captain of the national team?
I have been in the national team for four years and became the captain last year.
How many times have you led the national team for tournaments?
This Hong Kong 7s is the second one. First was the Singer 7s which was held last year in Kandy.
This is the second one, which is to be held in Hong Kong under my captaincy.
How do you manage to get your team organised and play with a sense of team spirit?
its hard work. As the captain of the team I hold the responsibility for each and every player of the team. I donít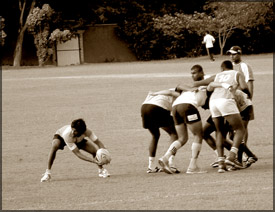 put pressure on my team players. They come on time for practice sessions and try to accomplish their goal to the best of their ability so that I do not have to be always behind them and remind them of their tasks. I never influence their personal life.
How often do you practice?
We practice on a daily basis three times a day.
That means throughout the week, without taking a break?
No. We do take a break. We practise consecutively four days a week and then rest for three days. We should also concentrate on our personal lives as well and itís very tiresome to practice throughout the week. Thatís our practice routine.
Are you playing Rugby full time or are you employed somewhere?
Earlier I was employed at Sampath Bank. Recently I got an injury, after that I gave up my job and concentrated only on Rugby. Now I am a professional Rugby player.
What sort of a support you receive from your physio and coach?
Actually we can get more from a foreign coach with his wide experience working in many countries than a local coach.
The physio takes special care on my physique. When we play the physio and coach watch us and correct our mistakes and help in whatever possible way in order to improve our standards.
How do your family and friends help you?
They give the best support specially my mother. She encourages me a lot and she is a great strength for me. She does all my work. Iím not married yet, so she will continue to do my work.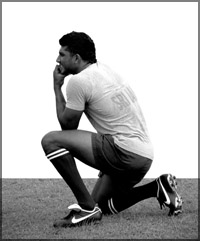 I have only one brother, he too helps me in different ways. My friends of course are a great influence to me. They very often communicate with me over the phone if they are unable to come and meet me. They wish me when we win a match. They call me even at mid night to wish me if Iím on a tour. Of course I should be thankful to everyone for being with me all the time and especially the Kandy Sports Club for sponsoring me.
The response of opposite numbers?
Ah... I get quite a good response. Sometimes itís difficult to go on the road as they recognise me and come to talk to me. Yes, girls call me. Some of them like me because Iím a sports star. When they come to talk to me I try my best to give some time for them even though Iím very busy. Since they are my fans I canít neglect them.
How do you encourage your team members especially before a tournament?
I hold a short meeting the day prior to any match. There I try my best to keep their morale intact and encourage them to win the match. Again we hold a brief meeting few minutes before the match.