Old Castles Massacre:
Brutally Awesome Band!
Old Castles Massacre (OCM) is a death-defying band that proves that despite being brutal in their music, a surprising fanbase is now on the rise from the depths of extreme metal.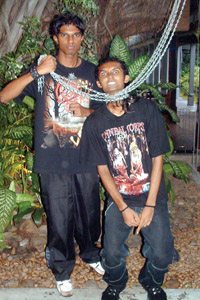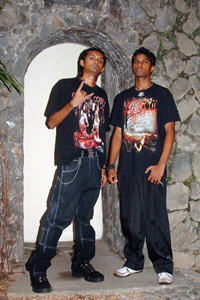 Tipped as the only brutal death metal band in Sri Lanka, OCM consists of Shalinda a.k.a Shali on vocals who also brainstorms the lyrical content. Ranga is the raving OCM drummer while Keshan and Dilanka handle the guitars with mayhem mania.
The OCM concept is "Extreme music for extreme people", states Shali and he met Ranga in 2004 after AL in school. "Our music deals with releasing your inner feelings and repressed anger that is inside," emphasised Shali on their genre. Delving into the depths of your soul and energising your body for brutal metal is what OCM is notorious for doing.
A sizzling hit for these metallers is 'Matricide' which is receiving positive metal feedback. "We wrote this song in 2005 but we actually recorded it in 2006" reminisces Shali.
However, the song was revealed to an unsuspecting public in 2007 and was then only available for download. It filled a painful void that was empty in the brutal death metal scene and now they have a huge following from the hills of Kandy to near-city Nittambuwa.
Their head-gorging numbers include 'Suffocation of Carnage', 'Rectrum Impaled', 'Infant Blended Nectar' and an aptly titled severe song called 'Just Me and My Rotten Carcass'.
Round the top, they name their major influences as 'Nile', 'Disgorge', 'Cannibal Corpse' and 'Vader'. About their persona, they state that: "Our time on stage includes face-painting effects with red blood to really highlight our performance to the max!"
As for careers, Shali works at a leading company while Ranga is in the IT field. Keshan and Dilanka are both studying.
As for advice to bands trying to break into the brutal metal scene, "Don't give up hope on what you are doing, play what you like, stick by your kind of music and be original". Shali notes that even the metal industry has wannabes but there are many who really are focused on their stuff and really strive in putting it out.
In the future, OCM would like to take their music to Century Video in USA, which is a famous underground metal label to put them on the international map. OCM hopes that they can record their music in better studios with state-of-the-art technology and high quality sounds.
They acknowledge their strong fan base from all parts of Sri Lanka and thank Forlorn Hope, former band Siblings of Hatred and all black metal bands who have stood by them through thick and thin.
OCM especially thanks the KRM for their support and thanks their families, friends and fans for all the help extended. Upon parting OCM says "Keep it Brutal!"