Burn up to 25% more calories
Tips and Tricks
Walking and running are the quickest ways we know to burn up to 25 percent more calories, boost your energy instantly, and sculpt lean, sexy muscles - even your abs! Here, everything you need to know about the best new gear, injury-prevention, speed tips.
1. To get started, stride right.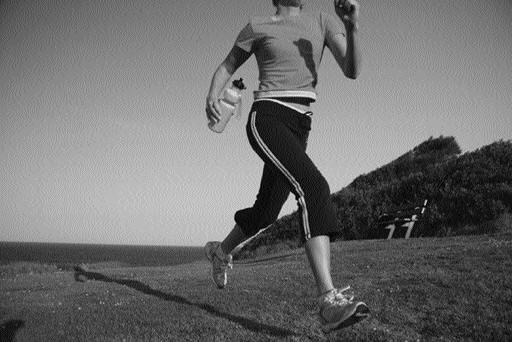 Leaning into each stride increases momentum, which makes everything feel easier, even as you go faster. How far you lean depends on your pace. If you walk, hinge forward slightly from the hips. If you run, move from the ankles. "Keep this forward-leaning position throughout your run or walk," says Zika Palmer, an exercise physiologist and confounder of ZAP Fitness in Blowing Rock, North Carolina. "It should almost feel like you have to take a step to catch yourself from falling."
2. Keep your abs tight.
"All movement starts from your core, so it makes sense to keep it strong and engaged while you walk or run," says Ellie Herman, owner of Ellie Herman Pilates Studios and creator of the Walk-ilates system, which combines walking and Pilates. To actively engage your abs, imagine zipping up a pair of jeans from your pubic bone to your navel and keeping them tight during the work out. You'll tone your abs, legs, and butt.
3. Flex your toes.
Pull your toes up as you step, says Dixie Stanforth, an exercise physiologist in the department of kinesiology at the University
of Texas in Austin. You'll recruit more leg muscles and propel yourself forward to go faster, she says. Another way to pick up speed (and blast calories): Bend your elbows 90 degrees and keep them close to you, swinging from your shoulders. "This speeds up your arms so the legs will follow," says Stanforth.
4. Challenge yourself.
"You should experience some huffing and puffing, even if you're walking," says Vicki Harber, PhD, a professor of physical education and recreation at the University of Alberta in Edmonton, Canada .
Out with a friend?
"You should be a bit breathless as you talk," says Harber. Another way to tell if you're at the right pace - strap on a pedometer. Take at least 3,000 to 4,000 steps in a half hour and you'll be within the right zone, report researchers at Arizona State University.
5. Update your play list.
Into Bach, not Beyonce? Give her a shot: Adding faster, more upbeat tunes to your iPod may help you to run harder and faster, according to new research published in the Journal of Sports Sciences. It may also help reduce your rate of perceived exertion (how hard the exercise feels): A study at the Exercise Physiology Laboratory at the University of Kansas, Lawrence, found that music can lower this by up to 10 percent.
6. Increase the incline.
Even a 2 percent higher setting bumps up your calorie burn by 20 percent per minute, says Mitchell Whaley, PhD, an exercise physiologist at
Ball State University in Muncie, Indiana. You'll not only burn more calories than you would on a flat surface, but you'll also strengthen your legs and butt. For the best results, slightly shorten your stride, lean forward, and pump your arms.
7. Add weight to your walk.
Forget holding dumbbells:
A better way to burn calories while you walk is to wear a weighted vest, according to recent research. A study from the University of Iowa in Iowa City found that subjects who wore a vest that was about 20 percent of their body weight burned 14 percent more calories.
Translation: a 140-pound woman might burn about 30 more calories on a 45-minute walk. Experts suggest you start slow to reduce injury risk: Begin by wearing three to five percent of your weight (for a 140-pound woman, that's four to seven pounds) and increase by two to five percent every few weeks until you reach 20 percent (28 pounds).
8. Go off the beaten path.
Take a walk in the woods and burn about 500 calories per hour while hiking at average speed - carry a pack and zap even more. If the trails are covered with snow, strap on a pair of snowshoes and blast about 670 calories per hour. "You can saunter or speed along, tackle tough terrain or walk," says Elena Rover, author of The Chelsea Piers Fitness Solution. To up the intensity, go trail running or cross-country skiing.