TMVP lead candidates 'optimistic'
The lead candidates in the Trincomalee and Batticaloa districts from the Tamil Makkal Viduthalai Pulikal (TMVP) have expressed confidence over the Government's efforts in solving the Tamil crisis and bringing an end to the war that has ruined the North and East for the past two decades.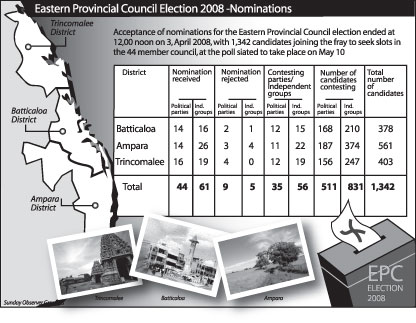 The Batticaloa lead candidate S. Chandrakanthan alias Pillayan soon after presenting the nominations last week at the Batticaloa Government Secretariat said that the representatives of the Tamil, Sinhala and Muslim were contesting the forthcoming Provincial Council polls and this was a good sign of building understanding among all three communities in the region.
"Relations between the Muslims and the Tamils had been affected in the East for the past several years.
However, we believe that the polls will bring all communities closer in finding a settlement to the ethnic crisis. Our party also considers the Provincial Council polls as a good opening to restore democracy in the east in a big way," Pillayan said.
Meanwhile, the Trincomalee district TMVP lead candidate Kumaraswamy Nandagopan commenting on the forthcoming polls said that his party was taking part in the polls in the eastern province following the assurance given by the Government to resolve the national crisis in the country.
"We consider that the Provincial Council polls will pave the way for a solution to the national crisis that has been eluding us for the past several decades", Nandagopan said. Meanwhile, Election officials are preparing the names of the candidates contesting the May 10 Provincial Council polls in the Eastern Province to be gazetted.
The Election office in Batticaloa said that 27 nominations have been accepted and twelve of them are political parties and 15 are independent candidates.
The total number of voters including those in the Kalkudah and Paddiruppu areas in the Batticaloa district is 330,950. Sixty-two polling stations would be set up in these areas.
Trincomalee region:Nominations accepted 31. Political parties 16, Independent 19. Total number of voters from Trincomalee, Seruvila and Muttur areas. 2,42,463.The total number of polling stations:278.
Ampara region:Nominations accepted 33.Political parties 11, Independent candidates 22. Total number of voters: 4,09,308.Total number of polling stations to be set up in Ampara, Kalmunai and Pottuvil areas 430.