Technology
hSenid and IFS to spur Lanka's software industry

Sri Lanka's software company, hSenid last week plugged its internationally recognised HR solution to the world famous ERP solution of the Irish software giant IFS.
The two companies became partners to exploit the fast growing international markets by sharing their domain expertise and promised to bring a global perspective to Sri Lanka's software industry with a comprehensive integrated solution.
hSenid's HR solution can be plugged easily to the component based architecture of the IFS's ERP. Both companies have a large number of customers locally and internationally.
However, they said that the new partnership is not to share existing customers and targets at expanding new territories. Vice President, IFS South Asia, Jayantha de Silva said that the new partnership will help both companies to expand globally.
"We are proud of the hSenid partnership. IFS has partnerships in 54 countries and we work and live with partners. In today's international context, synergy is a must in software or other businesses. hSenid is truly a Sri Lankan company that has gone international and is successful in HR and telecommunication solutions.
De Silva said that today HR is recognised as the most important part of any business organisation.
However, most of the companies did not see this in the past. hSenid had seen the value of HR solutions 11 years ago and they are experts in that domain. Bringing an international company to Sri Lanka is easy. But for a Sri Lanka's company it is very difficult to be a global company.
However, hSenid has done it, he said. hSenid CEO Dinesh Saparamadu said that the new partnership is an important milestone for hSenid. Our customers, the Sri Lankan software industry and finally the country will benefit from this partnership.
Now our customers can get a total solution, he said. hSenid started with three people and grew rapidly during the past 11 years. We went international and today we have offices in the United States, India, Singapore and R&D centres in Sri Lanka and Malaysia.
---
Officers of the Colombo Crime Division, with the assistance of representatives of the Business Software Alliance (BSA) conducted raids against distributors of illegal business software in Colombo marking the beginning of greater focus and crackdown on business software piracy distribution and business software under-licensing in Sri Lanka.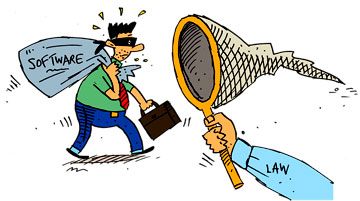 Three outlets in a leading supermarket were raided and 412 illegal software CDs were seized by the police during the raid.
These targets are primarily dealing in illegal computer software containing trademarks and copyright owned by business software companies such as Adobe, Autodesk, Corel, Microsoft, Symantec and McAfee, all members of the BSA.
Most of the suspected pirated software found involved business software commonly used for photo editing, animation rendering, web and computer-aided designing, anti-virus protection and productivity suites (word processing, spreadsheets, presentation, personal time and information management tools).
The search warrants were issued by Additional Magistrate of Mount Lavinia Ms. Darshika Wimalasiri, while the raids were conducted by ASP Nuwan Vedasinghe and SI Shantha Vithana under the supervision of the Director of the Colombo Crime Division SSP Anura Senanayake.
According to SSP Anura Senanayake, Director, Colombo Crime Division who was on-site during the simultaneous raids, said he strongly encourages all computer dealers and software resellers everywhere to ensure that they only sell legal and original software to avoid facing the full consequences of the law.
"We will continue to monitor the situation and will be conducting continued enforcement against software pirates until piracy is wiped out.
Innocent consumers and traders simply need to be protected against this criminal trade which is costing millions in losses to the industry, as well as the government in the form of taxes.
We recommend and remind all businesses to respect the law of the country by purchasing and using original software and avoiding dealing with vendors who sell pirated or unlicensed software. Business owners and senior management should take a proactive role in auditing their existing computers to ensure the software is fully licensed with the necessary documentation," he said.
The additional Magistrate of Mount Lavinia, Ms. Darshika Wimalasiri fined the offenders Rs. 450,000 and sentenced them to six months' imprisonment suspended for 5 years after they pleaded guilty to committing offences under the Intellectual Property Act No. 36 of 2003.
The speed in which the offenders were brought to justice signifies police and court commitment to protect intellectual property in the country.
The sentence imposed also sends a strong signal to not only dealers who sell illegal software but also to companies using unlicensed software.
Criminals behind counterfeit syndicates are considered to be organised, resourceful and willing to spend large amounts of money to develop and ship pirated goods to markets all over the world.
Sri Lanka is no longer a stranger to the issue of piracy, being ranked as the country with the sixth highest piracy rate in the world at 90 per cent, and the second-highest in the Asia-Pacific region - bringing notoriety and unwanted global attention to the island.
In a global software piracy study conducted independently for the BSA by IDC, the information technology (IT) industry's leading global market research and forecasting firm, the high software piracy rate has resulted in US$86 million in retail revenue losses to the local Sri Lankan software economy.
---
ASUS M70 for digital entertainment
Clearer, bigger and better picture quality with enhanced audio - that's the nature and power of High Definition (HD). Ready to receive HD in all its full glory is the new ASUS M70 notebook that provides a WUXGA widescreen with 1920x1200 pixels resolution and Blue-Ray support.
Combined with cutting-edge audio technologies including built-in Altec Lansing Speakers and Dolby Home Theatre, the M70 is supremely suited as a digital entertainment and productivity tool, to deliver the most life-like reality in games and remarkable quality in movies and music every time, anywhere you go.
Sankha Jayaratne, Group Product Manager, EPSI Computers, authorised distributors for ASUS in Sri Lanka said that the centrepiece among the M70's broad set of features is its 17-inch WUXGA screen displaying 1920x1200 pixels with 16:10 aspect ratio and added that this notebook will be available shortly in their showrooms.
He said that the M70 is designed for entertainment and it is able to faithfully reproduce stunning HD movies as they were meant to be displayed, in their native resolution without scaling, which would inevitably compromise image quality.
The M70 features ASUS AI Light that automatically adjusts the display panel brightness according to ambient lighting for optimal viewing comfort, while ASUS Splendid Video Intelligence Technology improves contrast, brightness, skin tone and colour saturation across all applications. Coupled with Blue-ray support and HDMI port, no high definition data will be lost at playback or during transfers.