[Technology]
Moratuwa University clinches top position
The University of Moratuwa became the Global Top University by winning the highest number of awards as well as by submitting the highest number of applications at the Google Summer of Code (GSoC) 2008.
The top ten universities and the number
of awards won by them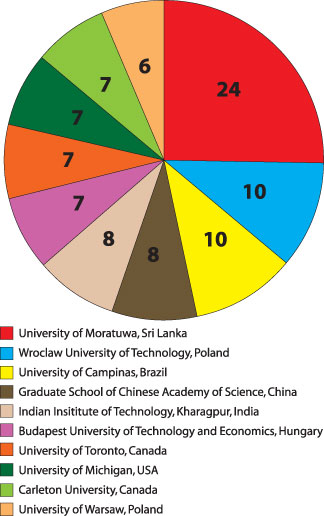 By winning 24 awards the University of Moratuwa has become the top among the Global Universities 2008, said Open Source Team of Google Leslie Hawthorn. Software industrialists said that this achievement of the university is a big encouragement to the industry.
Students from the Department of Computer Science and Engineering of the Faculty of Engineering won one award three years ago and bagged 18 GSoC awards this year. The university secured 24 awards and this is a remarkable testament to the quality of the graduates produced by the University of Moratuwa.
The GSoC program offers student developers stipends to write the code for various open source projects. Google will work with several open source, free software, and technology-related groups to identify and fund several projects over a three-month period.
The program has brought together over 1,500 students with over 130 open source projects to create millions of lines of code. The program, which kicked off in 2005, is now in its fourth year.
The majority of past student participants were enrolled in university Computer Science and Computer Engineering programs. This year, the students have come from a wide variety of educational backgrounds, from computational biology to mining engineering.
Many of the past participants had never participated in an open source project before the GSoC; others used the GSoC stipend as an opportunity to concentrate fully on their existing open source coding activities over the summer. An individual stipend is USD 4500.
---
Zone 24X7 in new expansion plan
With a new expansion plan in Sri Lanka, Zone 24X7, the global technology solutions company based in San Jose, California opened its new State-of-the art office premises at Nawala Road, Koswatta last week.
The CEO of the company Lalvan Fernando said that this is a major milestone of Zone 24X7. The new premises will substantially increase our capacity in Sri Lanka.
Zone 24X7 set up its Sri Lanka technology centre in 2003 with eight software engineers. As Sri Lankan operations became promising, we increased our staff on several occasions and today there are over 100 top notch IT engineers. With this growth additional office space was required, Fernanado said.
"The State-of-the-art technology centre is bound to create the best environment for our associates to foster creativity and induce innovative ideas. Zone 24X7 treats the engineers with respect and provides unique experience which only a handful of Silicon Valley companies provide", he said.
In the new five-storey building, there are conference rooms in each floor with video conferencing facilities enabling our clients from around the globe and offices in the US and Malaysia to connect and exchange ideas live. The new office also has advanced security infrastructure as well as the facility to expand depending on the future needs of the company.
Zone 24X7 has technology centres in the US, Malaysia and Sri Lanka and we provide round-the-clock development cycles by working on client projects onsite, offsite, near-shore and off-shore, Fernando said.
Zone 24X7 develops and deploys mission critical and quality enterprise products and solutions for customers and leading software product developers.
The company is engaged in a wide range of emerging technologies including embedded System Design, Win CE, Linux OS porting, SDK Development, .net and J2EE backend servers. The company has specialised skills in Enterprise Mobility solutions, VoIP and Payment security.
Zone 24X7 is a Microsoft Certified Gold Partner in mobility solutions competencies due to its excellent technological solution delivery.
It is also a Windows Embeded Partner. G W
---
Virtusa supports Young HR Minds Award 2008
Virtusa Corporation (NASDAQ:VRTU), the leading IT services company doing business in Sri Lanka and a globally-renowned IT solutions provider, is sponsoring the "Young HR Minds Award 2008" at a pre-conference session at the National HR Conference on June 2 at the BMICH, organised by the Institute of Personnel Management Sri Lanka, Inc. (IPM).
The award program recognises up-and-coming HR professionals for their contributions to best HR practices in Sri Lanka. Awards are based on submitted organisational case studies assessed by a panel of judges comprising eminent professionals and HR practitioners.
Director HR/Asia Head of HR for CCT Business Unit at Virtusa, Ishan Dantanarayana, said, "Virtusa is highly people-driven and committed to best HR practices and the trusted advisor role that HR plays in aligning HR strategies with business strategies.
This program brings young HR professionals into the limelight and acknowledges their flair and talent. The search for excellent practices, most knowledgeable talent and enabling such learning to be shared, is the philosophy that encouraged Virtusa to support this initiative.
Our strong foundation of corporate values-pursuit of excellence, integrity, respect and leadership, along with our open, collaborative work environment, attracts the IT industry's best professionals to Virtusa."
The Young HR Minds Award aims to encourage HR professionals and practitioners below 35 years to share their organisational experiences in design, development and implementation of contemporary HR practices.
Applicants submit papers in advance of the Pre-Technical National HR Conference on June 2, wherein three or four of the best papers will be invited to make a presentation.
All applicants can submit a paper preferably using an organisation case study approach covering any one of the streams of cutting edge HR practices specially selected for this particular purpose.
Past President of IPM Sri Lanka Janaka Kumarasinghe said: "Our intention through the Young HR Minds Award, is to encourage young HR professionals to share practical insights using a case study approach about HR practices in their organisations.
The case studies will be used to promote HR education and build on the local body of HR knowledge. As Sri Lanka's premier institution promoting HR professionals, IPM's mission is to attract and develop HR talent and the Young HR Minds Award is the ideal way to achieve this goal."
Apart from this, the IPM also organises various events and programs to develop HR practices, and publishes HR best practices and in many international journals and magazines, he said.
---
Dave Ulrich live at IPM-HR conference
Microimage, the pioneering e-HR technology company joined hands with the Institute of Personnel Management (IPM) as the knowledge partner by sponsoring the Dave Ulrich live cast.
Prof Dave Ulrich is one of the most respected gurus in HR and his live satellite session will be the key event of the IPM HR conference next month in Colombo.
Dave Ulrich is Professor of Business at the University of Michigan and a partner at the RBL Group, a consulting firm focused on helping organisations and leaders deliver value. He has helped to generate award winning data bases that assess alignment between strategies, Human Resource practices and HR competencies.
He has published over 100 articles and book chapters and 15 books such as HR Champions, HR Value Proposition, HR Transformation and HR Competencies.
Speaking at the signing of the MoU with the IPM, the CEO of Microimage Harsha Purasinghe said, "As a leading HRIS technology vendor we see the value of sharing world-class HR best practices and knowledge specially from a guru like Prof Dave Ulrich".
Microimage focuses on "technology innovation for people driven business" with greater focus towards Human Capital Management.
The new subsidiary Microimage Mobile Media focuses on developing innovative solutions for mobile and media domain. Microimage who pioneered e-HRIS in 2001 services a large established client base ranging from small, medium to large enterprises in Sri Lanka, he Maldives and Singapore.