'Necessity is the mother of invention'
Agricultural engineering is Dr P.L.A.G. Alwis's passion: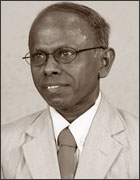 'Invention is the talent of youth, as judgment is of age' it is said and so it was for one of Sri Lanka's great inventors of Ruhuna now turned senior lecturer of Agricultural engineering, University of Ruhuna whose innate talent from youth has brought him thus far enabling him to bag three national awards at the Sri Lanka Inventors Commission Awards 2008 recently; totaling seven such awards to his feat in Agricultural engineering: an invaluable contribution towards enhancement of agricultural practices in Sri Lanka.
An achiever and patriot who proudly speaks of his southern ties and his alma mater Richmond College Galle, had established his inherent talent for innovation while an Ordinary Level student when he displayed an electric brain functioning device at the College centenary celebration and exhibition in 1976.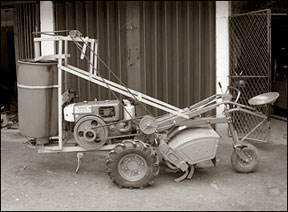 Manure Spreader with a slurry maker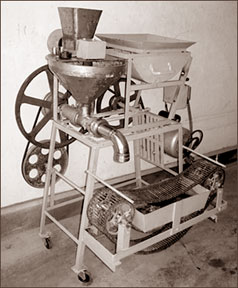 String Hopper or Bite Fabricating Machine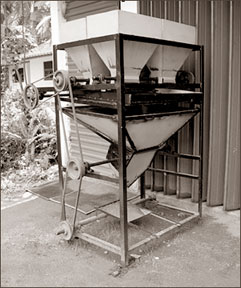 Nursery Bag Filling Machine
The inspiration which took the young enthusiast to greater heights with him being selected as the first student to the Agriculture Faculty of the Ruhuna University where he now administers his duties as a senior lecturer. Since then he has secured twenty patents and also won the prestigious CVCD award for the Best Inventor in 2006 who strongly believed that 'Necessity is the mother of invention.'
Dr P.L.A.G. Alwis, won three national awards of the thirty awards presented by the Sri Lanka Inventors Commission this year to men and women who have built up modern innovative technology in Sri Lanka with unique Sri Lankan character which could uplift the living standards of the nation.
Dr Alwis in his deep passion for the upliftment of the agricultural sector won recognition for his invention of a Manure Spreader with a slurry maker: a power tiller operated device for manure spreading and slurry making for organic farming which is usable in any area of Sri Lanka.
The device can support broadcast manure to paddy, vegetable, fruits and even other crops such as tea, cinnamon and coconut. The centrifugal manure spreader and slurry maker is said to reduce labour cost by a considerable amount and said to be a very economical way of spreading manure.
The second invention that won recognition was the Nursery Bag Filling Machine: a device which could produce a large number of seedlings during the seed production season saving labour and time as well as produce good quality plants as the machine is said to help proper mixing of nursery media at a low cost: both devices being an asset to the farming community.
With a slight deviation of interest, the third was a String Hopper or Bite Fabricating Machine which could fabricate string hoppers in different shapes, bite and pellets on a large scale.
The machine consists of a sieving unit, mixing unit, pressing and frying unit which could be a very useful tool for food producers, Dr Alwis explains. Each of these devices were turned out at a cost of Rs 50,000 while the financial assistance for the inventions was borne by the Sri Lanka Inventions Commission.
Dr Alwis is optimistic that these items will be soon bought over by businessmen and available to the public soon.
He also hopes to commence workshops with students and adults interested in vocational training in order that some of this machinery could be manufactured easily in the future on a large scale cost effectively and give the farmers a boost: an invaluable service rendered towards the upliftment of the agricultural sector.