Role of a father in today's consumerism society
"A child without a father is like an explorer without a map" this is a saying that I once read in a book. Therefore fathers have an important task to fulfil.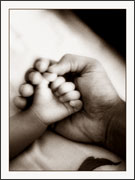 There are plenty of guide books on fathering, but most fathers tend to revert back to what they learnt from their own fathers when they think about how to get the job done. This is not meaning to lay blame, because their fathers were relying on what they learnt from their own thoughts and so on back through generations.
Many of today's father's grew up with fathers who were distant and didn't treat fatherhood with the same dedication as we have been taught to treat it today. I think modern fathers value fathering more than ever before and are trying to be great father's.
In the past years, how ever many fathers kept at a distance from the children. They loved their families and showed it by being the provider, but they didn't get too close or personal.
If I think back of my own father, I believe that he loved me, but didn't say so frequently or was not so transparent with what he expected from us until we were matured enough to realise that he never had a life without his children. I remember even to go to a friends party or to buy something I always use to consult him first.
It was easy to get things from him but at the same time he had a set of rules and regulations that we had to follow-for an example 'curfew' hours. If any of us get late the gate was closed and if it is something really important we were supposed to get permission early. Though at that time we all thought it was a hassle, even today without him we still follow what he taught us.
I remember when he got his severe heart attack, I was down with a viral flu. The ambulance came to take him to the hospital, I was hiding behind the door crying my heart out for fear of losing him. With all his pain he was calling my name when I reached the stretcher he held my hand asked me to stay at home and rest.
Out of all the pain he was more concerned about my health, this is one example to show that people say fathers are not emotional or sensitive in that case how come he was concern about the daughter without even considering the severe pain what he was going through. I have even come across fathers who have sacrificed their own happiness. They save their family ties thinking that it would effect their children's future.
For a child to grow into a man or woman they must receive the active participation of his or her father in their life and the fellowship. But modern fathers just let children to try, explore and figure out challenges in life. Often children vow not to ask for help but to figure out everything by themselves, no matter how long it takes.
A lot of children wish that they had their father to help them through. A child must have a guide - a father who will hold his hand to take the first step or to show him to ride a bike, catch a ball, do a job, to help him to express emotions or to share the friendly chats of their secrets, crushes etc.
One father recently told me that he treats his children moreover as friends, so they are provided with the environment to share anything they want to discuss. The same father told me at times the children don't know their limits and communicate with father in the same manner as with their friends.
For an example they might use a word like 'machang' where the father would be losing the respect. A father of two children who is professionally a Director in Human Resources in a private firm told unlike in the past, attitudes towards the child also varies and it could be due to the social challenges.
"Presently children demand much more than we did in our child hood. He thinks a modern father adjust himself according to the requirements of the child and gender also makes a huge difference". Presently the father is not only the bread winner of the family, he even helps the children with school home work, other extra curricular activities as well.
Ven. Santha Sumana Thero of Gnanarama Meditation Centre, Thalawathugoda said the pattern of fathers' love has changed due to lack of knowledge in buddhist doctrine. He said "previous fathers knew the method to provide proper love for their children, even by advising them thoroughly when it's needed.
Present fathers think just by being a good friend to their children the role of a complete father is been fulfilled. What is needed is to bring them up in a environment filled with religious and cultural values.
According to the 'Dhamma preaching, a complete or a successful father should be able to gift a well mannered and intelligent daughter or a son to the country. He said the modern fathers think just by giving an international education and by providing materialistic needs a child would hold a good position in the society while what's necessary is a good overall standard as a human being.
The Thero also said that some fathers show there love in numerous sinful ways by exceeding their limits and due to these there has been tragic incidents like immoral advances towards their children.
He said what is needed is for the fathers to understand and to give proper guidance, for that one should be able to be intelligent enough to follow the path of 'Dhamma'.