Make Time For You!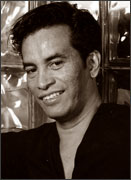 "We have to make time for ourselves" advises Ramzi Rahaman who chats to me at his Galadari Hotel salon a few days back.
In today's world it is quite difficult to actually make it to a salon because of our hectic lives. We realise that we need to take a closer look at the mirror at ourselves is when someone actually tells us that we need to have a makeover.
I was one of these people who had been not too bothered about my hair but got away with everything at the last minute.
Despite following this bad habit, I didn't know how vital it was to maintain my hair on a daily basis and to take special care of it.

Realising that even though we are tied to our careers and academia, we must think of ourselves too. Whether you are an executive, clerk or even just a housewife it is important to look and feel good.
"There is no excuse not to go to a salon because they are everywhere and most salons are open late on weekdays and most on weekends," he says.
Also, since there are more salons mushrooming nearly every day, the prices are competitive too.
"Even if you can't afford an expensive shampoo like Wella or L'Oreal, we can always use much economical brands like Sunsilk and Pantene," he comments.
Once a hair cut or a trim is done, taking care of it is the other aspect.
"I make sure that the hair I offer my client is not only a style that suits them but easy for them to maintain in order to fit in their hectic schedule," says Ramzi.Using a shampoo with a conditioner is highly recommended and an oil massage now and then would not only relax yourself but also is good for your hair.
Also, making sure a blow-dry is done once you bathe is also appropriate and take time to style your hair that you feel like doing. "I make hairstyles that are flexible and my clients can shape it for the daytime as well as the night also," says Ramzi.
Today, I am sure taking care of my hair won't be a problem because I am happy that the style suits me and it is easy to manage too.
Simple Trim
1. The process consists of washing the hair first, shampooing it and then drying
2. The hair is combed and kept in a straight and uniform pattern
3. Then the wet hair is trimmed properly to a straight line. More hair is trimmed if the hair doesn't look healthy at the edges
4. Afterwards, depending on the face of the client and their preferences, any fringes or styles are done to suit them
5. The hair is blow-dried and combed properly.