World's tallest cake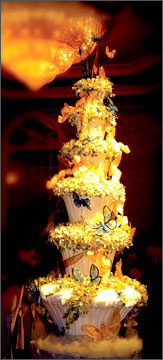 Truly Sri Lankans are very keen in exploring the unknown and bring unique things into light. We Sri Lankans can truly be proud that a cake decorator is going to bring a global recognition to Sri Lanka by making the tallest ever cake in the world.
Orancy Siriwardene, with an innate creativity counts over 30 years experience in the field. She has made a 22ft tall cake with 100,000 icing flowers which is to be acknowledged as the world's tallest cake ever made.
The cake will be displayed at the Art Gallery from May 30 to July 1 from 9 a.m. to 6 p.m. with other exclusive decorations including a horse carriage.
Orancy is a product of St. Paul's Girls' School, Kelaniya and had entered the field of cake decorating during her school days itself. She recollects how she took the first step in cake making.
"After I have finished my schooling one of my friends asked me to join a `cake class'. Without giving a second thought I joined in shaping my ability with the encouragement of my sister. Indrani Chandraratne was my first teacher and then I learned under Mallika Joseph where every year I received awards for unique and exclusive cake decorations".
She has won many awards in the trade such as `Vendol most illustrated ladyship award', Japanese award for sugar flower making.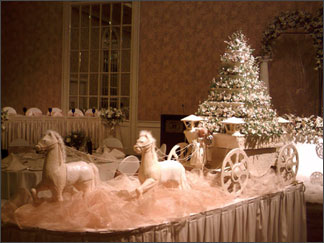 The first endeavour of hers was a 10ft icing cake with 6,000 sugar flowers. Without stopping at that point she went further to make a taller cake than the earlier one. That was 15.5ft cake with 65,000 sugar flowers which was made for the first time in Sri Lanka.
That motivated her to go further in the field and obtain global attention. As she has verified with the Guiness office the tallest cake made up to now is an 18ft chocolate cake. She is eagerly expecting to get the patent from the Guiness office for the `tallest cake' in the world.
Orancy mother of three says that everyone at home is a vegetarian besides her. "I make cakes for my family without adding eggs. I make rich cakes, fruit cakes and wedding cakes without adding eggs but there is no big difference in taste".
She owns `Sugar Frill Cake Shop' at Pelawatte, Battaramulla. She has a dedicated panel of staff of six who renders great assistance in making an attempt to make the tallest cake in the world. It took two and a half months for her to finish the cake with the assistance of her staffers and the family members.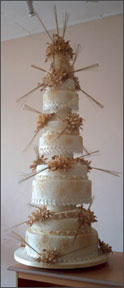 She has a good reputation as a person who makes exclusive cake decorations and she believes that it is the reason for her customers to always keep faith in her for unique cakes.
Making cakes is her passion rather than her profession. She has also made unique cake creations such as Eiffel Tower, mermaids, Green Lanka building, a 12ft castle and so on.
Though we Sri Lankans can be really proud of her achievement she says that she hardly received a compliment or an encouragement. She conveys a message to those who are interested in cake decorating to try as much not to copy another and to bring to light their very own exclusive creations.
`Then only there will be a recognition to your cake decorations' she ends.
Back cover picture is the worlds tallest cake made by Orancy Siriwardene.