[Entertainment]
Naadro - the exciting new percussion sound
All of a sudden the interest in Sri Lankan percussion has gained momentum with the youth. And that's a good thing. Coupled with fusion sounds the music has achieved an originality a Sri Lankan sound which is vital to our music industry. Joining the band of newcomers in Sri Lankan percussion and fusion is the band Naadro led by a highly talented young percussionist Rakitha Wickramaratne.
A graduate of the Performing Arts University Colombo, Rakitha formed his band last year. "My band consists of six members and when necessary I add two more percussionists. I play the congas, djembes acoustic drums as well as the Sri Lankan drums. Nalinda Dilupama, he plays the djembes and the dhol.
Then there's Dayan Manocumara, he plays shekere and percussion. We have Pabulu Wijegoonewardena with us, and he as you know plays Sri Lankan drums and percussion. Sajiva Gurusinghe is our flautist. He plays both concert flute and the bamboo flute while Priyan Perera plays the rhythm guitar for us. When we need more percussion Ranga Nuwantha and Uthala Iroshan joins us."
The band Naadro was the selected band to play at the special 'change' ceremony of VSNL to Tata Communications Lanka Limited which was held at the Samudra Ballroom last week.
The music that they played was fitting to the occasion which called for an oriental flavour. What was remarkable was that the compositions they played that day were created by the leader Rakitha and the combination of flute and percussion has always been a winner so to speak.
Whilst congratulating the band on their commitment it has to be pointed out that the less use of the repetition of music phrases would help to keep tight the arrangement of the compositions.
A past student of Royal College, Colombo, Rakitha since the age of six has been involved with music and according to his proud father has always carried away prizes and awards while in school, much to their delight.
"We are working on releasing a new CD and hope to launch the CD with a concert in July at the Lionel Wendt. I have composed about twelve songs for the CD. The tracking and mixing will be done at the Penguin Studio, and I'm looking forward to the launch" comments Rakitha when asked about his immediate future plans.
Percussive rhythm runs in the blood of Rakitha who is a 'natural' on stage when playing the instruments.
Are there any Western percussion influences? "Well I listen to Tito Puente, Hidalgo, Pancho Sanchez and names that are now on the western percussion scene. They are interesting and they inspire you to be more creative.
---
Musician of repute
Mahesh Denipitiya needs no formal introduction being the son of the eminent musician - Patrick Denipitiya. Music runs in Mahesh's blood.
A Computer hardware engineer by profession - he was destined to become a musician which he took to like a duck takes to water. Mahesh gave up a brilliant IT career to move into music to become a remarkable keyboardist, composer and arranger.
"My life story began at Kaduwela in 60's" says Mahesh relaxing at his home in Colombo when I met him one Sunday afternoon.
"I was the second in a family of three and at the time my father had his own Combo which featured C. T. Fernando who was the main pop artist. I initially stepped into the world of music with a guitar with the blessings of my father. He presented me with a guitar as a birthday gift from him," recalled Mahesh.
"So began my music career with my father taking the decision which was given priority considering the fact that I was a student in school. Though recordings and shows which meant late nights, took much of my time, my father taught me how to manage time, hence it did not disrupt my studies.
This was the time I met my wife Nandika. I first met her when I was involved with a 'Bakthi gee' programme. My wife being Buddhist and a lover of music was an admirer of my ability. Though I was a Roman Catholic I had no religious discriminations.
I have two children a daughter Dulani and a son Eshan who are both schoolgoers and are very good at music. Both are very creative." Both of them demonstrated their creativity when they played a duet on the piano at the request of their proud father.
When inquired how he met the Super Stars - Mahesh became very thoughtful and silent - suddenly he broke the silence and said "The producers and directors spotted me at a live concert and requested me to play solo. However, it was my choice that various instruments should be introduced to enhance the music of the songs I had to play."
When asked his views about the show 'Super stars' Mahesh said "This gave momentum to hidden talent - a new out look in the field of music as people became more interested in trying out and weighing their talents.
These were the people who were waiting to display their creative talents through the world of music.
---
A musical journey through Sri Lanka

On the invitation of Nazli Zuhyle, wife of the Sri Lankan Ambassador to Kuwait S. A. C. M. Zuhyle, and the president of the Women's Association in Kuwait, twenty members of the prestigious group Friends in Harmony will take wing for two gala musical extravaganzas.
The performance, titled A Musical Journey Through Sri Lanka, is a kaleidoscopic voyage through the country musically supported by visuals on a giant screen.
The second half of the show will be influences of foreign countries over Sri Lanka. From Zorba the Greek (Greece), Habibi (Arabia), Kaffrigna (Portugal), Land of Hope and Glory (England) to many others.This is the fifth country Friends in Harmony, led by pianist Indrani Wijesundera, will be performing in. Friends in Harmony is a group of professionals who got together for the love music.
---
A concert and a launch
Come the end of May and music lovers will have the opportunity to enjoy "An Evening with Mariazelle & Damayantha" - an evening of evergreens. This show will be a sing-a-long and dance which will come off at the BMICH Banquet on May 31 at 8.00 p.m. The show will be presented by the living legend Mignonne who returned to the island recently.
The inimitable Ronnie Leitch will be featured in a guest spot. Also at the show the second CD titled "Duets Timeless Hits Vol 2" by Damayantha will be released. The CD contains covers of twelve songs sung by Damayantha & Mariazelle and includes your favourites as well, like Top of the World, Something Stupid, Let I Be Me, Have I Told You Lately, Unforgettable to name a few.
---
Maiden CD from Malika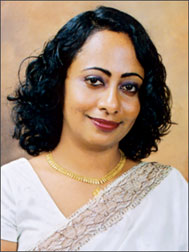 An attorney by profession Malika Sanjeewanee Siriwardana will launch her maiden CD Nilkadu Pamula at the Ruhunu Cultural Centre, Matara today. The event will commence at 3.00 p.m. The CD is a compilation of songs, written by Yamuna Malanee, Rathnasri Wijesinghe, Upulshantha Sannasgala, Ashoka Kovilage, Dhammika Bandara and one are written by Mallika herself. The music for the songs was composed by Rohana Weerasinghe, Lakshman Wijesekera, Samantha Perera, Danister Perera, Ernest Soysa, Nalaka Anjanakumara and Shantha Thudahewa. A past pupil of Weligama Sri Sumangala Vidyalaya, Southlands College, Galle and Sirimavo Bandaranaike College, Colombo, Malika commenced her music studies at Sumangala Vidyalaya and went for further music education under Nanda Malani, Chandradas Bogoda and also under Shantha Thudahewa who groomed her in Hindustani music.