There lives are lost in 'simplicity'
Malathi speaks of life with Speaker Wi. Ja. Mu. Lokubandara:
"He is a closed book," says Malathi, wife of the third citizen of Sri Lanka; the Speaker of the House of Parliament, Wi. Ja. Mu. Lokubandara.
In their private residence at Gangodavila, Nugegoda Malathi relaxed on the sofa with a cup of Coriander. "I'm after election `duty' in Ampara. Bit hectic, but a good experience," she smiles. Simplicity is part of their life. When compared to the Speaker's mansion, their private residence has no luxury at all.
"I prefer this place as it's so compact and easy to move about, and also a big relief when it comes to handling my youngest. There I have to look for him all over the place," she smiles.
Question: People zealously wait to enjoy this type of luxury, and you prefer your good old place.
Malathi: Everything is impermanent. We do have all the functions there, but `live' here. This is the place which we built up with our hard earned money. We value and maintain this place as once we have to move off from politics this would be the only shelter we have. So, why not treat it with respect? (smiles)
Question: The Speaker says you would be in active politics in the very next coming up election. Is it so?
Malathi: No, never! But my second son, Udith is mad over active politics. He hopes to contest in the next Provincial Council.
Question: It's news for us. Do you prefer it?
Malathi: To be frank, I'm not that keen in him entering politics. He is having a good job and also having 'educational qualifications which would give him more opportunities. But, he is so adamant about it.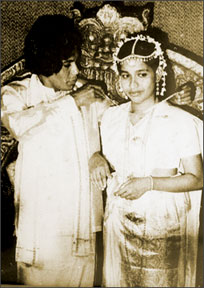 He is a Director at ABS and working in the Marketing Division at IBM. Udith is 23 years old and reading for his PhD in Marketing. However, I'll give my blessings and all the support, if that is his only dream (smiles).
Question: Your other children?
Malathi: My eldest, Rashmin is 25 years old and works at Standard Chartered Bank. He is doing his Masters in Chartered Financial Analysis. Damith, the youngest, the most mischievous is still 14 years old, and in grade 9 at Royal Institute, Nugegoda. Both my elder sons studied at Belvoir International, Colombo.
However, we've managed to provide them a good Buddhist religious and cultural background through out.
Malathi Priyadarshani Weerasekara was born on October 26 in 1950 in Meethotamulla to Buddhadasa Weerasekara, Chief Superintendent of Educational Publications Department and Stella Weerasekara, a teacher. Malathi was the eldest to two sisters and a brother.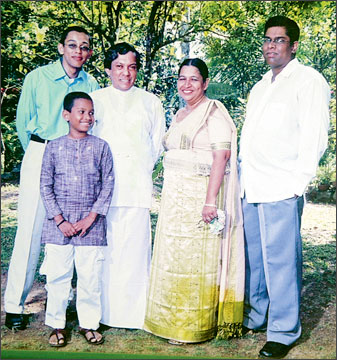 "We had an educational base childhood as both our parents were very much into education," she recalls. "I was born at Meethotamulla, but grew up in this area, Gangodavila, Nugegoda," she continues.
Malathi had a secured and a benevolent childhood. Her father was in-charge of the English Department of English Department of Educational Publications and was the chief examiner of the O/L English paper.
"His guidance was immense. Even our two older sons got his backing and were able to win the annual school English prize for many years," she says. Malathi was a bright student at Anula Balika Vidyalaya, Nugegoda. While doing A/Ls in Arts stream she decided to select her favourite pastime as well as her much appealing subject, Western Music as her profession.
"I did the Licentiate of Royal Schools of Music, London, and got the appointment as a Western music teacher under the Pre-vocational subjects category in 1973. Though we had a good educational background my father who was a English lecturer at the University of Colombo, was not that keen in sending me to campus," she says.
Malathi represented the school debating team and was a good athlete too. She was in the Anula Cricket Team in 1970.
"Most probably we would have been the first women cricketers in Sri Lanka. We were coached by Mrs. Indra Wijeratne, our Maths teacher and Mrs. Jayaratne, our game mistress," says Malathi.
Question: Does the training you got in sports help you later when assisting your husband in politics?
Malathi: Yes, I suppose so. Politics is also a game. Tolerance, target, team work and ability to take the correct decision at the right time are the main features required in all the games.
Malathi got her first appointment as a music teacher at Kingswood, Kandy and then at CMS (Jayawardanapura Balika), Kotte. "I worked at Sirimavo Bandaranaike Balika, Colombo until my eldest was born, and got a secondment as the Private Secretary to my husband in 1983," she says.
Question: How did you meet him?
Malathi: It was a proposal which came through a parent of my student.
Wijesinghe Jayaweera Mudiyanselage Lokubandara was born in Haputale. Out of the seven children 'Wi-Ja-Mu' seemed more special and precious to his parents, W. J. M. Gunesekara Bandara and R. M. Loku Manike. That was why he was given the name 'Loku Bandara' by joining the two parts from the names of his parents - 'Loku' from 'Loku Manike' and 'Bandara' from 'Gunesekara Bandara'.... The Sinhala scholar who follows Munidasa Kumaratunga's school of thought prefers his initials to go as Wi-Ja-Mu instead W. J. M. which the English media has used often.
Reading and meditation are the greatest hobbies of the Speaker who believes in sharpening one's tongue and brain from childhood which would help one immensely later in life, as it has helped out for him. The Buddhist religious and cultural background he grew up in, helped to mould himself into a versatile person. When he was a kid, his father never let him to have dinner before chanting Pirith. Wi-Ja-Mu knew `Jina Panjaraya' and `Seevali Dehena' by heart since very early in his life.
`Paanaduravaadaya' (the great religious debate raised over the teaching in Buddhism and Christianity in 1873) between Migettuwatte Gunananda Thero and Father Don Daniel, and the biography of `Sir Don Baron Jayathilaka' were the two books that made a huge impact in his life.
D. B. Jayathilaka became the idol in his life, and even planned his future also according to his. Jayathilaka was a Barrister and a Scholar of Thripitaka. So is Wi-Ja-Mu. He held a top position in the House. So is Wi-Ja-Mu. He was an uncrowned king under the British rule. So does Wi-Ja-Mu who has become the third citizen of Sri Lanka. The self confidence of this small man is immense and marvellous.
Amidst huge commotions in the Parliament House Wi-Ja-Mu tends never to loose his composure. The Speaker remembers the `Thripitakaya' almost by heart, and face any situation according to The Buddha's teaching.
Wi-Ja-Mu had his secondary education at Bandarawela Central College in English medium, and then sat for the London College degree mastering Sanskrit. After doing the Sinhala Special degree at Peradeniya University, he joined the Law College and later sat for the L. L. B. degree and became an Advocate. In 1977, he joined politics with the influence of late Minister Lalith Athulathmudali who was his lecturer of `Juris Prudence' at the Law College.
"I had many proposals before his," blushes Malathi. She was extremely careful over all that came her way. The high officials and wealthy businessmen with six feet handsome appealing structures never enticed the charming Kandyan beauty.
"I didn't want a partner who came for my background, dowry and appearance," she stresses. Her staff and other associates assumed her as a friendly yet self dignified lady. Mr. Pahalawatta was a parent of her student at CMC. It was he who thought his comrade Wi-Ja-Mu should get married to a charming yet esteemed young beauty like Malathi.
"Mr. Pahalawatta and my husband were at the Official Languages Department. Until Mr. Pahalawatta stepped into our home he didn't know that my father and he had met before. It was a coincidence. That's why people say `Marriages are made in Heaven'!" she laughs.
Malathi used to be with literature a lot. Authors like Jane Austin and Pearl Buck were her favourite. "When he came to see me I felt some familiarity in him. I never felt uncomfortable to talk to him even at the very inception. It might have been due to some attraction which we had had in this Sansara," she pauses.
"He was different from others though he was a Member of Parliament even during that era. Ours is a ten-year age gap. I admired his simplicity and down to earth qualities. We both liked literature. We had a lot in common," she recalls. Malathi was happy. She was used to having lengthy discussions in literature with her learned father since she was a little girl.
Finally she found the consort she was looking for. She had no regrets though she had to wait so long while all her mates entered wedded life early. She was 27 years when she became a bride. "We have also had disagreements which is quite common with every couple, but I think we are made for each other," she smiles.
Malathi and Wi-Ja-Mu got married on February 1 in 1979 after two years he entered politics. Leading a simple and virtuous life giving priority to Sri Lankan culture and Buddhism balancing everything with politics, the Lokubandara couple has set a great example to every Sri Lankan.
If there is a place where a sacred sapling of Sri Maha Bodhiya, Anuradhapura and a holy sapling of original Sri Maha Bodhiya of Bodgaya it is no where else, but at the Speaker's Residence. When Wi-Ja-Mu became the Speaker both sacred saplings were gifted to him with blessings.
"Whenever we get a chance all five of us get together and attend Buddhist rituals, and recite 'Dhammachakkappavaththana Sutta' (the first sermon of The Buddha). The blessing we have acquired from all this is stupendous," she claims.
Question: Apart from politics, how do you see him?
Malathi: We have a good understanding between us. He is a competitive debater in politics, but talks less at home. But now I've noticed he converses a lot with our eldest son who is a deep thinker and also quite matured for his age. He loves to play Checkers with his sons. Indoor games are in his favour, but enjoys watching Cricket matches too. He is a versatile character who has a lot of self control. It's incompatible.
He fulfilled his duties to his siblings just as a father to them. I really appreciate his mother, a simple and silent person who toiled her whole life for her six children since her husband's death.I remember the lady in `Dragon's seat' written by Pearl Buck whenever I saw her.
Question: Your future plans?
Malathi: We have enough and more, having a satisfied life. To lead a virtuous life through out is our main hope. We have to educate our youngest too. Annually we organise a Sil campaign for more than thousand observants for Vesak.
After my husband became the Speaker, he changed the year end Budget Party which meant only for the Parliamentarians to a grand Christmas Party which is open from Minister to the labourer of the Parliament and their families at the Speaker's House. We think it's a great thing. In addition, I'll be involved in politics until my husband returns back to his Seat as we cannot forget our voters in Haputale.