'Pakistan committed to peace process'
Pakistan is committed to the peace process with India and wants to resolve all outstanding issues between the two countries, including Kashmir, through dialogue, President Pervez Musharraf said.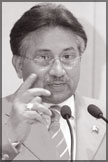 Affirming Pakistan's seriousness about and commitment to the dialogue process, Musharraf told visiting External Affairs Minister Pranab Mukherjee that the wishes of the Kashmiri people cannot be ignored while seeking a solution to the Kashmir issue.
Mukherjee, in Islamabad to review the composite dialogue process that was initiated in 2004, called on Musharraf at the Aiwan-e-Sadr or presidency here this morning.
Musharraf was quoted by TV channels as saying that he welcomed the resumption of the composite dialogue and hoped it would lead to "some substantial conclusion".