Another hero is born
Ruwantha Fernandopulle 30th Observer-Mobitel Schoolboy Cricketer of the Year Contest:
It was a star studded memorable night at the BMICH and another cricketing star was born. July 18, 2008 will always be remembered. He was the cynosure of all eyes.
The unassuming lad Ruwantha Fernandopulle, the Skipper of St. Joseph's College Colombo and fifth year couloursman made an indelible mark at the first ever Observer-Mobitel Schoolboy Cricketer of the Year contest with an overwhelming victory of 103,076 votes after seventeen weeks of voting, setting a record for the highest number of votes ever to be secured at the contest during the past three decades to be nominated the Observer-Mobitel Schoolboy Cricketer of the Year.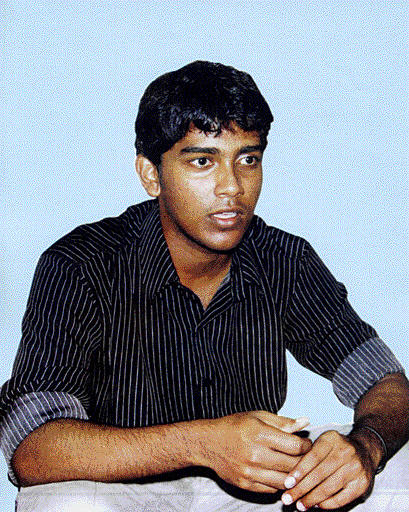 The previous record of 28,000 votes which was held by Thushan Amarasuriya, Skipper of Royal College who won the All Island Title of Most Popular Schoolboy Cricketer of the Year in 1999, securing 23,504 votes which was broken in just the tenth week of voting when Ruwantha marked 40,615; yet another feat of triumph and glory in the annals of the prestigious contest.
Victory was quite apparent as the weeks went by and the count was being announced. Ruwantha's closest rival was Naveen Kavikara of D. S. Senanayake College, Colombo who secured 47,363 votes while Rasitha Dilan of Bandaranaye M.V., Gampaha topped the Outstation contest with 59,090 votes to win the Outstations title.
'The Sunday Observer' editorial was inundated with coupon entries as counting continued; three readers prizes and three Mobitel Smart connections winners were picked weekly amidst much enthusiasm.
Meanwhile, Ruwantha Fernandopulle a talented batsmen and skipper in an interview with Sunday Observer said his love for cricket was a childhood aspiration in so much that he had begun playing at the age of seven. He first played for College when he was eleven-years-old with much inspiration from his father, a former cricketer himself and his mother who was his biggest fan.
My mother Marina never failed to be at every match I played. She cheered and gave me immense encouragement and so did my young sister. I used to some times call her my private coach. I am also proud that I have brought honour and fame to my alma mater; Fruits of virtue and knowledge Ruwantha said smiling.
Correction does much but encouragement does more. Encouragement after censure is as the sun after a shower it is said. And so it was for Ruwantha; his innate talent and the encouragement he received saw a dream come true. Before long, his commitment for the game took him to greater heights.
He was made the Vice Captain of the Under 13 side, the Captain of the under 16 side in 2004 and subsequently became the Under 19 Captain and most outstanding cricketer too. The last Joe-Pete Big Match was yet another feat in Ruwantha's cricketing career when under his stewardship St. Joseph's College recorded a sensational win against St. Peter's College after a lapse of 36 years. This was a great accomplishment for me.
"I also made another record; a school's opening partnership record of 263 between Dumuthu Karunaratne and myself against St. Anthony's Katugastota and an any wicket partnership against Trinity College at Asgiriya in February," he said.
"In 2007/2008 fifteen matches were played of which four were outright wins while 11 were first inning wins. But, we unfortunately lost the Lemonade Trophy.
I was sad, but, winning and losing is all part of the game and I believe the game should be played in the correct spirit". He was also given the Captaincy of the Sri Lanka Under 17 Tri Nation side, winning the Golden Hope Challenge Trophy. "I also played a little Club cricket in Australia," he said. Last year he had played for the Under 23 Chilaw Marians too.
"Much tribute should go to the epitome of my success, Harsha de Silva, the Josephian coach and Kumar Sangakkara who even gave me his bat and took time off his busy schedule and Chaminda Vass a Josephian and national player who coached me on the finer points and Charlie Warnakulasuriya, Nishantha Hennayake, Kapila Manohara, Wasantha Jayasekera and Thishan Nonis who helped me make all my cricketing endeavours a great success.
All these simply proves that "Victory belongs to the most persevering. You have to believe in yourself and not be afraid to make mistakes; failures are the pillars of success they say. I gave my team a spirit of faith", he said smiling.
Ruwantha's sound progress and accomplishment as an outstanding young cricketer has inspired him to reach greater heights: his aspiration is to play for the Sri Lanka team too.
A youngster of repute, Ruwantha has successfully combined sport and studies. Having done well at the Advanced Level Examination Ruwantha hopes to concentrate on Finance and Accounting as a career. Apart from his busy schedule Ruwantha enjoys listening to music and playing the guitar; a wonderful form of relaxation, he says. Congratulations and good luck from all of us and your fanclub, Ruwantha!