Selection of tuskers to carry the relic casket
The majestic giant of the jungles, the largest animal to walk the Earth today since the extinction of dinosaurs is indeed a sight to behold and one any person would never tire of seeing. It brings to my mind the popular Sinhala saying that ali (elephants) and bali (a religious ritual invoking blessings) are two things people enjoy seeing over and over again.
The beautifully caparisoned Maligawa tusker carrying the golden casket bearing the Sacred Tooth Relic of the Buddha at the world famous Esala Perahera is indeed a breathtaking sight; one that would never fail to mesmerise you no matter how often you see it.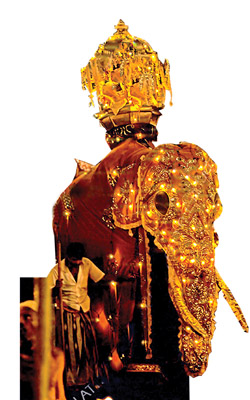 As the Maligawa tusker plays a significant role in the Kandy Esala Perahera which is steeped in culture and tradition, we thought of enlightening you briefly as to how an elephant is selected and trained to carry out this honoured task, and also give you some interesting information about the famous tusker named Raja.
According to the Secretary of the Elephant Owners' Association, Dhamsiri Bandara, selecting and training an elephant for this responsible task is a complex process.
Let's check out how an elephant is selected initially.
Some of you may be aware of a caste system that exists among both Sinhala and Tamil communities. What you will be surprised to learn is that there is a caste system among elephants too.
It is something that comes down from ancient times. In the past our ancestors categorised elephants into 10 specific castes according to their physical features. (See box for details). Out of these 10 castes, only the elephants that belonged to the top castes, namely Mangala, Hema, Uposatha and Chadhantha are selected to be trained to play the role of the Maligawa tusker that carries the Sacred Relic Casket.
There are certain traditionally accepted features that an elephant should have, not only to be placed in a particular caste, but also to be suitable to be trained as the Maligawa tusker to carry the sacred casket.
Apart from the broad 'seat-like' back, which would enable the casket to be placed on its back securely, the elephant should have tusks which are either straight or in alignment, and an upright head.
And, of course, the elephant must be a strong, healthy animal. It is also imperative(necessary) that seven points of the body such as legs, tail and trunk touch the ground for an elephant to be placed in the top ranks of the caste system.
So, now you are aware as to how elephants are selected based on physical features. However, it is not only the physical features that make an elephant an ideal 'casket bearer.' Parading the streets for for long hours with a huge casket tied to its body can be irksome(tiresome) to any wild animal, however tame it may be.
So, it is important that the elephant has tons of patience, along with a calm disposition(temperament). And the elephant should also be obedient because otherwise, it would not be easy to train. Experienced mahouts are entrusted with the responsibility of training such elephants according to tradition.
"The time an elephant takes to be trained depends on its level of intelligence and obedient nature," explained Bandara.
It is in this context that Raja, the famous Maligawa tusker who carried the Sacred Tooth Relic for 37 long years takes pride of place among other elephants entrusted with this hallowed task.
According to officials of the Sri Dalada Maligawa, to date no elephant has displayed the qualities Raja had shown when it carried the Sacred Tooth Relic until its death in 1987.
Many of you must have viewed the imposing stuffed body of this exceptional elephant at the Maligawa premises. As a tribute to the service rendered by Raja, it was declared a national treasure while it was still alive.
The tales surrounding Raja the legend, are numerous, but first let's go back in time to find out as to how this great 'national treasure' was discovered...
It was yet another small elephant trapped by Umeru Lebbey, the experienced wild elephant hunter way back in 1925 in Eravur, in the Batticaloa district, but the little jumbo was fortunate enough to become world famous and go down in history.
The baby elephant had been bought by Tikiribanda - Mampitiya Disawe of Giragama Walauwa in Kandy for 3300 rupees a huge sum at that time, along with another baby elephant brought there. With a permit issued by the government, they were brought to Giragama Walauwa on December 11, 1925.
The first elephant which was ten years old was named Raja and the other named Skanda. In 1937, Raja who was a high caste elephant was offered to the Sri Dalada Maligawa. The Diyawadana Nilame at that time was T. B. Ratwatte.By this time the baby elephant Raja was already eight feet tall.
According to Dhamsiri Bandara, "The Maligawa authorities who still follow sacred traditions were happy about this new elephant who not only had all the physical requirements, but also showed much promise. They soon began to train it for this religious task.
It took about 12 years to train Raja and during that time it had to be taught many things. For instance he had to learn to walk slowly beside the sacred casket," he said. In 1950, the Sacred Tooth Relic was first placed on Raja, who by then, had been fully trained and satisfied the authorities about its capabilities.
Bandara pointed that since Raja took over the honoured task of carrying the Sacred Tooth Relic casket in 1950, no other elephant has been able to fit this role. Raja is a legend. For 37 years it walked the streets of Senkadagala, carrying the sacred casket at the Esala Perahera amidst the chants of "sadu, sadu" calmly and quietly - almost as if in piety.
"Raja never had any problems with the mahouts and was very obedient to them," Bandara explained. He always respected Buddhist priests and liked to be in the premises of the Dalada Maligawa. You will be amazed to learn that Raja detested people who consumed liquor, and once even attacked a lorry carrying liquor,explained Bandara.
The biggest recorded elephant rampage at a Dalada Perahera took place in 1959, but even then Raja was as calm as ever and continued to carry the casket gently. He never did anything to harm the Sacred Relic casket, added Bandara.
There are records of Raja stopping in front of the Queen's Hotel, Kandy and refusing to budge an inch no matter how hard the mahout tried.
The Nilames and mahouts had then all got together to investigate and discovered that the reason Raja wouldn't move was because the belt which secured the casket to its body was loose. So, the belt had been properly secured and immediately Raja had begun to move again.
It was a very common sight to see Raja awaiting, the placing of the white cloth-pavada with its front leg raised.Raja's great service was applauded and greatly appreciated in all corners of the world. In 1982 Raja was declared a national treasure, by the first Executive President of Sri Lanka J. R. Jayewardene.
Raja was the first animal ever to be so named.The other elephant who was caught along with Raja named Skanda also offered to the Maligawa by Mampitiya Disawe died in 1986 and a year later in 1987 Raja too passed away after a brief illness, bringing tears to many Sri Lankans.
---
Elephant castes
Classified according to their physical features, the elephants belong to 10 different castes of which the Chaddhantha caste is considered to be the highest.
The 10 castes as given in the Sri Lankawe ali-ethun book are:
1. Kalawaka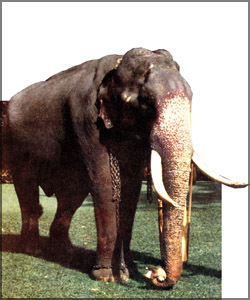 2. Gangeiya
3. Pandara - low castes
4. Thamba
5. Pingala
6. Gandha
7. Mangala
8. Hema - high castes
9. Uposatha
10.Chaddhantha
Some physical features of different castes
Kalawaka caste elephants have black skins, dark-coloured eyes, curved nails and tails and also short legs.
Gangeiya caste elephants are large headed and have long legs and trunks. They also have wide feet with large nails.
Elephants belonging to the Pandara caste have wide, but longish heads, grey coloured skins and yellowish coloured nails.
The tip of their trunks are said to be wide. Those belonging to the Thamba caste have medium sized heads, large ears, a lean body and rather weak trunks. They are copper-brown in colour.
Elephants of the Pingala caste have large heads, long eyes, medium sized feet and wide-tipped trunks while those belonging to the Gandha caste are endowed with small heads and trunks, thick, dark skins with lots of hair and curved or bent tails.
Those in the Mangala caste have large heads and trunks, large imposing bodies, large tusks, ears and feet. The tails touch the ground.
Hema caste elephants have strong, slightly bent heads, long, medium size eyes, medium sized trunks, imposing bodies and legs and bent tails.
They are light coloured in skin and their nails have a reddish tint. Uposatha caste elephants have medium sized heads and ears, strong long legs and tails and trunks that touch the ground.
They too are light in skin colour with yellowish coloured nails. Elephants belonging to the Chaddhantha caste also have large, imposing bodies, long, strong legs, with the trunks and tails touching the ground and long shaped eyes.
---
Fact file
It is believed that Raja belonged to the Chaddhantha caste. Today the legendary Raja's stuffed form could be viewed by thousands of people at the Maligawa museum thanks to the fine work done by taxidermists (people who mount animal skins to give it life-like appearance.)
The name Raja (which means king) is given as a tag name to many other elephants who are chosen to carry the casket. Usually an elephant is named (according to the gender) after the area it is found in or born in and also the owners.
According to officials, there are only four elephants from Sri Lanka that are used to carry the golden casket. They are Millangoda Raja, Nadungamuwe Wijaya Raja((the present casket bearer), Katharagama Vasana and Kegalle Wewaladeniye Raja. The fifth elephant, Indi Raja is from India.
These five elephants carry the casket in turn at the peraheras unlike Raja who did so annually.