Galle Film Festival, a composit experience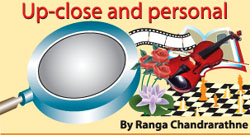 Damita Nikapota is a Sri Lankan film producer who had earned a name for himself in USA. Some of his productions include A Previous Engagement (2008) (producer), The Flying Scotsman (2006) (producer) , ... aka Flying Scotsman - Allein zum Ziel (Germany), Like Minds (2006) (executive producer), ... aka Murderous Intent (USA: DVD title), Perfume (2001) (executive producer) and .. aka Dress to Kill (USA: video title)
Galle Film Festival (GFF) will turn a new leaf in the contemporary Sri Lankan film scene by marking Sri Lanka on the world cinema map. As it comes with host of features , GFF would make a truly an international event that Sri Lankans and prospective foreigners can look forward to and enjoy a composite experience under canopy of hospitality of the enchanting port city of Galle.
Tourists can look forward to an exciting holiday in Sri Lanka that would enable them to take back home a baggage full of lifelong memories with a rich variety of experience; sea, sun, films and lively interaction with locals and idols of world cinema in a most comfortable environment.
Q: The inaugural Galle Film Festival will be held on October 25th, October 26th and November 1st in Galle. As the co-founder of the GFF, can you spell out the objectives of GFF and the exciting prospects that it would bring about?
A: Actually the inaugural Galle Film Festival will be in 2009. And what's being held on 25th of October and 26th of October are the launch events; three gala screenings and gala dinners to announce the festival and to raise funds for it.
Actually the dinner part of it will be relatively exclusive because it is a fundraiser. But there will be actors, directors of the films to be shown at the festival. You have to buy tickets for the screening. We want to keep the festival relatively open access. So this is a gala fundraiser so that we can keep the festival, especially workshops and classes for students if not free, virtually free for students.
Q; what are the fringed events associated with GFF?
A: one of the big points of the festival is classes and workshops for film students of Sri Lanka and may be from South Asia. The workshops are held by festival participants, invitees, directors or people whose films are in the festival. These will be for students either free or very cheap. I have been told in Sri Lanka that I have to charge a nominal fee otherwise people do not appreciate it. It will be nominal.
Q: Apart from providing international exposure for Sri Lankan filmgoers and prospective Sri Lankan film makers, I am sure that GFF would also create much-needed film-forum for film viewers. What are the numerous ways that Sri Lankan film industry accrues benefits from an international event of this nature?
A: GFF has all the potential of becoming the largest annual international cultural event in Sri Lanka and the South Asian region. It is being organised with the full support of the National Film Corporation of Sri Lanka.
To announce the festival to the world the weekends of October 25th and November 1st 2008 will play host to 3 gala fund raising evenings announcing the festival and its objectives.
The main four-day festival will be held in the first quarter of 2009. The gala evenings will include the world premiere of a major Sri Lankan film (to be announced), the South Asian premiere of the film icon Paul Schrader's latest film, "Adam Resurrected." The final weekend will play host to the South Asian premiere of the Bollywood film "Rang Rasiya" (Colours of Passion) and will include a premiere party.
The main four day festival in 2009 will not only premiere or screen up to 40 Sri Lankan, South Asian and international films but will also provide a full programme of workshops, lectures, panel discussions and post-screening question and answer sessions.
The main screening programme, called Cinema1, will cover a number of genres including Sri Lankan film, award winning feature films from international filmmakers, including work from emerging filmmakers and documentaries.
Workshops will include sessions on screenwriting, directing, acting, cinematography, editing and the use of music in film. Through workshops, panel discussions and gala events, the festival will create a healthy dialogue between audiences, critics and film-makers, and provide a meeting place for people across the industry to exchange ideas, share experiences, knowledge and forge new connections, both artistic and commercial.
There will also be a screening programme focusing on the power of media to affect social change. Known as the Universal Forum it will focus on films/documentaries highlighting a specific social challenge facing communities around the world. The topic highlighted will change from year to year. Thus this package of activities will, in the long run, help create the much needed film culture in Sri Lanka.
Q: Although commercial films are made in dozens, it is doubtful whether really they fall into the category of films at all. These substandard productions will eventually lead to the creation of an audience that has not been exposed to world cinema. Do you believe, at least, the GFF will, in the long run, contribute to create an informed audience?
A: If the films are not of certain quality in the end they could not competitive with international standards for cinema. Ultimately, audience will not develop in sophistication.
However, thanks to the beauty of pirated DVD and Television, Sri Lankan audiences are getting exposed to international films. Actually what would happen in the end , like what happened in India, is at some point the audience demands of their filmmakers that they up their games or they want be going to see their films.
I think that's what happened. Sri Lankan filmmakers some times complaint that not enough people are going to see their movies. But they have to ask the question why. Because a film is not for yourself. The idea is to bring in new ideas and to train up a new generation of screen writers and directors and to provide interaction whereby people will be inspired.
Q; Does GFF provide space for showcasing work of Sri Lankan Filmmakers?
A; yes, one of the focus of the festival is Sri Lankan films. The idea of the festival is to showcase film and to inspire Sri Lankan filmmakers by having interaction with other filmmakers from abroad and to create a melting pot. Classes will bring knowledge.
Q: Sri Lanka is not only a land of contrast but also a land which offers film locations ranging from golden beaches, rainforests, and mountainous regions and even semi-desert areas within a space of 400-500 square kilometers. Would the GFF offer prospects of promoting Sri Lanka as prime destination for film locations?
A: Yes, it is one of the main objectives of the festival. Under the objectives of the festival it has been clearly stated that it stimulates the local industry by facilitating interaction with the world industry and familiarizing it with Sri Lanka and its potential as a production location.
Besides, international productions shooting in Sri Lanka will help develop the industry and talent base while creating jobs and new business opportunities.
Q: What are the features that you would like to add to GFF?
A; we would like to add competitive element to it. We are going to havethe Golden Elephant Award for the young and most promising Sri Lankan filmmaker. The filmmaker, who will win the award, will find something meaningful in it.
Ultimately we would like to make the festival a competitive festival. We would like to make this an event where international filmmakers of repute submit their forms to get an award here. But it is not going to happen right away. Festival has to build its reputation. Only then will it be taken seriously as a forum where people want to fight over to get an award.
Q: GFF will also pay homage to Sri Lankan filmmaker Dr. Lester James Peries and Sumithra Peries, the only couple who brought Sri Lankan cinema to the international film arena. Would you also feature Dr. Lester James Peries' ground breaking work at GFF?
A: Yes, we are paying homage to Sri Lankan filmmaker Dr.Lester James Peries.
Actually the first festival pays homage to the history of Sri Lankan cinema, not just Dr.Lester James Peries and Sumithra Peries. Of course, Dr.Lester James Peries is one of the main Sri Lankan filmmakers to emerge on the international stage and we will be paying homage to him.
Q; Is there a component dedicated to Sri Lankan cinema at GFF?
A: yes. It has a Sri Lankan component where homage will be paid to the history of Sri Lankan cinema and outstanding filmmakers including Dr. Lester James Peries and Sumithra Peries.
Q; If not, would you like to add a feature on Sri Lankan cinema to GFF?
A; Gala dinners are restricted tickets and they are expensive. The reason there are expensive is because they are fundraiser for the main festival. We want to keep access easy and not be expensive. There is a big difference to other festivals that have been held here.
We are, actually, bringing directors and actors with their films. We are not just showing films. So that people can interact with them. So that is expensive. For students, classes and workshops are free.