Entertainment
Crusader for original compositions
Kalasuri Diliup Gabadamudalige since the presentation of 'Revenge' in June this year took a back seat to relax. Well that's what we thought.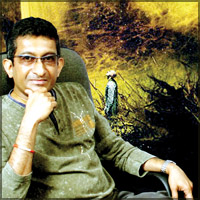 But no! The beaver that he is, Diliup was working on music compositions for two CDs which he will launch soon. Track him down we did, to ferret out more information from this musician who has made a name for himself in Computer Music Technology.
In fact he runs his own Institute of Computer Music Technology and teaches piano and guitar, and is kept busy since he is a member of the National Arts Council Music Sub Committee and is also a visiting lecturer at the University of Visual and Performing Arts, delivering lectures on Computer Music Technology.
"I'm happy with the music on the two CDs. There's one called Collaboration which contains twelve Sinhala and three English songs.
The themes are quite naturally on love and portraying different moods - a wedding scene the song is in Sinhala, and Universal Peace. Traffic Jam in Sinhala is sung by Nalin Perera and is in the baila rhythm and I'm confident that it will become popular.
Other singers featured on this CD are Wathsala, Ravindra Alegiawanna, Nalika Guneratne and the group Dess Rude comprising two boys and a girl. I'm working on videos for the tracks.
My other CD is titled Tranquillity and this is a concept album. All the tracks are instrumental and I've used Sri Lankan and Middle East percussion on two tracks. There's classic rock as well as I want to relate to the youth. Both CDs are on the M Entertainment label, and I'm hoping to launch my albums by the end of this month," reveals Diliup during a pow wow.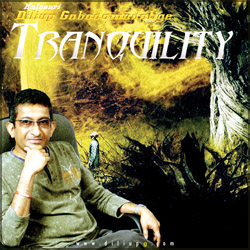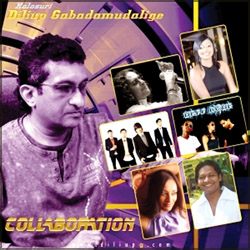 A crusader for composing and promoting originals - songs and instrumentals Diliup has numerous credits in this area ever since he started his one man Band playing all music LIVE with Synthesizers, drum machine and MIDI Pedal Bass, not only in Sri Lanka but abroad for a period of more than 20 years.
Success came his way when his original composition won 1st place in Sri Lanka for the World Popular Song Festival in Tokyo Japan in 1987 and thereon much to his surprise his original compositions won recognition and awards. During the period 1992-1994 Diliup won the Observer Golden Clef Awards for Song of the Year (Composition), Instrumental of the Year (Composition), Best Duo, Soloist of the Year and in 2003 the Golden Clef Musician of the Year.
He won the Presidential Award for the Best Film Music Director for the film Rajya Sevaya Pinisai and has involved himself in composing theme music for the current electronic media TV and Radio and also for prestigious corporate events too numerous to record here.
However, he has to be acclaimed for promoting and launching many new young artistes to the Sri Lanka music industry - soloists and pop and rock groups - of which Bathiya 'n Santhush, Ranidu and the pop group Four from Kandy have gone on to be stars in the industry.
---
Aquarius and Margarita - a hot scene
For more than ten years Aquarius and their hot sizzling vibes successfully scorched the music scene in the Middle East with their show stopper performances in Dubai and Qatar. Qube the disco in Qatar was a packed-to-capacity-scene every night with enthusiastic locals and expatriates who found the music of Aquarius irresistible.
Now the good news is that Benjy and his fascinating band are back in town and are gearing themselves to re-create that success story at the Margarita Blue, Galadari Hotel from the first week in December.
"We are going all out to re-create that very same highly-charged party mood at the Margarita Blue on Fridays and Saturdays. So here's a call going out to Aquarius fans old and new be with us and have a rocking good time," says Benjy. The band will be featured exclusively at the Margarita Blue and will be Galadari's hot band at the hotel's traditional 31st night celebrations, at the ballroom. "We are going to do the 'celebrations with a difference.' The lead up to the dawning of 2009 will be dramatic, novel and exciting and we are making elaborate arrangements to do that New Year's Eve scene "differently".
It's something that has never happened here before. We have two female Philippino dancers and singers Bell and Denise for added attraction," elaborates Benjy. The group's repertoire has always been wide and now with the band covering the sounds of the 80's to the present day hits you are in for a series of memorable weekend nights and a festive season. Aquarius as you know comprises highly versatile musicians. Apart from bassist/leader Benjy there's Shiran on drums, Gavin on sax, Ray on keyboards and Danushka on guitar.
---
Nathasha's CD specially for children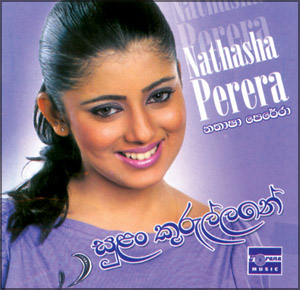 Seventeen year old Nathasha Perera has to be applauded for recording CD albums for children to enjoy and remember in their lifetime. Soft spoken and pretty, Nathasha claims that music does not run in the family professionally and she is grateful to her mother for being the wind beneath her wings.
"This new CD Sulan Kurullane produced by Torana Music Box is my second album after a period of five years and contains fourteen songs that children will find interesting. Gratien Ananda, Ananda Rajapakse, Niranjan Pelawatte, Saman Dissanayake, Roshan Perera and Karunaratne Wijewardena created the music. The title song of the album Sulan Kurullane was composed by Gratien Ananda and the music is set in a 6/8 rhythm. I sang two duets with Gratien Ananda, Samaya Udawela and Sri Lanka Matha.
Children will enjoy the duet I sang with Desmond de Silva, this is a Sinhala version of the popular English song 'But you Love Me Daddy' title Mage Doo Hurubuhuty. Then there's another duet with Nadhee Perera, Mang Punchida Lokuda which carries the theme of advice from a mother to her child, and we haven't forgotten a special dedication to Amma. Studying for her A Levels and offering subjects bio and maths Nathasha will be sitting her Visharada exams in December covering theory and vocal. Apart from music Nathasha enjoys acting and recently acted in the Sinhala translation and adaptation of The Naughtiest Girl In School by Enid Blyton and carried off the Best Actress Award in 2003. But music is something she will continue with and wants very much to achieve recognition in the years to come in the music industry.
---
'Edged in Gold' telecast on Rupavahini
To celebrate the Golden Memories of the great showman the late Donovan Andree and the 'Golden Jubilee' in sports promotion and the entertainment industry of his son Malcolm, an extravaganza concert starring the cream of talent here and from abroad was held on September 6 this year sponsored by CBL Ceylon Biscuits Limited and presented by D. K. Promotions. The media sponsors were Sunday Observer, Daily News, Rupavahini and SLBC. To relive the event Rupavahini will telecast the whole concert on Sunday November 30 at 10.10 p.m.