Pallekele Meditation Centre:
The greatest of 'conquerors'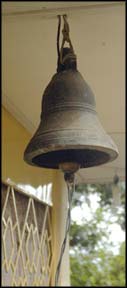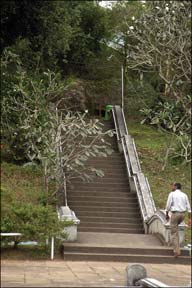 Serene environment, cool climate, lush greenery adorned with twittering birds and naughty squirrels......What would be your immediate reaction to such a site? A traveller's haven or a nature lover's paradise? But neither of them would fit in there, unless their intention is to gain wisdom through self-effort by practising meditation under the instructions of nuns.
The plight of a journalist too is the same. He/she has no 'business' at Pallekele Devanampiya Tissa Samatha Vipassana International Meditation Centre which is situated a few miles away from Kandy along Kandy-Digana Road in Pallekele. Chandra Loku Manio repeatedly refused to be interviewed. The place is for the genuine seekers of the truth, not for sightseers and tourists, she explained to us emphasizing the religious importance of the place.
"Newspaper articles could be misleading sometimes. Even during the period of the late Ven. Amatha Gavesi Thera, the founder of this meditation centre, no articles were carried in the newspapers. But the ones who are genuinely interested in practising meditation always know how to find this place"
Though Chandra Loku Manio and other nuns bestow same compassion on everyone who visits the Aranya, irrespective of what their intentions are, it should be repeatedly emphasized that this serene meditation centre is solely for those who wish to seek spiritual consolation.
"The untrained mind is very elusive and persuades people to commit evil and become slaves of the senses. Imagination and emotions could mislead human mind if it is not proprly trained." Chandra Loku Manio continues. She no longer saw journalists or photo journalists seated on the mat in her abode, but devout upasaka and upasika keenly listening to the dhamma.
"Meditation is the remedy for many physical and mental ailments. A person who practises meditation will be able to control his/her mind when it tends to be misled by the five senses."
The site where the meditation centre is located was gifted by late president Ranasinghe Premadasa under his village development plan Gamudawa in the early 90's. The site then had a Chaitya, Bodhi and a preaching hall. It was the residents of Pallekeale who had invited late Ven. Valane Amatha Gavesi Thera to conduct meditation programs in Pallekele. Regular 14 day meditation retreats were started from February ,1994 by the Thera and continues upto this day. On the invitation of the Thera, Chandra Manio took over the Meditation Centre and remains the custodian of her late spiritual leader's principles.
As she explained meditation programs and other religious activities commence two days prior to every poya day. On all three days, devotees visit the aranya in hundreds or even in thousands. Those who wish to follow a 14 day meditation retreat must have a prior booking to ensure a place in the program. "We can accommodate 35 beginners in a batch and every month two batches are entertained. There are separate kutis for men and women. Food is strictly vegetarian and meditators are advised to wear white and decent clothes. Resident nuns give instructions to meditators."
There are 25 nuns (manio) at the centre. Beginners are trained with Samatha meditation and then Vipassana. But she further said that there are people who can directly practise Vipassana meditation. "This ability comes from their previous births. Such people can quickly grasp any type of serious meditation."
Her voice was imbued with seriousness. From the day she became a nun, her mind has been calm and peaceful, she reveals. "Whether you are a bhikkuni or 'dasa sil manio' it does not matter, what is important is your ability to conquer the mind.
Recalling the words of the Buddha, she tells us that the greatest of all conquerors is the one who conquers the mind, not the rulers who were conquered 10000 men in battle."
Wisdom knows no gender and being a woman, by no means hinder your spiritual development. The nuns at Pallekele aranya themselves prove that. She further says that being a layman is not a hindrance in achieving the supreme bliss of Nibbana.
"Anyway it is better if they can sacrifice at least 14 days of their lives, to come to a meditation centre and practise meditation deeply. The environment should be calm and quiet. One should be able to deviate from 'material world' at least for a few days."
Then it is easy to concentrate.
It is difficult to describe, the pleasure one gains through practising meditation, in words.
"You have to experience it yourself." Fourteen days, a big difference. " You undergo the experience first and then write about it, if you are so eager to write about the Centre to the Sunday Observer." concludes a smiling Chandra Manio.