Pelwatta Dairies to produce 20% of milk needs
Pelwatta Dairy Industries (Pvt) Ltd., a subsidiary of Pelwatta Sugar Industries PLC will provide 20 per cent of the country's milk requirement this year, said Chairman, Pelwatta Dairy Industries (Pvt) Ltd., Ariyaseela Wickramanayake.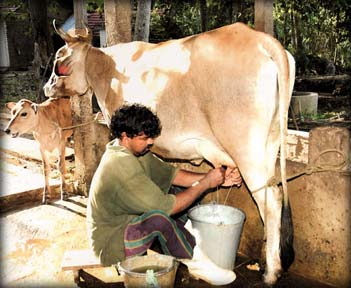 He said the animal feed factory in Pelwatta has helped increase the supply of fresh milk and provide employment to a large number of people in the area.
"The milk processing plant is being installed and products will be in the market by April. The company aims to involve the sugarcane farmers in the dairy industry which will help increase the milk production and the income of farmers", said Wickramanayake. Pelwatta Dairy has 2,000 cows grazing in the premises.
The company plans to increase the number of high breed cows this year. Currently the company procures milk from Ampara, Udawalawe, Badulla, Moneragala and Hambantota.
Wickramanayake said the required milk can be produced if the country stops importing. The dairy industry is a vital sector for the country which needs to be developed to save the much needed foreign exchange.
The company initiated a Rs. 450 million IPO with 450 million shares at Re. 1. The company will offer 20 per cent of the 2.5 billion capital to the public.
Pelwatta Dairy was launched in 2006 under the 300 factory project of the government to set up an animal feed manufacturing plant to produce high nutritious feed. The company was also formed to set up a milk processing plant with a capacity to produce 100,000 litres a day.
The current milk production caters to 15 per cent of the country's requirements and the rest is imported at a cost of around Rs. 14.5 billion annually.
"Pelwatta Dairy Industries receives the third highest income from the dairy sector and with the commissioning of the milk processing plant the company will be able to increase its income", he said.