Immense potential for jobs in Moragahakanda project
Over 82,000 hectares will be irrigated and an estimated annual agricultural benefit of US$ 30.1 million could be achieved under the Moragahakanda Kaluganga Reservoir Project, said Director General, Sri Lanka Mahaweli Authority, Ivan De Silva.
The cropping intensity which varies less than 100-154 per cent in different areas will be raised to an average of around 181 per cent. The direct benefits include increased rice yield per hectare with an additional agricultural produce of 123,000 tons annually.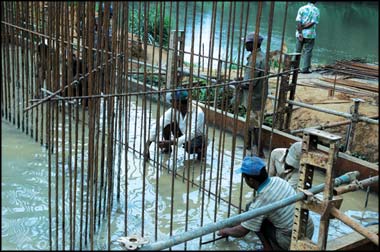 He said there will be immense potential for employment in the service sectors under the mega reservoir project. Construction, transportation and communication will be some of the vital sectors of the project.
He said a 20 MW hydro power plant will be set up which help save around US$ 2.49 million annually.The average annual fish production potential of the reservoir is estimated at 4,700 tons with a net benefit of US$ 1.67 million. The Moragahakanda and Kaluganga Development project is the largest reservoir project launched under the Mahaweli River Development Program with an investment of US$ 617 million to provide water to the North Central and Eastern provinces during the Yala season, to supply water for drinking and industrial purposes and generate hydro power.
"We have commenced resettling around 2,200 families who will be provided irrigated land along the Kaluganga left and right banks", he said.
De Silva said a supply of 64 MCM could be ensured by 2032 towards meeting the portable and industrial water needs in the two provinces from the surface water sources in the Ambanganga basin and its associated tanks and canals.
"About six times of the water in the Parakrama Samudraya could be stored to irrigate during the dry season.
The completion of the project will help prevent flooding in the Minneriya area", he said. Measures have been taken to mitigate the adverse impact on the environment and wild life. Reforestation of about 1,365 river/stream reservations in the Moragahakanda catchment area, setting up a 100 metre reservation zone around the reservoir, declaration of the elephant corridor between Minneriya-Girithale Nature Reserve and Wasgamuwa National Park, an electrical fence along the elephant corridor and resettlement of encroaches are some of the steps taken to ensure minimum impact on the environment.
He said work on the 13.5 Km Kumiyanghawela Moragahakanda Road has been completed at a cost of Rs. 900 million.
Foreign expertise will be needed to design the major dam and the second saddle dam due to the largeness. The Moragahakanda reservoir comprises a roller compacted main dam and two saddle dams. The Mahaweli Master Plan drawn during 1964-68 to harness the water of the Mahaweli River envisaged the development of 365,000 hectares for agriculture and installation of 600 MW Hydro power capacities.
(LF)