Siddhalepa celebrates 75th anniversary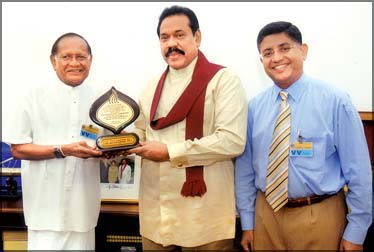 Siddhalepa, which has provided relief for people both here and abroad for over seven decades, celebrates its 75th anniversary in 2009. Every Sri Lankan can be proud that Siddhalepa started by Kidney Specialist and Astrologer, Ayur Dr. Hendrick de Silva Hettigoda in 1934 is today well-known both locally and internationally as one of the top Sri Lankan brands.
A commemorative plaque was presented to Mahinda Rajapaksa, President by Deshabandu Dr. Victor Hettigoda, Chairman of Hettigoda Group of Companies. Asoka Hettigoda, Managing Director of the Company was also present on the occasion.