Corporate
CTC contributes Rs. 50b to Government in 2008
Ceylon Tobacco Company, contributed Rs.50 billion to the Government in 2008, up Rs. 9 billion from 2007. The sales volumes however declined in 2008, impacted by higher excise-led price increases and diminishing consumer affordability. The Rs. 50 billion contribution to the Government consists of Excise Duties, VAT, Provincial Council Tax and Corporate Tax.
Last year, despite economic challenges faced by many Corporates world wide, CTC remained one of the largest contributors to Government Revenue. The Rs.50 billion contributed in 2008(up from a Rs. 41 billion rupees contributed in 2007) is mainly attributed to the excise led price increases and declining volumes of illegal and counterfeit products in the local market.
In 2008 more than 740 raids were carried out by law enforcement officials, in a concerted effort to minimise the presence of illegal cigarettes.
The value of confiscated illegal tobacco products amounted to over Rs.335 million.
Bold and innovative initiatives in consolidating the distribution network, further localisation of material inputs, and ongoing organisational restructuring have continued to deliver significant savings for the company.
These savings contributed to the profit after tax increase of Rs.867 million in 2008.
The Company doubled its investments in its flagship community project; Sustainable Agricultural Development Programme (SADP) which is targeted at poverty alleviation and has over the last three years touched lives of 3578 families in rural Sri Lanka unfolding a simple formula to achieve sustainable development through their own effort. During the year 2008, 205 families exited the programme achieving self sufficiency and taking the project on to a different level. The Company has extended its SADP project to the Eastern province in line with the Government's Re-building the East programme- "Nagenahira Navodaya".
The SADP formula will be replicated in identified areas in the Eastern province. This is expected to benefit a large number of families, now re-located in the East of the country.
---
Dipped Products records a revenue of Rs. 9.2 bln in 3Q
Dipped Products PLC (DPL), the Hayleys Group's multinational rubber glove manufacturing business which also owns and manages Kelani Valley Plantations PLC has reported a turnover of Rs 9.2 billion for the nine months ending December 31, 2008, achieving a 15 per cent growth over the corresponding period of the previous year. According to figures released to the Colombo Stock Exchange this week, turnover from Hand Protection grew 12 per cent to Rs 7.2 billion despite an export volume drop of 7 per cent from Sri Lankan manufacturing operations, while turnover from Plantations grew 34 per cent to Rs 2.5 billion before adjusting for inter-segmental sales. Dipped Products Thailand, the Group's medical glove manufacturing business performed substantially better and avoided losses in its final quarter ending December 2008 with encouraging improvements in production, sales volume and earnings.
The increase in Hand Protection turnover came mainly from DPL's Italian marketing company, ICOGUANTI S.p.A and higher revenue obtained by exports from Sri Lanka due to better prices in the period under review, the Company said.
Turnover growth in the Group's plantations business came from a 37 per cent improvement from tea due to higher production and better prices and a 27 per cent increase in revenue from rubber. However, high latex prices and escalation in the cost of energy during the 1st half of the year eroded margins in local Hand Protection manufacturing in the period reviewed, resulting in lower pre and post tax profits at Group level. Group profit before tax, at Rs 402 million reflected a decline of 7 per cent, while post tax profit dropped 11 per cent to Rs 304 million.
---
Overseas operations keep Haycarb on target
Continuing strong contributions from overseas operations and higher prices for its products have helped Haycarb PLC to cope with pressure on its local manufacturing operations in the nine months ending December 31, 2008, enabling the Hayleys Group's activated carbon manufacturing business to stay on target in unfavourable conditions.A shortage of coconut shells for conversion to charcoal, its main raw material in Sri Lanka, has resulted in production falling by 12 per cent in the review period, but the Group comprising manufacturing operations in Sri Lanka, Thailand and Indonesia has posted a turnover of Rs. 3.4 billion, a growth of 12 per cent over the corresponding period of the previous year.
Local manufacturing continued to be pressured by higher prices for local inputs, particularly raw materials, resulting in the Group's Cost of Sales growing 17 per cent to Rs. 2.6 billion and significantly eroding margins, the company said.
---
SLT appoints CEO
Chairperson Sri Lanka Telecom Leisha De Silva Chandrasena appointed Greg Young as the new Chief Executive Officer of Sri Lanka Telecom. Young is an
Australian citizen who was in employment in USA with a background in
telecommunications. He will assume his duties as CEO of SLT from 2nd February 2009.
---
Chairman S.L. Tourism steering committee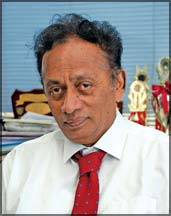 Rajan Asirwatham has been appointed as the Chairman of the Steering Committee that has been set up to monitor and spearhead the World Bank assisted Tourism Sector Development and Community Empowerment Project from January 2009 by Milinda Moragoda, Minister of Tourism. Asirwatham replaces Renton de Alwis who was the first Chairman appointed for the committee who stepped down for personal reasons. Asirwatham has been the Chairman/ Institute of Taxation, Chairman/Finance Services Stability Committee - Central Bank of Sri Lanka, Member/University of Colombo Council, Director/ Ceylon Tea Services Ltd., Director/Lanka Orix Finance CO. Ltd, Member/ Advisory Council - Ceylon Chamber of Commerce, Chairman/Bank of Ceylon & PERC previously.