Spanish design safety shoes made in Sri Lanka
The Board of Investment of Sri Lanka granted investment approval to ICL Robusta (Private) Limited for a project to manufacture footware for the export market. BOI Board Member Channa Palansuriya signed the agreement on behalf of the BOI and formally presented the BOI Certificate of Registrations to Zakir Abdi, Director, ICL Robusta (Private) Limited.
ICL Robusta is a joint venture project of Industrial Clothings Limited (ICL), Sri Lanka and Calzados Robusta S.L, Spain.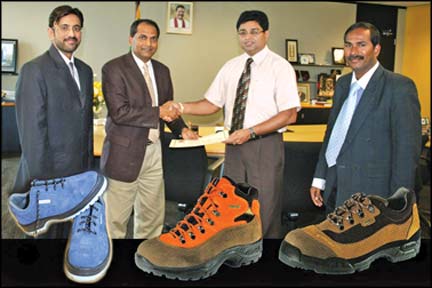 The venture is established with the objective of producing high quality safety shoes and uppers in Sri Lanka to cater for international markets, such as the European Union.
The company will produce custom manufactured high quality safety shoes that are need specific. Abdi said that there is a high demand for high quality safety footware.
The company will provide reliable, cost effective, high quality and scientific footware solutions under the "Robusta" brand to the international markets with innovative designs. Abdi also said that these safety footware is comfortable to wear and provides the maximum safety.
Abdi said that industrial workers all around the world face the risk of accidents at the workplace. The shoes made by Calzados Robusta were popular in the European Union since they met very high standards of safety.
These shoes have re-enforced toe caps while some models even have a metal plate to safeguard workers who may step on a sharp metal object like a nail.
Industrial Clothings Limited is a BOI enterprise established in 1979 in Sri Lanka. At present, ICL has a work force of approximately 900 employees and producing all kinds of gloves, shoe uppers and sleeves exclusively for the global markets. ICL is part of Midas Safety, an international group, having operations in Canada, Pakistan, India, Middle East, China and Sri Lanka.
Calzados Robusta is a fully owned private company established in the year 1998 in Spain for producing safety and scientific footwear for the domestic and global markets. This project is an investment of US $ 2.5 million that will generate 460 new direct employment opportunities. The plant will be located in the Katunayake Export Processing Zone. Directors of the company Zakir Abdi and Sohail Ebrahim signed the agreement on behalf of the company.