Beverage from Kithul sap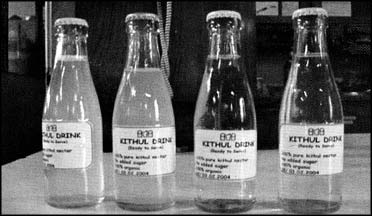 Kithul or Caryota urens sap is widely known among the Asians from historic times for its products such as treacle, jaggery and toddy which are made from it.
Kithul sap contains 5-18% natural sugar or sucrose, glucose, fructose etc. and is highly perishable. It starts deteriorating from the moment it flows out from the flower due to fermentation by the yeast in the environment.
Ms. Damitha Rajapakse and Ms. Agnes Fernando of the Food Technology Section of the ITI have formulated a method to process kithul sap into a refreshing, natural, non-fermented drink and obtained the patent rights for the process. This novel drink could be stored in sealed bottles at room temperature for more than six months.
In this process they have been able to arrest the fermentation soon after tapping, and this helps the processing of the sap to make the non-alcoholic beverage.