Travel
'Enormous challenges for airline industry'
There are enormous challenges for the airline industry with the whole world feeling the full impact of the economic downturn, said Country Manager Cathay Pacific John Holden.
He said that the passenger levels are still maintained in the leisure sector but there are signs of softening.
The business passenger levels have already softened in the Sri Lankan market. There is a significant drop in the business class travel. During this downturn business class travellers will opt to travel economy class to cut down costs while some have cut travelling altogether.
He said that Free Individual Travellers and group travelling from Sri Lanka is still taking place in the normal way but uncertainty will be seen during the year.
Globally too the airline has seen a drop in economy class travelling, said Holden.
The Country Manager said that their main competitor is SriLankan Airlines but the airline also enjoys healthy competition with Singapore Airlines and Thai Airways.
He was of the opinion that in this market there is a reasonable number of choices for the travelling public.
upgrades
Speaking of upgrades to the fleet Cathay Pacific Country Manager said that since the end of 2007 the airline is progressively launching a first class and business class in the long haul routes.
The airline adopted a suite concept with more space. The new business class is equipped with fully flat beds while new innovative designs with own defined space for the economic class.
The airline continues to provide a premium service on ground as well as on air.
He said that Cathay Pacific wants to give a hassle free experience to all its valued customers.
He said that at all times the staff would go that extra mile genuinely to make customers feel comfortable and valued.
Cathay Pacifics long haul routes are Hong Kong to North America, Hong Kong to Europe as well as some parts of Australia.
operations in Sri Lanka
Holden said that Cathay Pacific started operations in Sri Lanka on October 1, 1993. He assured that Cathay Pacific is committed to this market and they are here for the long term. Finalys Colombo PLC is the GSA and this relationship has helped the airline to get a lot of local expertise and it enhances its service to Sri Lankan customers.
Speaking of security issues he said that it doesn't bother much and the general feeling is that the security situation in Sri Lanka is improving.He said that the local traffic conditions are worse than the security situation of the country.
Holden said that Sri Lanka has a lot of world class places to offer for the tourists coming to Sri Lanka. He said that his visit to Kandy and Nuwara Eliya was an eye opener.
"Therefore I want to promote Sri Lanka to tourists around the globe."
---
Valentine's Month at Confifi Hotels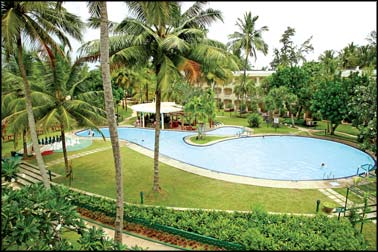 Confifi Hotels has taken a novel step to dedicate the entire month of February this year to the Valentine's Day, across its three Bentota coastline properties - Eden Resort & Spa, Riverina Hotel and Club Palm Garden.
"As a special offer to celebrate Valentine's Month, patrons who book two nights during the month of February at any one of our three hotels, are automatically entitled to a 50% discount on the second night", Director/General Manager - Marketing & Sales of the Confifi Group Hotels, Tony Maheswaran said. Nurturing the spirit of caring and loving, Eden Resort and Spa, Riverina and Club Palm Garden will treat their clientele with a special Valentine's Menu, a range of theme desserts, cocktails, chocolates, and special romantic dining options alfresco and under the stars.
---
SriLankan Airlines win 'Airline of the Year' award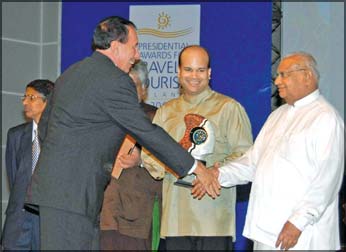 SriLankan Airlines received the highest number of awards of any single company at the Second Annual Presidential Awards for Travel & Tourism, winning three of the major categories that were presented. Sri Lanka's National Carrier won the categories of "Airline of the Year", "Outbound Tour Operator", and "Tourism Education & Training Effort".
The Presidential Awards for Travel & Tourism are the country's highest annual accolades to organisations and individuals who have excelled in the development of tourism in Sri Lanka, and whose outstanding contributions play a significant role in the success of the tourism industry. It is conducted by the Ministry of Tourism and Sri Lanka Tourism. Acting Chairman of SriLankan Airlines, Nishanta Wickremasinghe, said: "SriLankan Airlines has traditionally been a pioneer in many aspects of the country's tourism industry, and we are delighted to win these accolades for our efforts. The National Carrier has always been a pillar of strength which the entire country relies upon, and this is especially so of the tourism industry."
---
Heritance Kandalama Best Five Star Resort
Heritance Kandalama, was recognised as the Best 5-Star Resort at the Presidential Awards for Travel and Tourism for the second consecutive year.
The objective of this prestigious awards ceremony is to recognise and reward excellence among industry stakeholders of past and present and to encourage and ensure an even greater contribution in the future. The awards criterion is designed to motivate industry stakeholders to work towards the primary goal of sustainable development of the tourism industry.
"We are thrilled and honoured that Heritance Kandalama has once again been recognised by the Presidential Awards for Travel and Tourism. We strive continuously to ensure that the guest experience at our hotel is unparalleled globally. Being recognised as the country's best is a humbling feat, which has invigorated our commitment of delivering exceptional experiences to our guests", said General Manager, Heritance Kandalama. Jeevaka Weerakone.
Heritance Kandalama is positioned regally by the placid waters of the Kandalama tank; it surveys the rich wildlife that visits its precincts. Located amidst verdant jungle, calm waters and rocky mountains, it offers a holiday where one can wake up to bird calls, stunning vistas, profuse foliage and absolute luxury. Heritance Kandalama is flanked by two UNESCO world heritage sites-the 1st century BC Dambulla rock temple and the 5th century AD Sigiriya rock fortress while it also has its share of unrivalled international recognition.