Sri Lanka's First Mass Alert Emergency Warning System Launched
The Disaster Management Centre (DMC) of Sri Lanka, together with Dialog Telekom PLC launched Sri Lanka's first mass alert warning system - the Disaster & Emergency Warning Network (DEWN) recently, under the patronage of Minister of Disaster Management and Human Rights Mahinda Samarasinghe, DEWN was developed by Dialog Telekom in collaboration with its partners the Dialog-University of Moratuwa Mobile Communications Research Laboratory and Microimage, following research and development undertaken after the tsunami disaster of 2004. DEWN is controlled by the DMC and is a Corporate Responsibility initiative by Dialog Telekom of national significance with potential to transform the mobile phone into a life-saving device during emergency situations.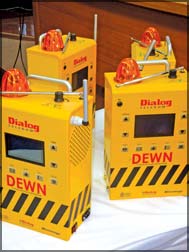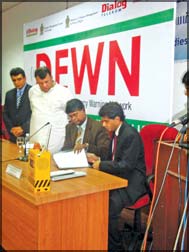 This entirely non-commercial undertaking is a wonderful example of multi-sector entities pooling strengths to develop a high-quality product.
Human-Centered Start To Year Of ICT
DEWN is a system that is being tested by the DMC to alert Dialog mobile users of potential disasters via a method called 'Cell broadcast'.
Users only need to configure area information reception settings on their Dialog mobiles to receive the alerts issued.
The launch of this ICT for Development initiative is viewed as an ideal way to herald the Year of Information Communication Technology and English as declared by H. E. the President, Mahinda Rajapaksa. DEWN uses ICT to transmit alerts through the GSM network. Cell Broadcast is currently available only on the Dialog GSM network and not yet available on 3G mode.
Speaking at the launch event Mahinda Samarasinghe, said "Since the 2004 tsunami the whole world is aware of the importance of disaster management. DEWN in Sri Lanka attempts at providing a solution towards the safety of our people.
DEWN is an excellent example of the private sector joining hands with the Government for the benefit of the nation, and all parties involved in this great initiative deserve praise for the amount of hard work put in over the past years to develop a world class product.
I urge the people of Sri Lanka to educate themselves on appropriate ways to react to emergency situations, which can play a big part in successfully mitigating damage in potential disaster scenarios."
How DEWN Works:
The Emergency Operations Centre of the DMC has been given access to the secure DEWN alerting interface.
When information is received by the DMC, the information is verified and alerts can be issued. The DMC takes responsibility to adequately verify any emergency situation and issue alerts.