New jumbo transit home
Some of you may have visited the Elephant Transit Home (ETH), Eth Athuru Sevana, at the Udawalawe National Park. If you have been there, you would know just what a joyful experience it is to observe at close range all the elephants, especially the little ones, who reside there.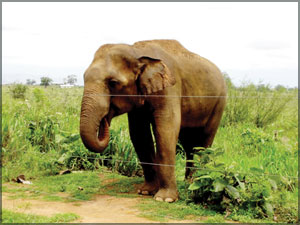 This experience would now be available from a new location as well. You may have heard that a lot of orphaned and destitute baby elephants have been found in the wilds of the North and North Central Provinces. A new Elephant Transit Home (ETH) would be built at Ritigala Yaan Oya to house the elephants found from these two provinces.
According to Wildlife Conservation Department sources, construction work of this Eth Athuru Sevana is expected to be completed by the middle of this year. It would provide a bigger home for elephants than the transit home at Udawalawe which can accommodate only 20 to 25 elephants.
However, it is currently providing accommodation to 39 elephants due to the return of some of its former inmates to the transit home after being released into the wilds.
Some of these baby jumbos have been transferred to Pinnawala due to the lack of facilities at the Udawalawe ETH. Pinnawala Elephant Orphanage authorities are said to have requested the Wildlife Department to provide it with more elephants from the Wildlife Departmentís transit homes.
The elephant population in the Udawalawe Park had increased from 76 elephants in 1991 to 700 by the end of 2008.
---
Climate-related disasters could affect 175 mln children
UN Children's Fund UNICEF on Tuesday warned that 175 million children could soon be affected by climate-related disasters, as its appeal for funding soared past the one billion dollar mark.
UNICEF said its 2009 humanitarian funding appeal for emergencies in 36 countries had risen by 17 per cent over last year mainly due to the impact of droughts and conflicts in eastern and southern Africa.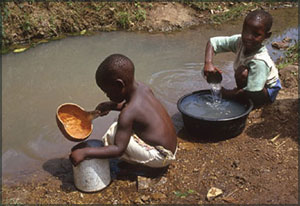 In its report on action for 2009, UNICEF underlined that about half of the one billion dollars (770 million euros) would go to five emergencies in Africa: the Democratic Republic of the Congo, Somalia, Sudan, Uganda and Zimbabwe.
Executive Director Ann Veneman said many of the places it was targeting were otherwise "silent or forgotten emergencies."
"Women and children are dying every day due to disease, poverty and hunger, but sadly their deaths go largely unnoticed," she added.
But the children's agency also gave warning of the present and growing impact of climate change.
Recent studies indicated that the risk of hunger could increase for some 50 million people worldwide as a result of climate change and as early as next year, according to UNICEF.
It backed estimates that within the next decade, children and women would account for 65 percent of those whose lives are seriously disrupted by climate-related disasters. "If these predictions prove correct, some 175 million victims of climate change will be children," the agency said in a statement.
Already the number and severity of natural disasters - which includes climate-related events - has "increased significantly," it warned.
-AFP
---
Power project between Lanka, India
Energy and sources of energy have been growing concerns all over the world over the past few years. This has affected both developed countries as well as developing countries such as Sri Lanka.
As one solution to this problem, a High Voltage Direct Current (HVDC) power transmission line would be established between Sri Lanka and India to ensure a secure and sustainable energy supply to meet the countries' energy needs at reasonable prices.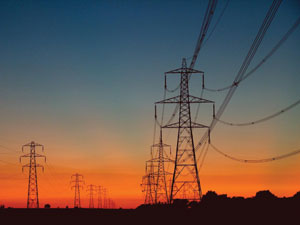 Minister of Power and Energy W.D.J. Seneviratne announced this decision made by the Government, at the Third Meeting of SAARC Energy Ministers held in Colombo recently.
The meeting was hosted by Sri Lanka and was held with the participation of all SAARC members, the SAARC Secretariat and the SAARC Energy Center. The groundwork to carry out a feasibility study in this connection has already been completed, the Minister said.
This HVDC link is expected to open doors to SAARC countries to engage in cross-border energy trade. A common template (model) on the technical and commercial aspects of electricity grid inter-connections among SAARC member states would also be formed.
Some of the technical and economic benefits which would be available to SAARC members as a result of this project are reduction in investment costs, improving reliability, pooling resources and exchange of energy among members.
The establishment of a SAARC Energy Ring is also being explored along with studying the options, benefits and constraints of energy trade in the region. This is considered as an important and timely requirement, as a country and a region which is heavily dependent on imports for meeting energy requirements.
The Summit has recognised the need to develop and conserve conventional sources of energy while building up renewable alternative energy resources such as hydropower, solar, wind and bio energy.
Meanwhile, the need to educate people in energy conservation and energy efficiency has also been stressed.
---
Navam Perahera today and tomorrow
Sri Lanka is famous for its peraheras and pageants. One of the most famous peraheras of the island, the Navam Perahera, will be held in Colombo today and tomorrow (February 8 and 9).
The perahera would make its way from the Gangarama Temple at Hunupitiya, Colombo 2 and travel the streets of Colombo, providing a spectacular sight to the thousands of visitors who throng the streets during this annual pageant.
The high point of the perahera would be the over 100 colourfully decorated elephants who take part in it.
The Navam Perahera, which started in 1979, is held on Navam Full Moon Poya day and usually has over 1000 performers.