Wine & Dine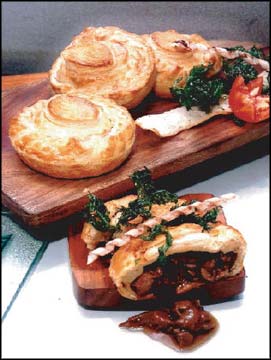 Hilton Colombo 'The Blend' t-bar Colombo Hilton opened a family favourite - a tea-bar aptly called The Blend, the newest addition to their 10 restaurants and bars. Coming from Hilton it has to be High Tea.
Together with Dilmah tea, a pure Ceylon tea of impeccable class and their expertise at turning anything into an exotic concoction, "The Blend will serve ice-tea to tea shake of assorted flavours to suit gourmet palates" said the PR Manager, Gigi.
The new General Manager, Jerome Auvity said "Dilmah and Hilton have many things in common specially quality, taste and finesse". Blend with the Colombo society's who's who, sip designer tea and savour a scrumptious array of firm favourites from chocolate cakes to savouries, from liquor chocolates to pies at High Tea, at the Thorana Lounge t-bar daily.
Open for inquiries for birthday parties too.
Echelon Pub
It's hot pies from the oven from 22nd January to 10th February at the Echelon Pub. All pies are served with mashed potatoes or potato wedges and fresh boiled vegetables.
Slow cooked fillet of Beef and Guinness Stout, Roast Lamb and Vegetables cooked in red wine sauce, Chicken and young leeks in Creamy Cheese Sauce are just to name a few apart from the famous Steak and Kidney pie, Assorted Seafood cooked in spicy sauce with roasted fennel mash.
There will be vegetarian options as well such as Roasted vegetables cooked in white wine cream with piquant sweet potato mash.